March's Chinese NEV sales figures are in and, after a disappointing February disrupted by Spring Festival, all of the major NEV makers saw year-on-year increases in sales with BYD the standout performer.
Announcing that they became a NEV-only manufacturer from March onwards, the brand set a blistering pace for the month with NEV sales surpassing the 100k mark at 104,338, though not all of these were in the China market.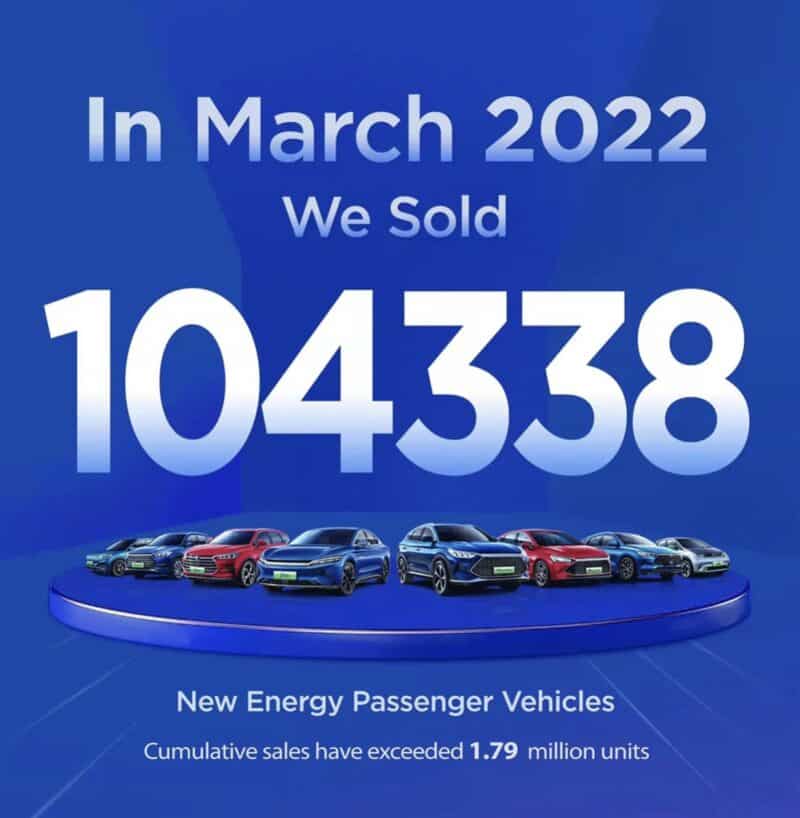 Chinese NEV Sales – Best of the Rest
Sliding into second place was GAC's AION brand which has started to gain solid traction in the Chinese market. 20,317 AION vehicles found new homes in March, almost half of the brand's total sales in 2022, and a 189% increase on the same month last year.
Of the standalone NEV brands, it was XPENG leading the way with an impressive achievement of 15,414 sales, which equates to a market-busting 202% YoY improvement. In addition, the flagship P7 nudged ever closer to the magic 10k and looks highly likely to be the first full electric vehicle from the standalone NEV brands to achieve this number for a single month. It's now less than 2,000 units behind the range-extender Li Auto ONE.
Speaking of which, Li Auto extended their success with 11,034 units of the ONE changing hands in March, 125.5% up YoY for the month and 152.1% up YoY for the quarter with 31,716 units sold in total this year. The ONE continues to carry the brand's success alone until the L9's expected arrival in the coming months.
Nipping in ahead of Li Auto, Neta put in another strong performance with sales of 12,026 units. That number represents an astonishing 270% YoY increase in sales for the month, and 305% growth over the same quarter last year. With the S sedan expected to go on sale later this year, those numbers only look likely to grow.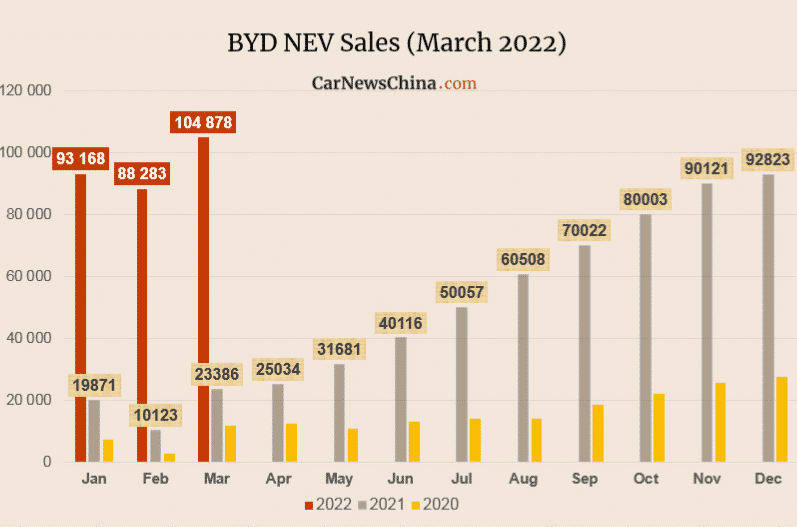 Next up, Leapmotor also continued their meteoric rise with 10,059 sales producing a Q1 total 410% up on that of the same period last year, while March sales alone grew 200%, demonstrating the success of the C11 SUV introduced last year.
NIO pulled up just short of the 10k mark in March but were at least able to celebrate the launch of the eagerly-anticipated ET7 saloon on the 28th, contributing 167 sales to a monthly total of 9,985. With Q1 sales totalling 25,768, the brand saw YoY growth of 28.5%, however they'll be hoping the ET7 stimulates somewhat stalling figures compared to local rivals.
New NEV Brands Building Steadily
Closing out our list are Hycan, Zeekr and Voyah. Hycan's 3,016 sales may seem small in comparison to those above but represent an 8000% increase on last year's tally.
Zeekr sales fell yet again in March, impacted by the epidemic and supply chain issues, but their 1,795 sales take total sales for the 001 to 14,248 since launch late last year.
Voyah round out the list with 1,400 sales of their FREE SUV, which is available in both REV and BEV form. This number was an 89% increase on February, though slightly short of their January numbers.