The EV scene is vibrant and keeps churning out impressive electric cars. EEZI has released official renders of its sleek-looking Vc, giving us a glimpse of what the final product would look like.
EEZI Technology, a company based in Shenzhen, Guangdong Province, showcased a prototype last November at the Guangzhou Auto Show, but we have heard the car will be officially released in the next quarter. The new photos revealed by EEZI remarkably match the prototypes released last year, but officials at the show did say it was a quasi-mass production version.
The Vc is based on the EEZI Step 1.0 electric platform. It will be manufactured by BAIC Ruixiang on contract.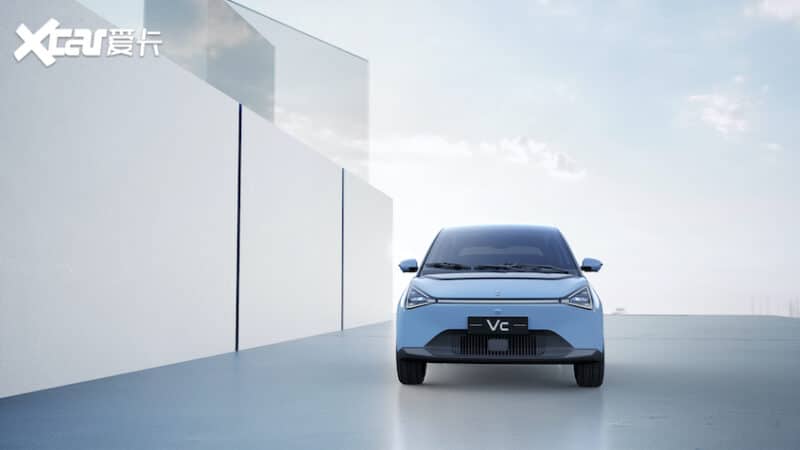 The company kept it simple with the design, but that did not prevent it from looking elegant. EEZI used several distinctive features; the first one you will notice is the headlight. The pair have a unique triangular shape but are connected by a light strip on the front. A black grille in the form of a trapezoid is under the light arrangement.
Another distinctive feature is the two-tone color scheme. The roof and all the pillars are black, but there are six body colors to choose from; light black, light glazed white, light kryptonite gray, light oxygen blue, light green, and light season yellow.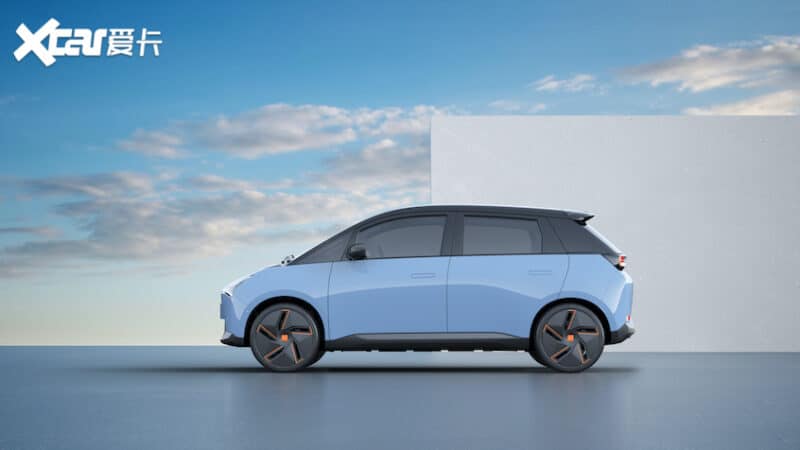 Aside from the gentle curves on the body, the sides are smooth, and the door handles are flush with the rest of the body. The rim is also two-tone; black with orange highlights.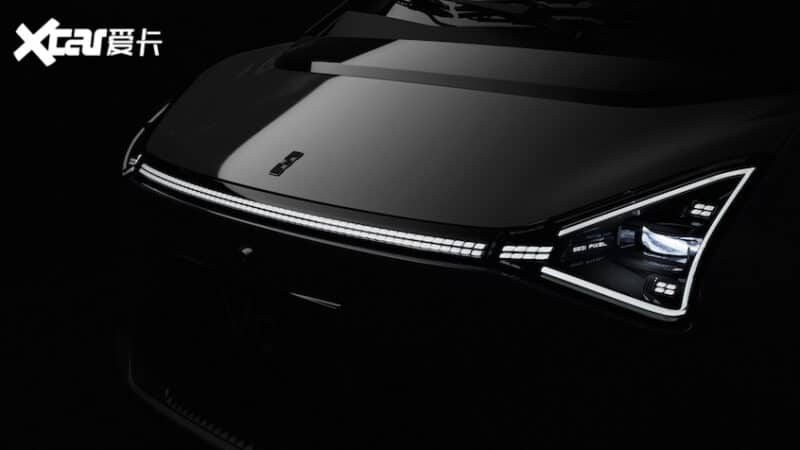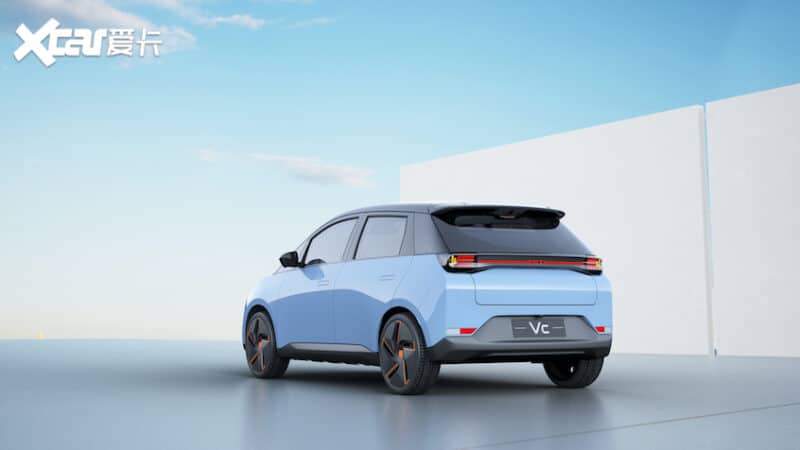 On the back, there is another light strip connecting the lights. Curiously, there does not appear to be a logo on the back, but perhaps the light strip will be used to display it.
The EEZI Vc hatchback has a short hood in front, so you might not be able to store anything there.
The upcoming four-door car is 3906 mm in length, 1740 mm in height, and 1550 mm in width. It has a wheelbase that is 2520 mm long.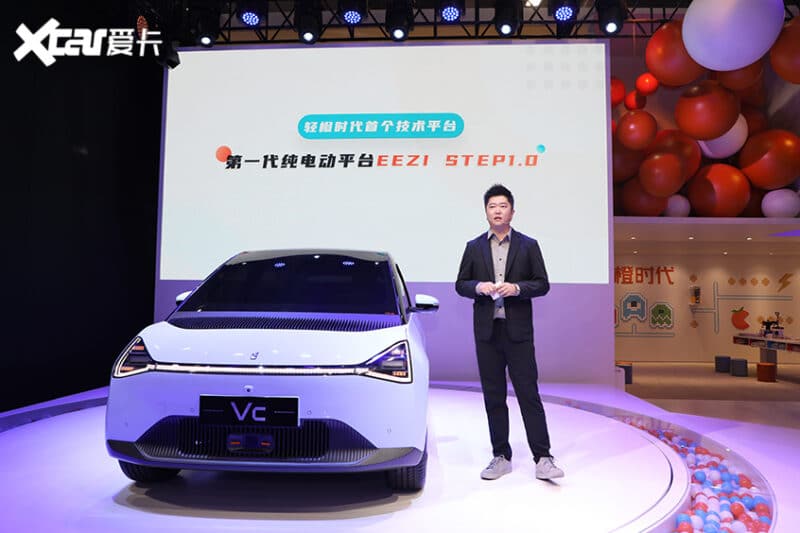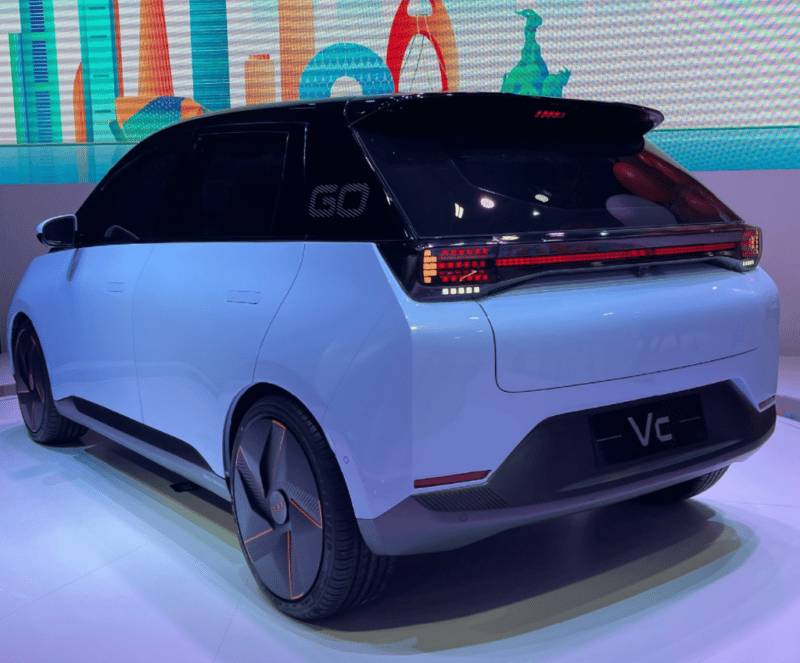 During the auto show last year, EEZI officials said the Vc would get a 200 km driving range and an impressive 8-minute charging time. The fast-charging technology is said to be appearing in this range of cars for the first time. However, if the charging is not fast enough for you, the Vc has battery-swapping technology.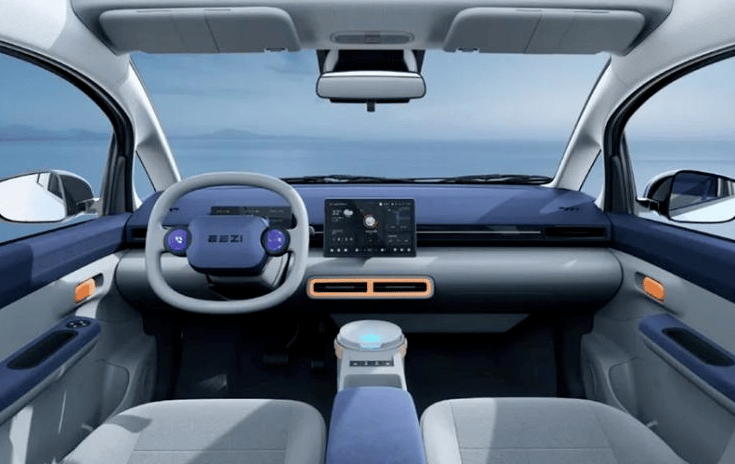 Other features showcased on the prototype included a gamepad-styled steering wheel, a large touchscreen center display, and a modular design that will allow users to swap out parts for customization. There is a bright orange component under the display whose purpose is not yet known.
There is no info on pricing yet.
Sources: Info XCar, Pacific Auto, Auto Ifeng, EEZI