The Lynk & Co 01 EM-F is a C-SUV that adopts the latest hybrid system from Geely. It was launched today in China with 245 horses and a starting price of 181 800 RMB (26 900 USD). It has an efficient fuel consumption of 4.88 L/100km (WLTC). Let's get to know the 01 EM-F better.
Quickly About Lynk & Co Hybrid Tech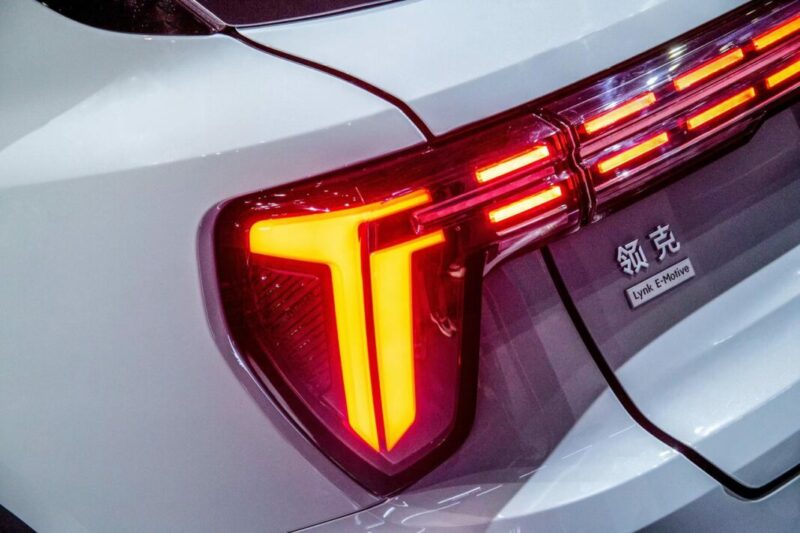 Previously, Lynk & Co offered their vehicles with PHEV on board. Those PHEV vehicles are also available in China and some European countries. But recently, Lynk & Co presented a new hybrid powertarin called LYNK E-MOTIVE. It is based on Geely's Leishen Hi-X hybrid system. It comprises 1.5-liter tree-cylinder petrol engine (DHE15-ESZ) for 110 kW (150 hp). The thermal efficiency of this ICE reaches 43.32% and can reduce fuel consumption by up to 40%. Another feature of this powertrain is the three-speed DHT Pro hybrid gearbox.
The first Lynk & Co car to get that powertrain is the 01. It will be available in EM-F and EM-P versions. The first is HEV (Hybrid Electric Vehicle), and the second is PHEV (Plug-in Hybrid EV). The 01 EM-F has been launched today, so let's get acquainted with it.
Size and Appearance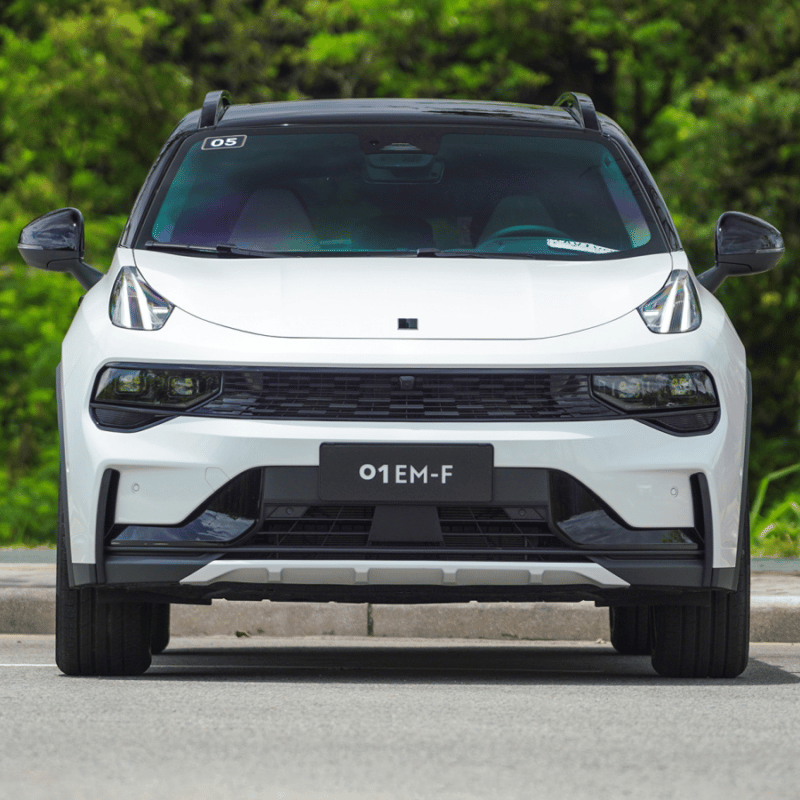 At first glance, you may think that the Lynk & Co 01 EM-F is totally similar to the current ICE and PHEV models. But it got hip continuous taillight unit and a rear bumper without visible exhaust pipes. Its front bumper is also a little different. Anyway, the dimensions of the 01 EM-F stayed unchanged. It is 4549/1860/1689 mm with a wheelbase of 2734 mm.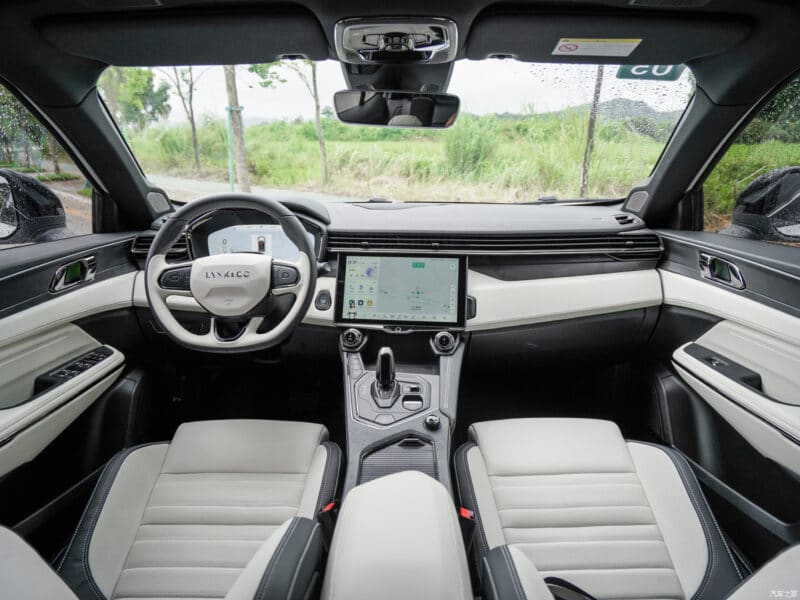 The interior of the 01 EM-F hasn't any visible changes. It got a sporty steering wheel with a flat bottom, a relatively big central screen, and a monostable gear selector. There are two interior color-schemes: black and black & white.
Powertrain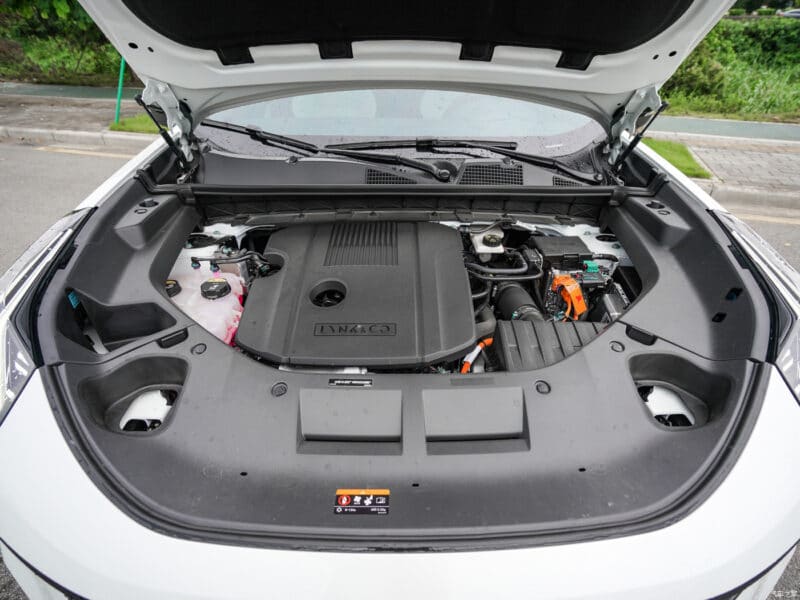 As mentioned, the Lynk & Co 01 EM-F is HEV. It has 1.5-liter engine of 110 kW (150 hp), which transfers the power to the front axle. There is also a powerful electric motor with an output of 100 kW (136 hp). It also stands on the front axle, so the 01 EM-F is FWD-only. The three-speed DHT Pro hybrid gearbox joins the ICE and e-motor. The power output of the system reaches 180 kW (245 hp) and 545 Nm. It can speed up from 0 to 100 km/h in 7.8 seconds. As for the top speed, it is limited to 185 km/h.
As for the battery, it is ternary (NMC). It has a bizarre capacity of 1.82 kWh. So the 01 EM-F cannot run only on the electric motor. You also can't charge it with a plug since it is HEV. Anyway, the EM-F system provides fuel consumption of 4.88 L/100km. For a comparison, the current PHEV version of the 01 (not EM-P) consumes 5.2 L/100km.
Prices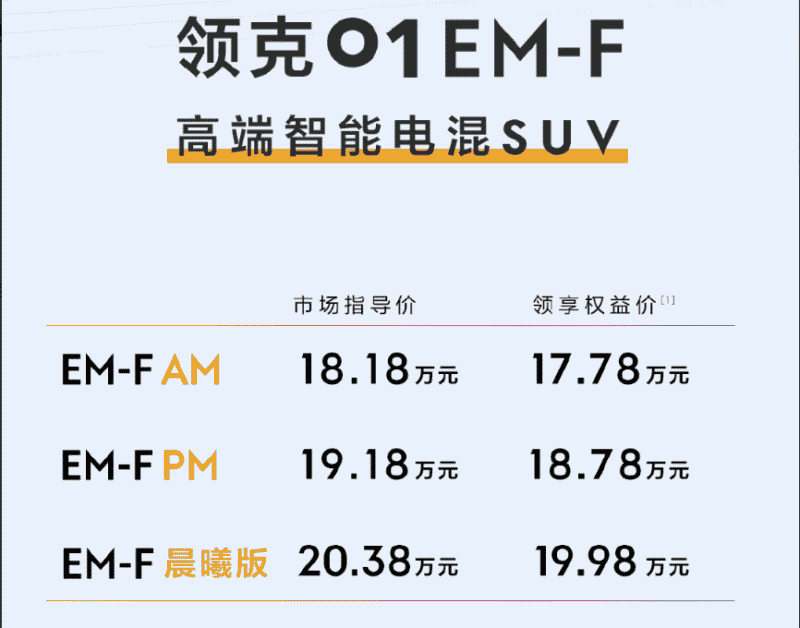 The 01 EM-F is available with three trim levels. And the entry-level model is called 'AM' and has a price tag of 181 800 RMB (26 900 USD). The second trim level (PM) costs 191 800 RMB (28 390 USD). The top-trim is called 'Sunrise' (晨曦, Chenxi). Its price point is 203 800 RMB (30 165 USD). The Lynk & Co 01 EM-F Sunrise has plenty of different tech. It comes with the Driver Fatigue Monitoring System, the Self-Parking System, an HUD, ten speakers, etc.
The Lynk & Co 01 EM-F seems like an awesome vehicle with a satisfying power output, a reasonable price tag, and low fuel consumption. We will keep an eye on the 01 EM-F and the upcoming 01 EM-P, so stay tuned!
Source: Lynk & Co Weibo, Lynk & Co, Autohome