Today, September 6, Huawei-backed EV manufacturer AITO launched its first pure electric vehicle, the AITO M5 EV. The launch, which took place at a press conference organized by Huawei, was performed by Richard Yu, managing director and CEO of the intelligent vehicle solutions business unit at Huawei. It is worth mentioning that AITO is the product of a collaboration between Huawei and Seres.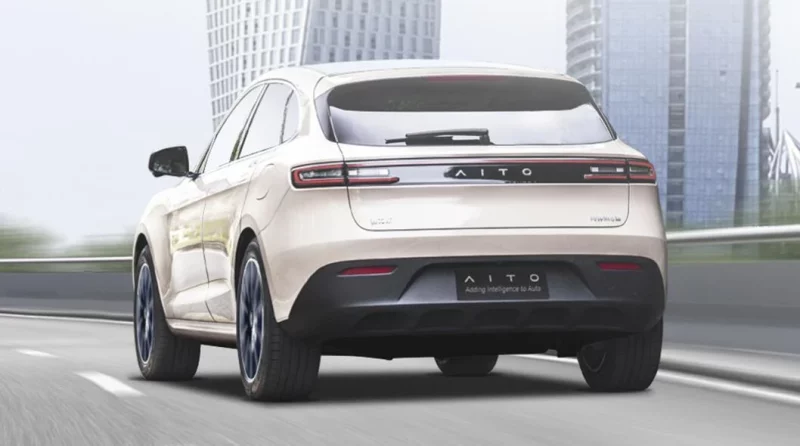 AITO had launched two other EREV models, the M5 and the M7, before now, and the M5 EV, based on the M5, is the brand's first all-electric model. Measuring 4785/1930/1620 mm in length, width and height, and with a wheelbase of 2,880 mm, the M5 EV is a midsize luxury SUV that is billed to compete against the Tesla Model Y.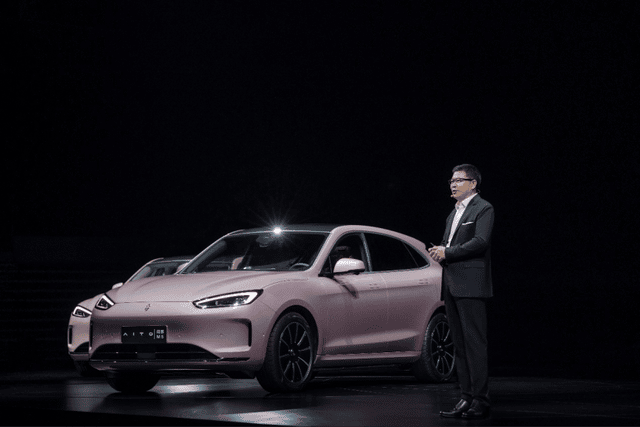 The M5 EV will be offered in two configurations; a dual-motor four-wheel drive with a 552 km range and a single-motor rear-wheel drive option with a 620 km range. According to the automaker, the standard model will sell for 288,600 yuan ($41,500), while the performance version will go for 319,800 yuan ($46,000).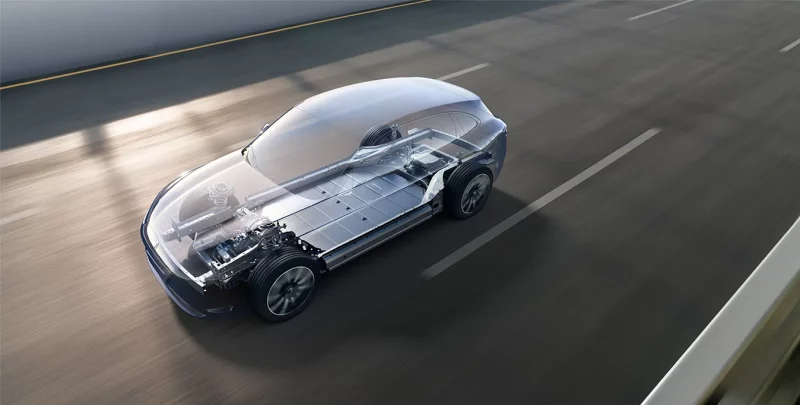 The single-motor model is fitted with a rear-mounted electric motor with a peak power of 200 kW and it can do the 0 to 100 km/h in 7.1 seconds. On the other hand, the dual-motor model has an extra 165 kW front motor and can accelerate from 0 to 100 km/h in a peppy 4.5 seconds. Both versions are equipped with a CATL lithium iron phosphate battery with a capacity of 80 kWh.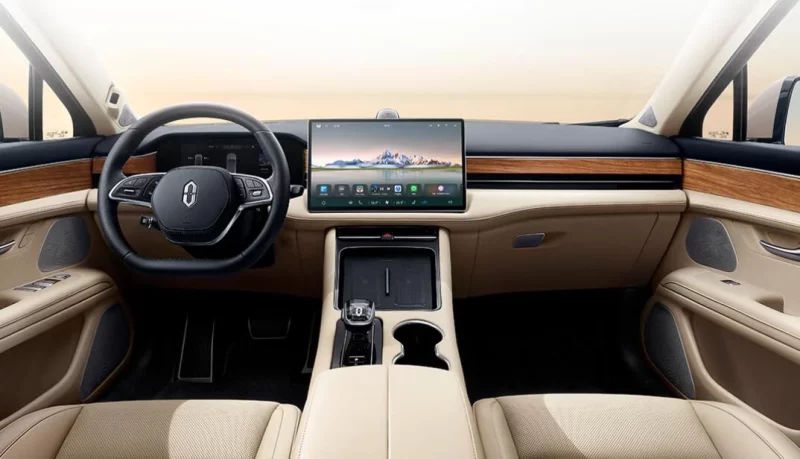 Available in six exterior and four interior color options, the M5 EV is built on Huawei's DriveONE pure electric drive intelligent platform. According to Yu, the SUV is fitted with Huawei's self-developed DATS dynamic adaptive torque system which improves battery and reduces response time to as little as 4 ms, 100 times faster than ICE vehicles.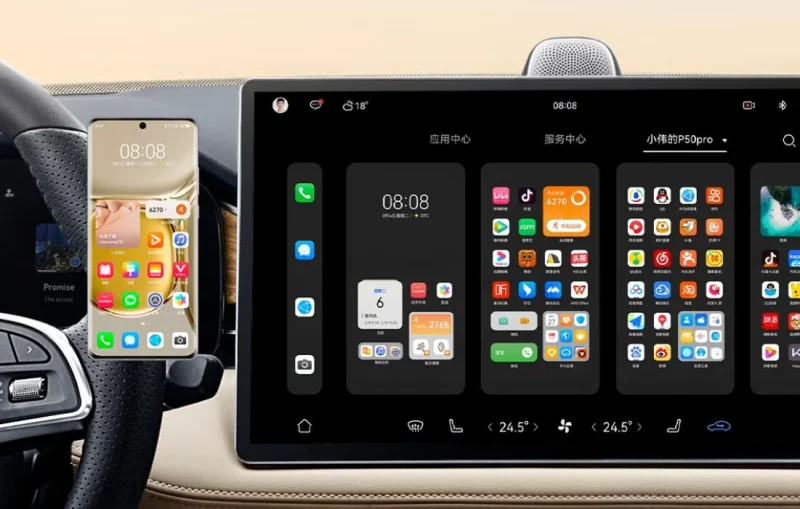 Additionally, the smart cockpit is equipped with Huawei's HarmonyOS 3, enabling smooth connectivity between the vehicle's infotainment system and a phone.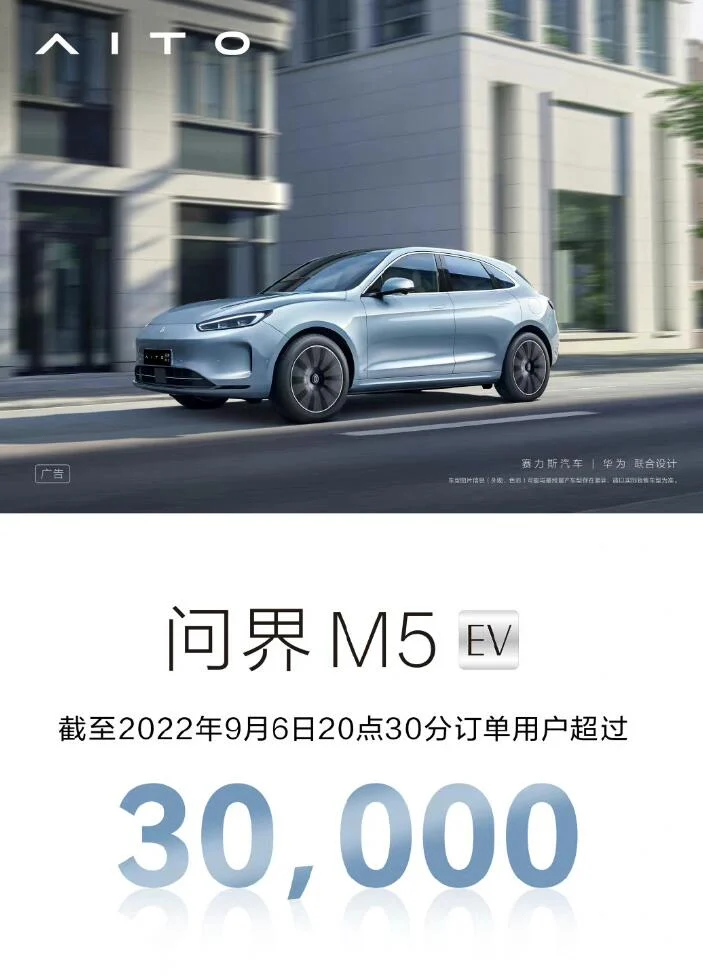 In a related development, a few hours after the launch, AITO announced that the M5 EV received over 30,000 orders. Although the company has not disclosed the time in which these orders were placed, it is important to note that the M5 EV has been open for preorder since July 27. In this case, it is safe to assume that the orders have piled up since July.
Information on the order page shows that prospective buyers can deposit a refundable 1,000 yuan ($140) to make a reservation with optional benefits of up to 2,000 yuan. Buyers can also deposit a non-refundable 5,000 yuan ($700) to get an additional 2,000 yuan worth of options and priority production on the vehicle.