Today, September 8, Chinese EV automaker BYD signed a land purchase agreement with the largest industrial-estate developer in Thailand – WHA Corp – to construct its first EV plant in the country. According to BYD, the factory is expected to launch in 2024 and produce 150,000 vehicles annually. 
The proposed BYD plant is the first by the automaker in Southeast Asia, and the cars produced there will mainly be for export to European and Southeast Asian countries. BYD stated that while 10,000 vehicles will be sold in Thailand Annually, the rest will serve as exports to Southeast Asian and European countries. The plant will begin producing the BYD Atto 3 upon completion, said BYD General Manager Asia-Pacific Sales, Liu Xueliang. He added that the company also considered batteries and parts production depending on demand.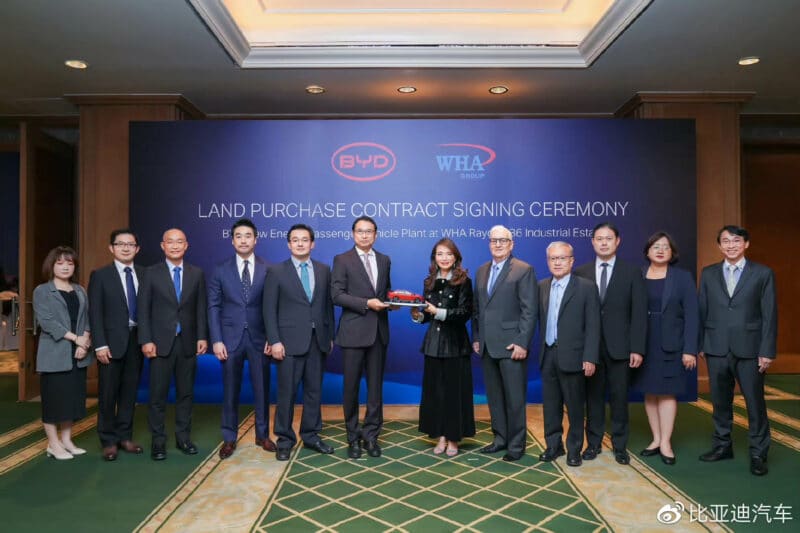 The site spans 237 acres (96 hectares) and is located in WHA's Rayong Industrial Estate. According to WHA's Chief Executive Officer, Jareeporn Jarukornsakul, the deal is the "most significant" in the company's history in the last 20 years. She also stated that the developer hopes to attract more EV investments in the estate. "More EV supply chain will follow BYD here," she said.
This latest deal is coming on the heels of BYD's partnership with Thai distributor Rever Automotive Co. Rever announced in August that it will begin to sell BYD vehicles in dealerships across Thailand by the end of 2022. Besides Thailand, BYD has spread its net to many international markets, including Japan, Denmark, Germany, Israel, and Cambodia.
According to Thailand's Eastern Economic Corridor Office, BYD is expected to invest 30 billion baht ($823 million) in the production of EVs in the country. In August, Thailand's Board of Investment approved BYD's 17.9 billion baht ($$491.49 million) proposal to build plug-in hybrid and battery-powered EVs in the country.
BYD joins other automakers such as Toyota and Honda to take advantage of the latest tax incentives by the Thai government. Thailand hopes to become the EV production hub in Southeast Asia. To achieve this, the government has set out 43 billion baht in subsidies to attract EV manufacturers and promote the use of EVs in the country. The Thai government aims to ramp up local EV production to 30% of total vehicle output by 2030.
Source: BYD Weibo