The XPeng G9 all-electric SUV has finally hit the Chinese market. It has up to 551 horses and 702 km of range. As for the starting price, it is 309,900 RMB (47,700 USD). XPeng founder He Xiaopeng mentioned that the XPeng G9 can rival even Porsche in China. Let's get acquainted with the ambitious XPeng G9.
XPeng G9 Exterior and Dimensions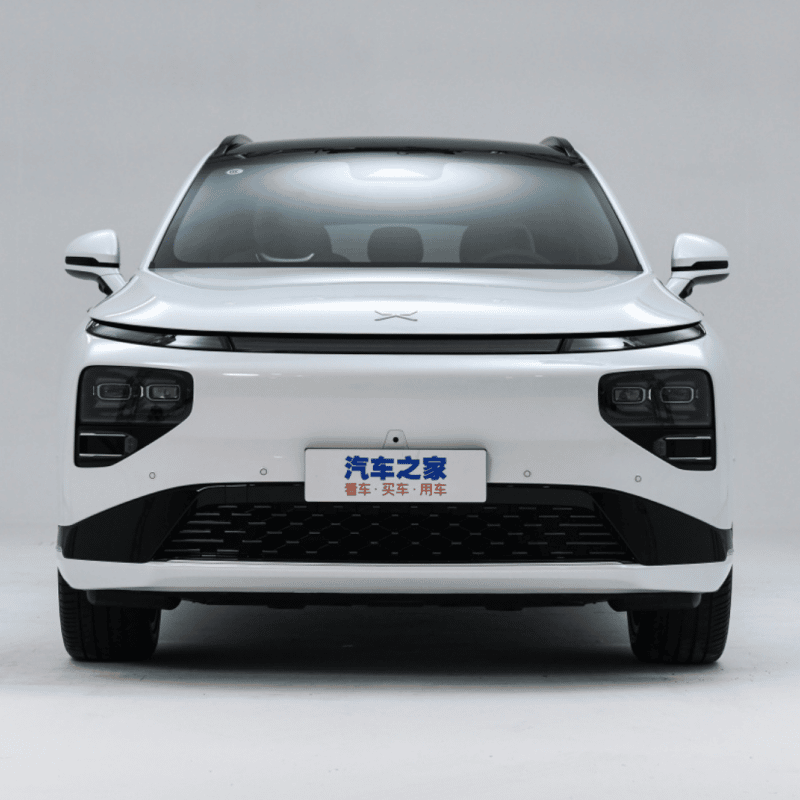 The XPeng G9 is an all-electric D-SUV. Its design stays in line the XPeng's latest design language. Its front end got a well-known X Robot Face design with narrow LED running lights and large blocks of high beams under it. As for its overall appearance, we can characterize it as minimalistic and simple. It is good for a low drag coefficient of 0.27 Cd. The G9 has a traditional SUV body shape with a few sporty touches, like a slightly slanted D-pillar or a roof spoiler. Other fine details of the G9 include pop-out door handles and a wide LED taillight unit.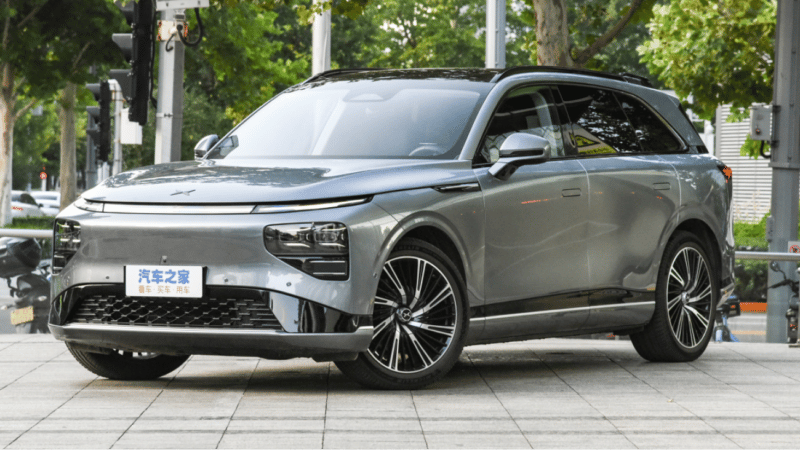 As mentioned, the XPeng G9 is a midsize SUV. Its exact dimensions are 4891 x 1937 x 1680 mm with a wheelbase of 2998 mm. For clarity, the G9 is slightly smaller than the BMW X5.
XPeng G9 Interior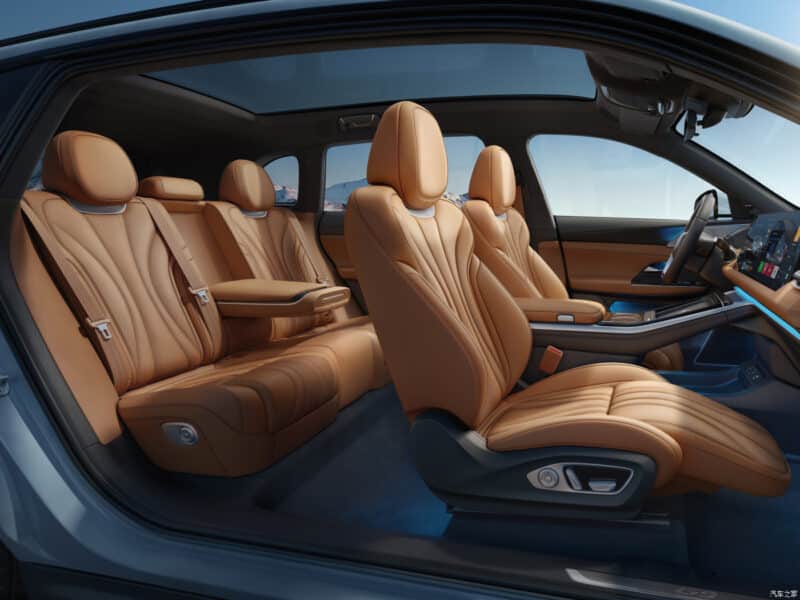 The interior of the XPeng G9 stays in line with the exterior in terms of simplicity. But it has a lot of high-tech features on board. Let's start with a quick tour of the G9 interior. We will crack on with its layout. Every trim level of the XPeng G9 has only 5 seats. There is no information about the version with 7 seats yet. As for the sound system, it comprises up to 22 Dynaudio speakers. However, the G9 goes with only 8 speakers as standard. If you want to get 14 more, you should pay an extra 22,000 RMB (3,100 USD).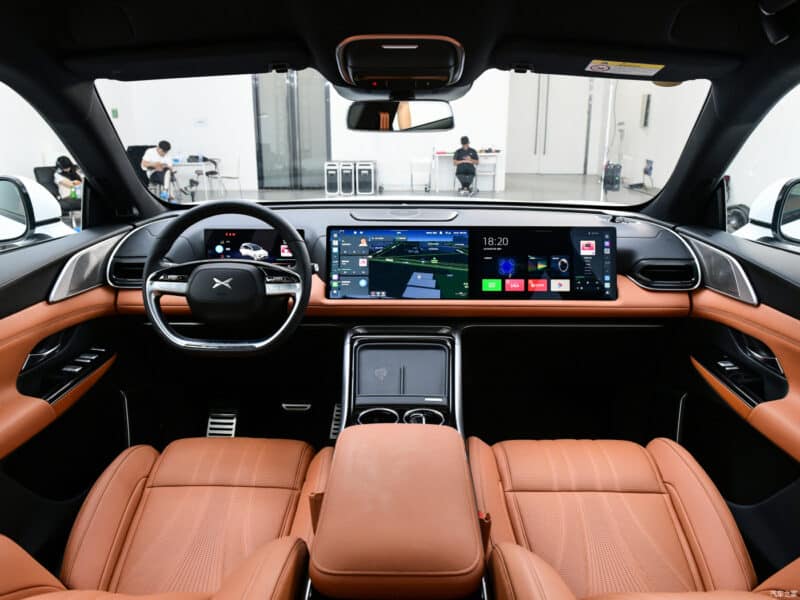 Of course, the key feature of the G9 is its giant screens. Let's start with the smallest one, which is an instrument panel screen. Its diameter reaches 10.25 inches. But the key feature of the G9's interior is a large twin screen on the center panel. It comprises two 14.96-inch screens. They are equipped with X-mart 4.0 system. Qualcomm's 8155 chip powers it. Aside from screens, there are two wireless phone charge pads and two cup holders on the center tunnel. Worth mentioning that there are few physical buttons in the XPeng G9's interior. They are replaced by touch screens and the voice control function.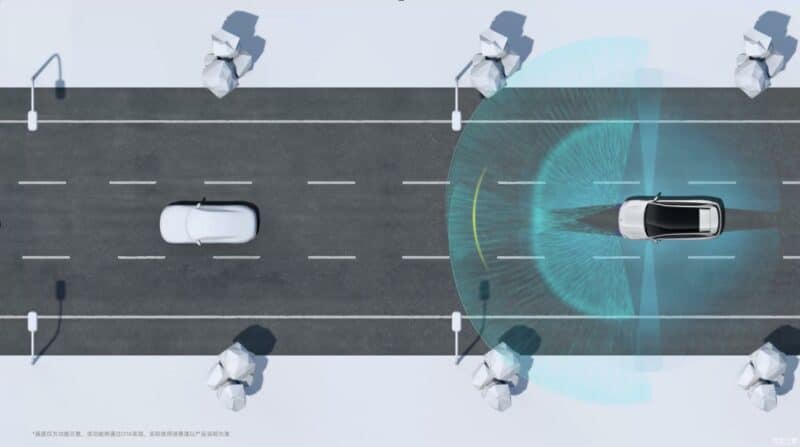 We can also highlight that the XPeng G9 has the XPILOT 4.0 autonomous driving system. It comprises 31 sensors, including 2 LiDARs and 5 millimeter-wave radars. This system is powered by Nvidia Drive Orin chips with a total computing power of 508 TOPS. The core feature of the XPILOT 4.0 is an NGP (Navigation Guided Pilot), an advanced autonomous driving system which allows a car to drive by itself in the city.
XPeng G9 Powertrain and Battery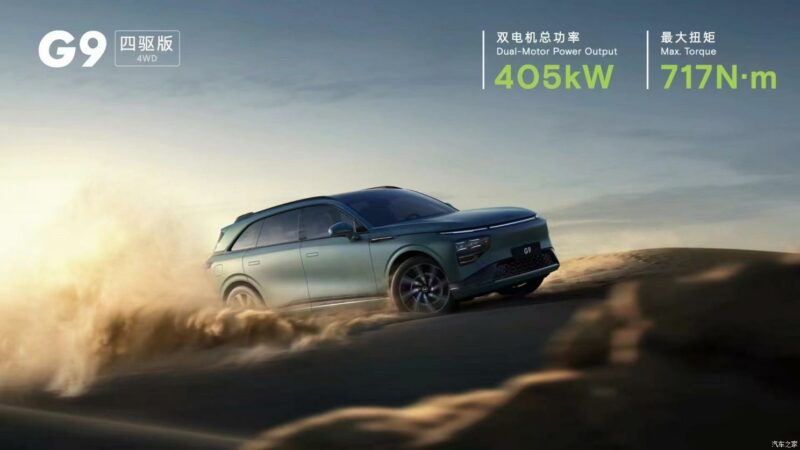 Now, we are ready to talk the XPeng G9 powertrain. This SUV stands on the X-EEA 3.0 platform. The top-trim level G9 can accelerate from 0 to 100 km/h in 3.9 seconds. However, the entry-level G9 isn't that impressive. It has a single electric motor for 313 horses and 430 Nm on the rear axle. With it on board, this huge SUV will speed up from 0 to 100 km/h in 6.4 seconds. On the other hand, the G9 with a 4WD has 551 hp and 717 Nm. As mentioned, its zero-to-hundred acceleration is 3.9 seconds. However, RWD and 4WD versions both have the top speed limited to 200 km/h.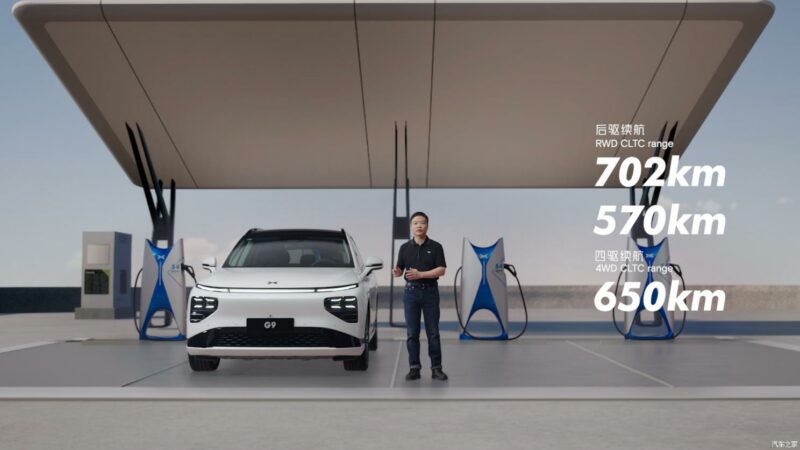 The entry-level G9 goes with an LFP battery with a capacity of 78.2 kWh. With it on board, the G9's range will reach 570 km (CLTC). The RWD version also has a long-range version, equipped with a 98-kWh battery. Its range reaches 702 km. The G9 4WD has the same 98-kWh battery, but its range is limited to 650 km due to higher energy consumption. We should also mention that the XPeng G9 got a 4C supercharging battery system. It allows G9 to charge 200 km of range in 5 minutes.
XPeng G9 Prices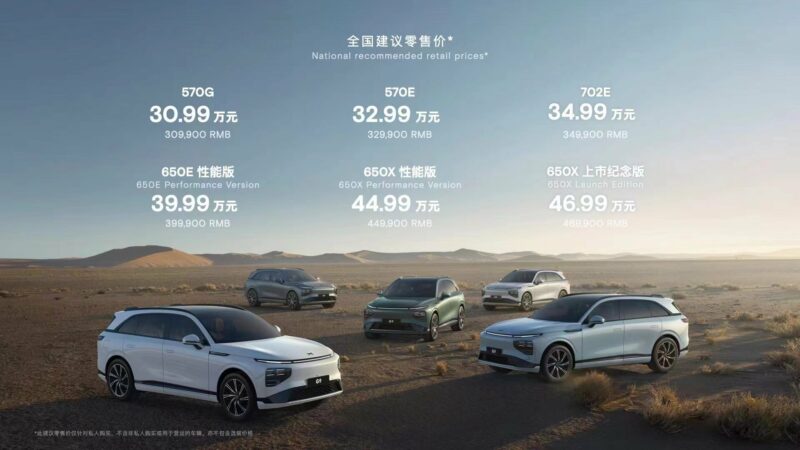 The starting price of the XPeng G9 with rear-wheel drive and a range of 570 km in China is 309,900 RMB  (43,700 USD). As for the long-range RWD version, it costs 349,900 RMB (49,350 USD). The G9 4WD starts at 399,900 RMB (56,400 USD). And the top-trim level of the XPeng G9 costs as much as 469,900 RMB (66,300 USD). The closest competitors of the XPeng G9 in China will be electric D-SUVs, for example, the NIO ES7.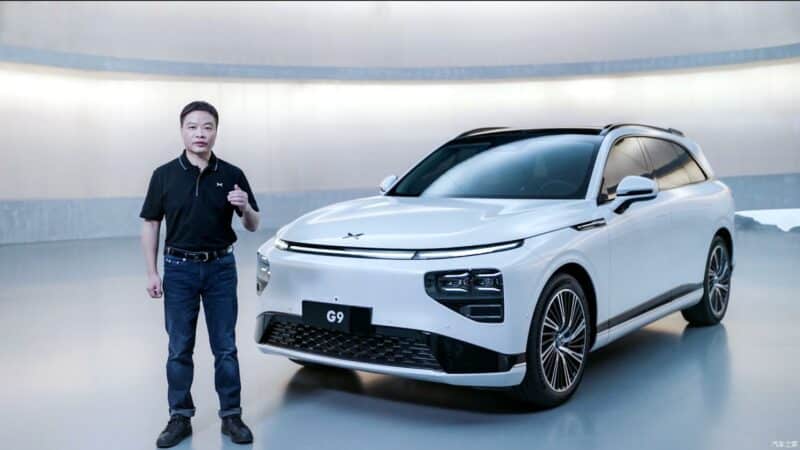 We should also underline that XPeng founder, He Xiaopeng said that the XPeng G9 will take over Porsche and create a new benchmark in industry. That looks like a PR-speech since Porsche hasn't got any direct competitors of the XPeng G9 in China. We may see that cars of these brands are designed for different customers. Right now it's hard to say what exactly He Xiaopeng wanted to say.
All in all, the XPeng G9 is an impressive SUV with great tech on board. We will keep an eye on it, so stay tuned!  
Source: XPeng, XPeng Weibo, Autohome