The NIO ET7 all-electric sedan was crash-tested by one and only European vehicle safety rating body, Euro NCAP. The ET7 has earned the top mark, proving its safety.
Quickly About Euro NCAP
The Euro NCAP is a car safety performance assessment program formed in 1996. Through the years, it has become the most famous and respected program in the world. The Euro NCAP includes severe safety tests for adult occupants, child occupants, vulnerable road users, and safety assist.
In each of the tests, the car's safety is evaluated on a scale from 0 to 100%. Then the percentages are converted into stars. Moreover, the weakest test grade goes into the final result. For an example, if the car's occupants' safety and safety assist functions got five stars, but vulnerable road users' got only three, the car will get a total of only three stars.
NIO ET7 Results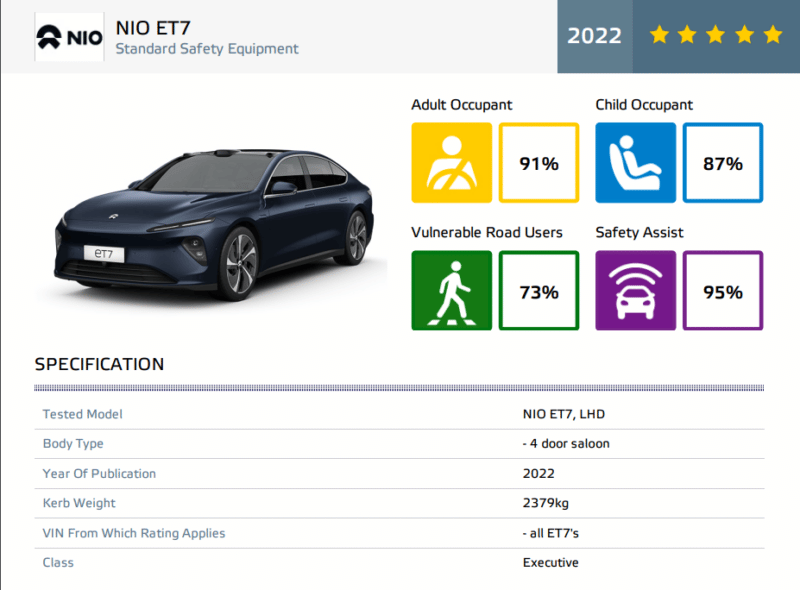 As mentioned, the NIO ET7 got five stars in Euro NCAP safety rating. But it still has got some drawbacks. Let's sort it out together.
 First, Euro NCAP experts have pointed out that the ET7 (Executive trim-level) hasn't got a knee airbag, a rear side chest airbag, and side pelvis airbag. As for the child protection drawbacks, the NIO ET7 hasn't got Isofix attachment points in the front passenger seat. Moreover, it hasn't got integrated CRS (Child Restraint System) at all.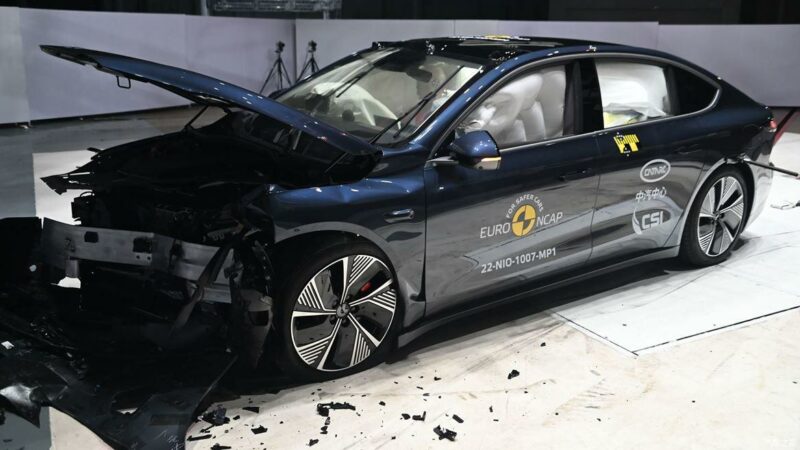 In the ratings, the NIO ET 7 scored 91% in the adult occupant category. Its weakest point here was the frontal impact. As for the child occupant category, the ET7 scored 87% here. Its crash test performance was perfect, but lack of safety features spoiled the total score. The ET7 scored only 73% in the vulnerable road users category, mainly because of the absence of the active bonnet. As for the highest rating, it came from the safety assist segment at 95%.
Euro NCAP experts have also given a brief summary: 'Protection of the head of a struck pedestrian was predominantly good or adequate. The bumper offered good protection to pedestrians' legs at all test locations, but protection of the pelvis was predominantly weak or poor. The autonomous emergency braking (AEB) system of the ET7 can respond to vulnerable road users as well as to other vehicles. The system performed well in tests of its response to pedestrians and cyclists, with collisions avoided in most test scenarios.'
Previously, the NIO ES8 has also received top marks from Euro NCAP. Soon, other NIO vehicles, including the ES7 (EL7) and ET5, can also take part in this rating. We will keep an eye on it.
Source: Euro NCAP