The NIO ET7 electric sedan's safety was tested in Chinese C-NCAP safety and crash test. Recently, it was reworked and became tougher. Anyway, the ET7 has reached five stars. Let's get to know its performance better.
Briefly On C-NCAP

The C-NCAP is a car safety and crash performance assessment program formed in 2006 under the China Automotive Technology and Research Center (CATARC). Previously, folks around the world have often complained that the C-NCAP program is weak and too much cars can easily achieve five stars in it. But, since 2006, a lot of things have changed. Now the C-NCAP stays really close to the Euro NCAP assessment program.
In the C-NCAP tests, the vehicle's safety is evaluated on a scale from 0 to 100%. And then those percentages are converted into stars to make a result more understandable. The C-NCAP includes tests for vehicle occupants, vulnerable road users, and safety assistance functions. Let's take a look at the NIO ET7's performance in this safety and crash test.
NIO ET7 Crash Test Performance
First, we should underline that CATARC has tested the entry-level NIO ET7 with a 75-kWh battery.
Now, let's talk about the vehicle occupants' safety rating. In this segment, the ET7 had a frontal full width collision at a speed of 50 km/h. Then, the side pole impact was tested at a 32-km/h speed. The ET7 has also been tested by colliding with a mobile deformable barrier. In this test, the car and the barrier (with a weight of 1400 kg) were moving towards each other at a speed of 50 km/h. At last, CATARC has also evaluated the ET7's whiplash seat assessment. As a result, the NIO ET7 reached 88.18% of safety in this test. We should underline that in the Euro NCAP program, this EV scored 91%.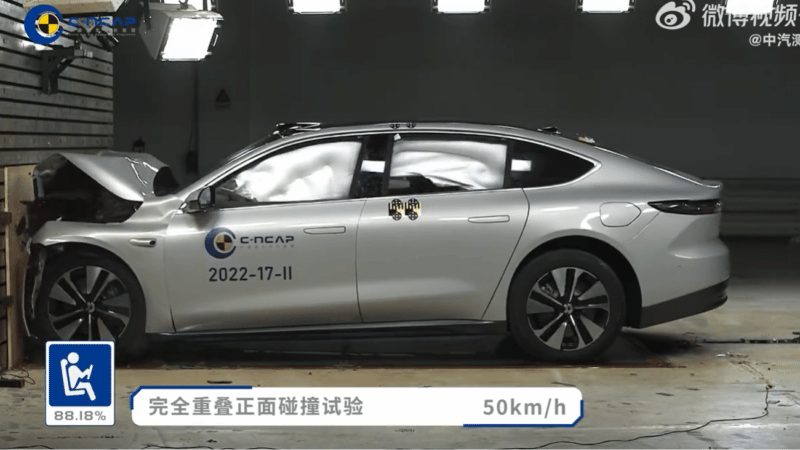 For the vulnerable road users' safety, the ET7 scored 77.15%. As for the safety assistance functions, the NIO's flagship sedan performed better. Thanks to its effective AEB system and a LiDAR sensor, it has achieved 91.44%.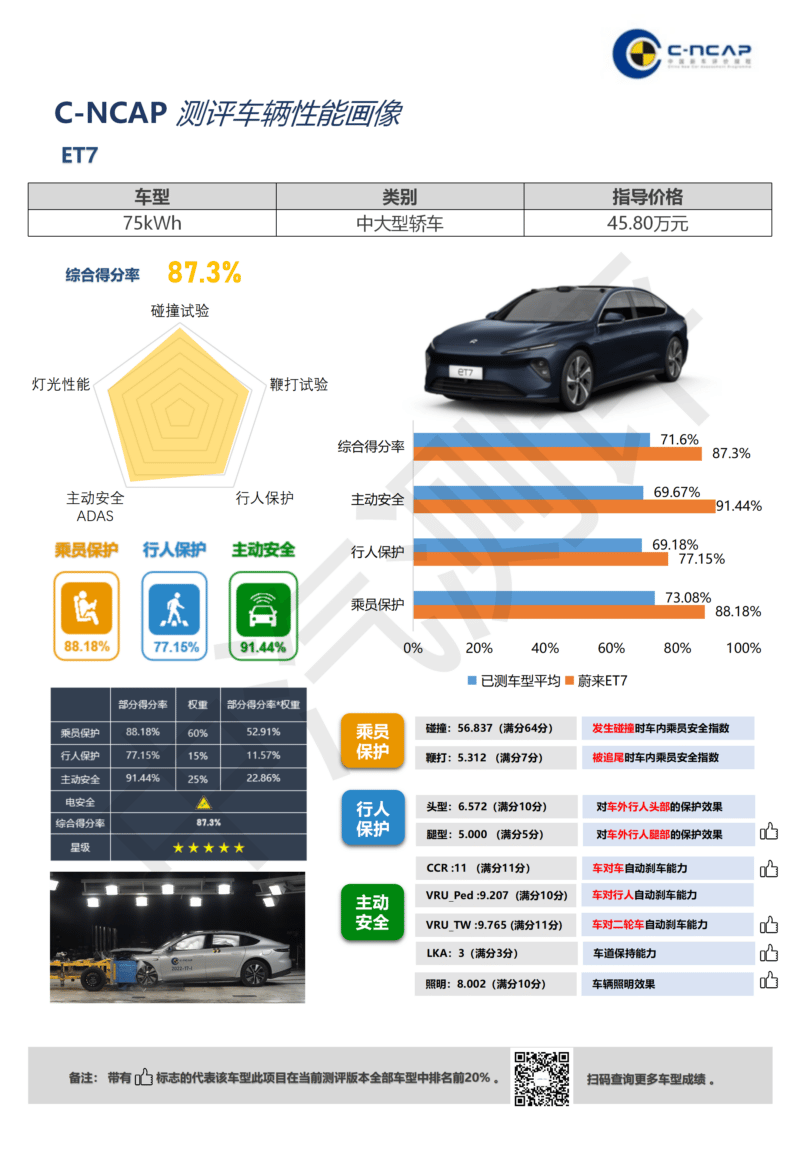 As for the final score of the NIO ET7, it is 87.3%. Its performance is impressive, so it has achieved those 5 stars pretty easily (the 5-star grade starts from 80%). The ET7's safety performance is better than the Volkswagen ID3's result that was also recently tested by CATARC.
Source: Weibo C-NCAP, C-NCAP Website