China's Dongfeng Motor Corporation is fond of making zillions of variants of its vehicles. Take this badass Dongfeng Warrior M20 camper van for example. The Warrior M20 is a new car. Earlier on we met the SUV and pickup truck versions. But the camper sure is the coolest variant so far. It is based on a two-door truck chassis. Dongfeng will make military- and civilian versions of the camper. The car on pics is the civilian one, albeit painted in army green.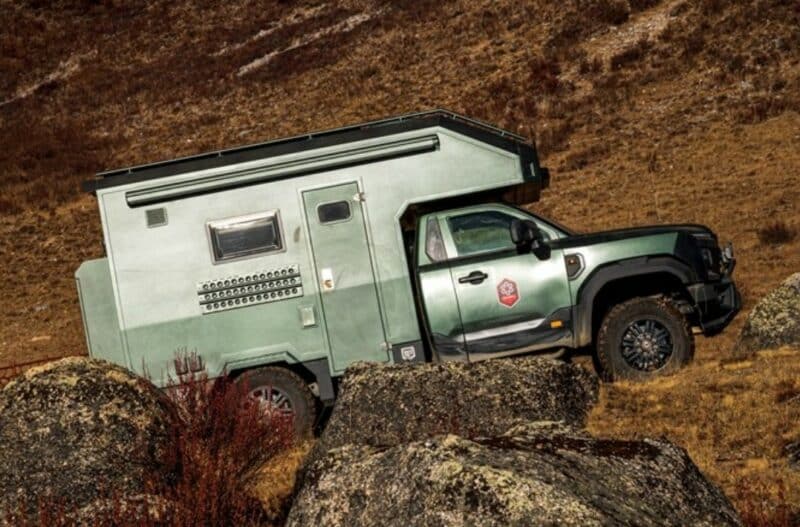 The vehicle's fill name is 'Dongfeng Warrior M20 Antarctic 4WD Off-Road RV'. Well, that is a great name if there is any. But calling this monster an 'recreational vehicle' is possible the understatement of the week.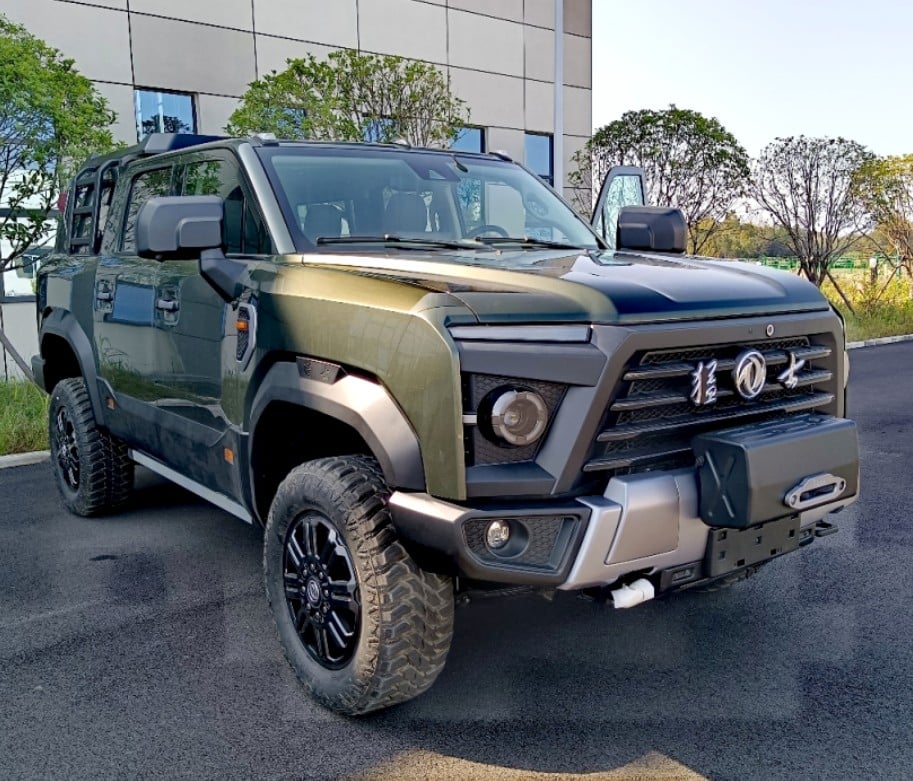 The Warrior M20 is based on a body-on-frame chassis. Power comes from a massive old-school engine: a Dongfeng-Cummins (东风康明斯) 'D6.7NS6B320' 6.7 liter six-in-line diesel, good for an output of 320 hp (232 kw) and 1200 Nm. Max torque is available from 1200 rpm. The engine is mated to a 6-speed automatic transmission sending horses to all four wheels. It can go pretty far with a huge 140 liter fuel tank.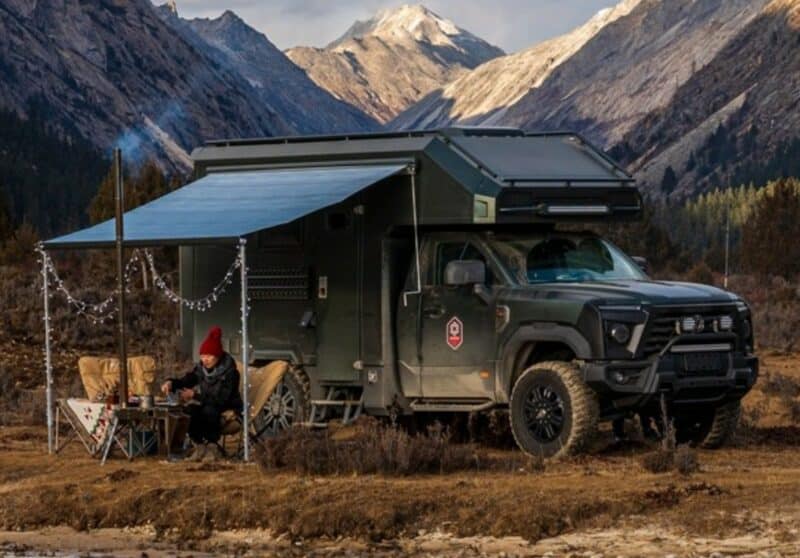 The camper has this same engine under the hood. It also has a tent, with running lights on the tent poles. Those damn mosquitos will dig that a lot. The red hatted lady reads a book on a table with a table cloth while sitting on a comfortable chair. Camping in comfort is like camping at home.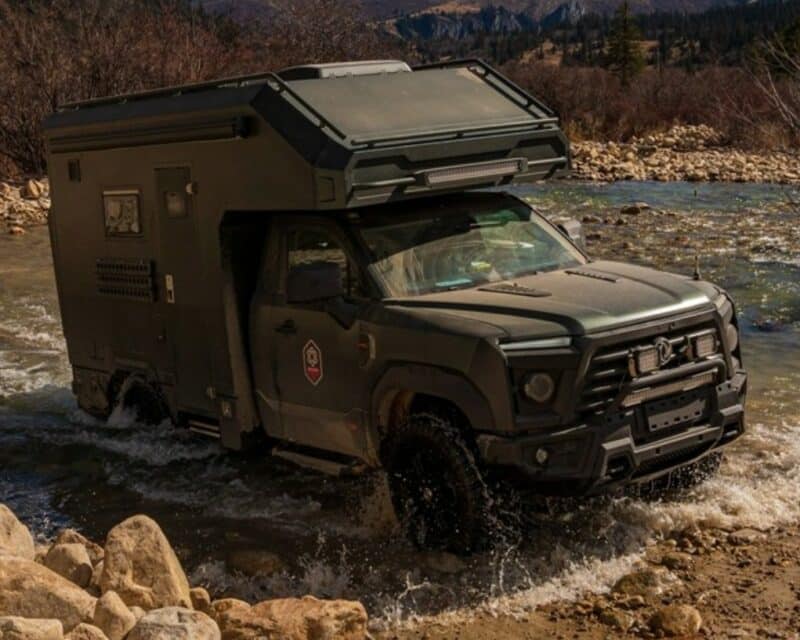 Dongfeng claims the M20 can operate on a max altitude of 4,500 meters. It has a wading depth of 850mm, vertical obstacle clearance height of 400mm, can go over a trench 700mm wide, approach angle is 33 degrees, departure angle 36 degrees, and the transverse passing angle 25 degrees.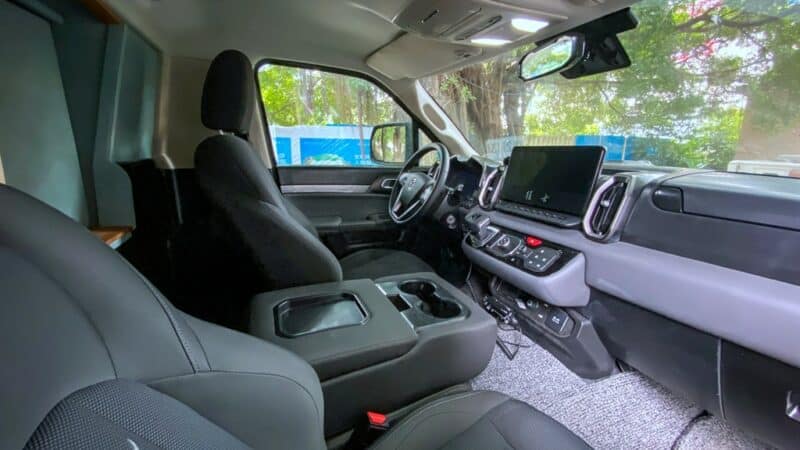 The cabin with 2.5 seats, a large screen for the infotainment, a warm carpet, and shiploads f cheap gray plastic.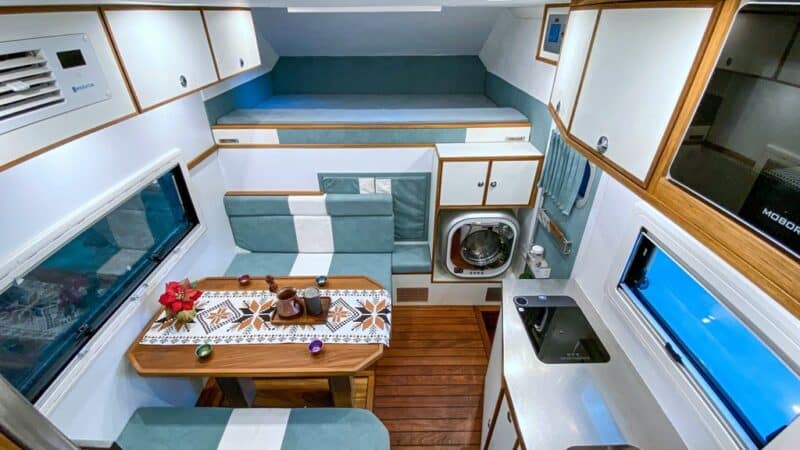 The main bed is located over the cabin. Size is 2025mm×1350mm. The benches can transform into beds too, using electric power, so no need to pull and push. Other daily necessities include a laundry machine, electric cooking, hot water, a standard tea seat, and another table cloth.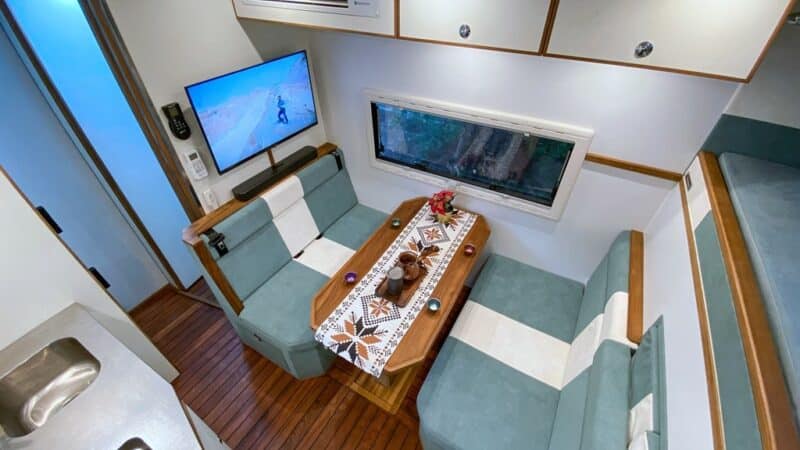 Naturally, there is a large television too.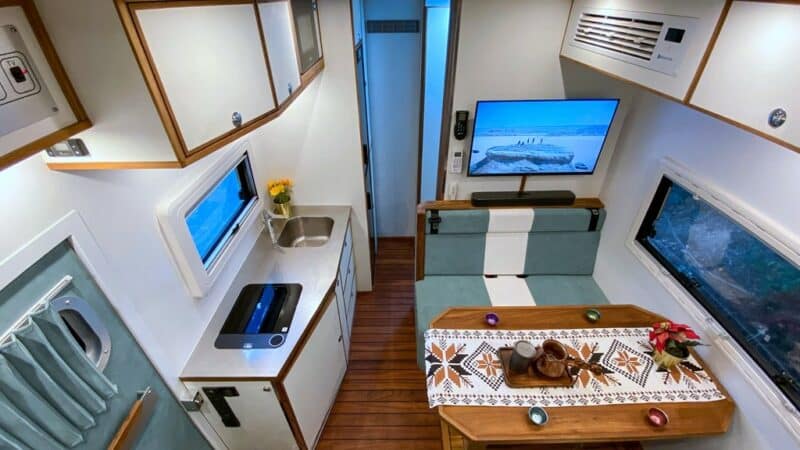 Lots of storage compartments too, and air conditioning.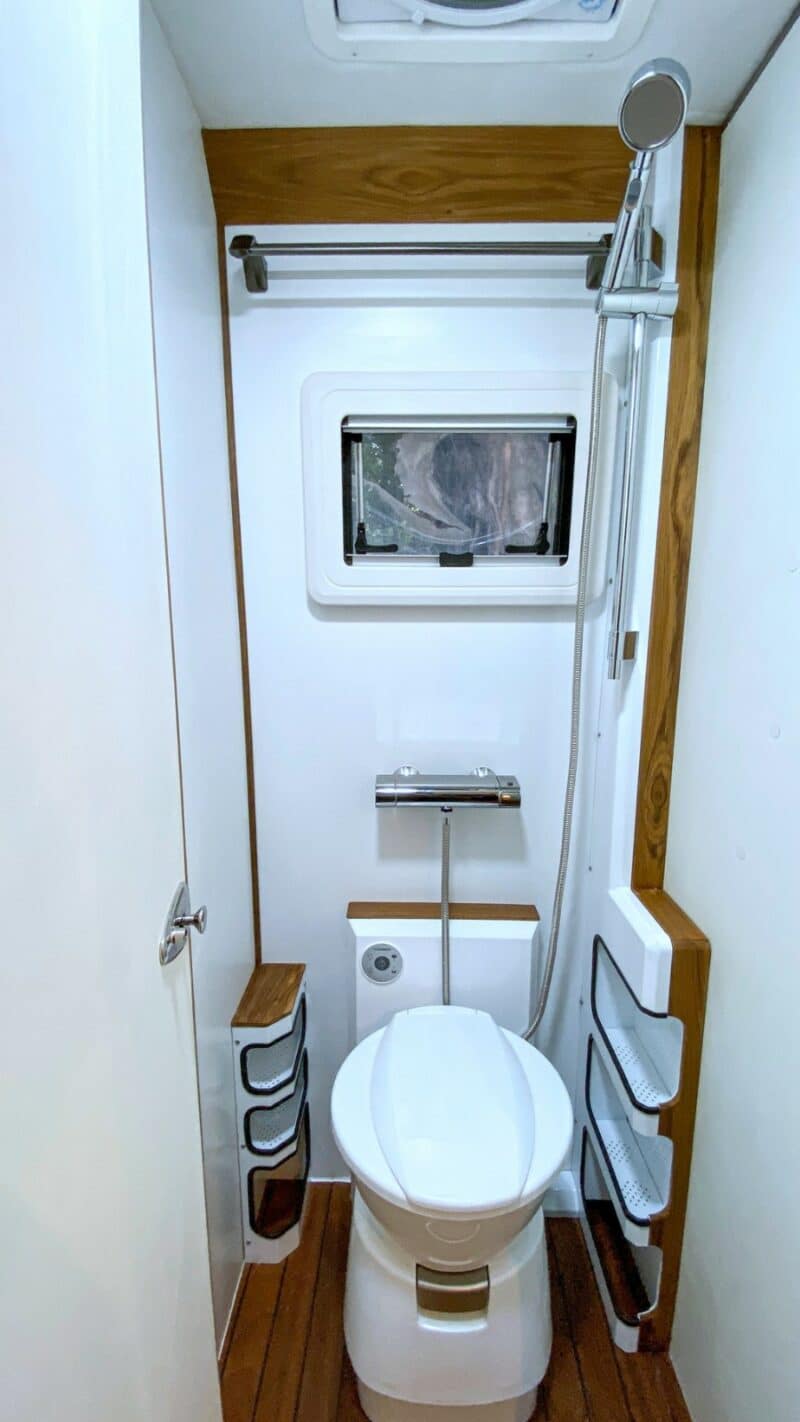 It even has a bathroom, with a swivel toilet and a shower.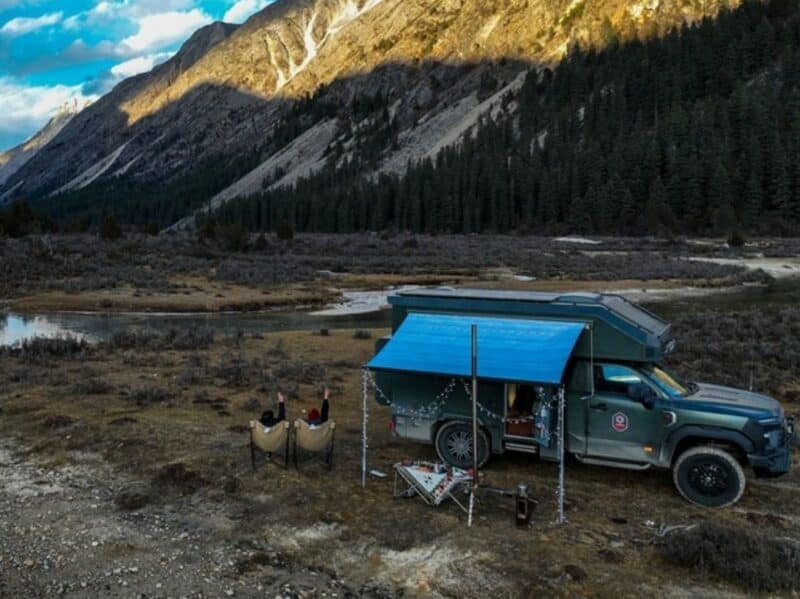 The red hatted lady and a friend pointed at the sky. It'll be dark soon. They can watch the stars or TV.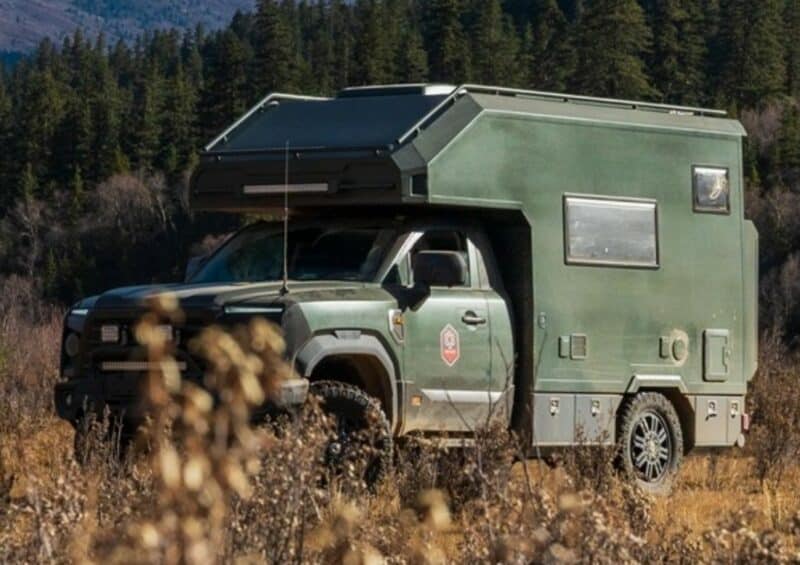 A brilliant variant of a brilliant car. We can't wait to see what other versions Dongfeng is planning to launch in the future.
Images via Dongfeng.