The co-president of CATL's marketing department, Tu Feng, has resigned, according to reports from 36 Krypton. He will be replaced by Han Wei, who presided over the company's commercial department. This would be the biggest personnel adjustment in the manufacturers' structure after the departure of vice-chairman Huang Shilin and general manager Zhou Xin last year.
CATL is divided into three major sectors: marketing, R&D and engineering/manufacturing, and supply chain/operations. Each system has 2-3 co-presidents who report directly to Zeng Yuqun, chairman and general manager of CATL.
Before now, Tu Feng served as a co-president of CATL's marketing department alongside Wu Kai, who doubles as the co-president and chief scientist of the R&D department. In recent years, Tu Feng has represented CATL at signing and cooperation events with heavyweight customers, such as last year with Huawei and Chery Automobile.
Tu Feng's resignation will come as a shock to many as he represented CATL at the World Economic Forum as recently as January.
Regarding Tu Feng's resignation, a person close to the matter suggested that the sales performance did not meet the company's expectations. "There are also people who say that he is too academic, has a wolfish personality, and is not suitable for the company's culture, especially sales."
The new co-president of the market, Han Wei, has made public appearances since he took office. In March this year, at the ceremony of deepening strategic cooperation between CATL and BAIC Group, Han Wei signed a contract with BAIC on behalf of the company.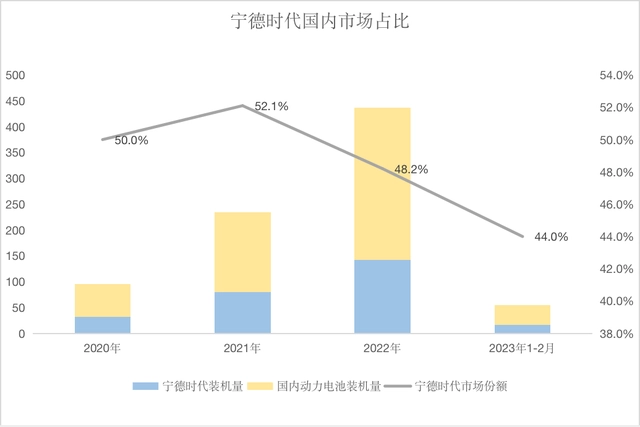 In the past two years, the new energy vehicle market has developed rapidly, but CATL's domestic market share has slowly declined. According to data from the China Automotive Power Battery Industry Innovation Alliance, CATL's domestic installed capacity was 142.02GWh in 2022, a year-on-year increase of 76%, but its market share in the same period was 48.2%, a year-on-year decrease of 3.9%. CATL's market share has further dropped to 44% in the first two months of 2023.
Although the CATL is still the undisputed leader in the industry, the rapid growth of BYD's self-developed Blade batteries is becoming a threat.
In the first two months of this year, the key to the decline in CATL's market share was the loss of the lithium iron phosphate battery segment—BYD's battery not only surpassed CATL in this field but also captured more than 50% of the market.
In addition to being "kicked out" by BYD, the more severe test is that after two years of rapid development of new energy vehicles, the growth rate of new energy vehicles will slow down significantly this year. In January and February, although the installed capacity of power batteries is still rising, there is already a large amount of inventory of new cars downstream. Industry leaders Tesla and BYD have successively cut prices, and other automakers are following suit.
In response to such changes, CATL pushed upstream raw material suppliers to cut prices, and promoted the "lithium mine rebate" plan for car companies, using disguised price cuts to lock in shares in the next few years.
As a result of all of these, it makes sense for CATL to promote someone with experience within its commercial unit as the company hopes to expand some new businesses
Han Wei previously worked for Yutong Bus, a leading bus company, and worked in the field of commercial vehicles for many years. Since CATL, he has been in charge of business development and customer maintenance in the commercial sector.
CATL's system consists of several business divisions, including passenger vehicles, commercial use, and energy storage. Regardless of market size, it is still difficult for the commercial and energy storage sectors to surpass passenger vehicles. But at present, the expected growth rate of new energy passenger vehicles has dropped to only 30%, and the competition is becoming increasingly fierce. In comparison, the new energy penetration rate of commercial vehicles is still low, and it is a market that is expected to reproduce "explosive" growth.