On May 23, weekly sales based on insurance registration data were revealed in China. Local automakers buy these data regularly, and previously various insiders made them public every Tuesday. After some complaints, the bloggers stopped doing that in April, but Li Auto took over and published the data on its own, rounded and only for NEV startups and premium brands.
Li Auto didn't do it out of altruism but to show how happy and confident they are with their weekly sales. Two weeks ago, there were complaints about Li Auto, so they stopped sharing the data. However, today Zhu Yulong shared the third week of May data (May 15-21) on his Weibo account today. The data come again from Li Auto, who resumed their publishing, and we don't mind! It is week 20 in 2023, so we will refer to it as W20.
Li Auto got the first post among the Chinese NEV startups and sold 7,100 range extended vehicles (EREV), up 6% from 6,670 vehicles sold in the previous week. Leapmotor sold 3000 budget vehicles, 20% more than the W19 week when registering 2,500 EVs. Denza sold 2,600 premium EVs, 8% down from 2,400 in W19.
Geely's brand Zeekr sold 2,000 EVs, up from 1,500 WoW, and Shenlan (Deepal) did pretty well with 1,500 registrations. Huawei's Aito sold fair enough 1,100 EVs. Rising Auto raised to the top 10 for the first time with 600 cars, and Xpeng stayed flat with 1,500 EVs. The third Chinese US-listed EV startup – Nio – sold 1,400 EVs which is 15% up from W19.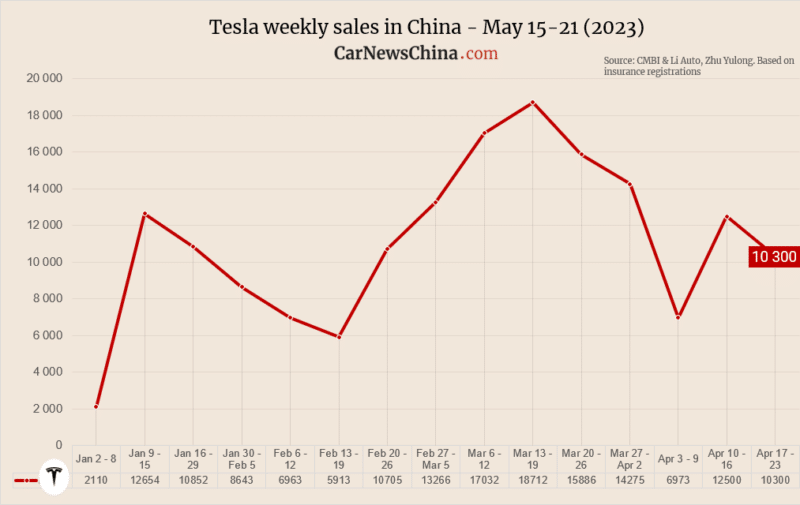 Tesla registered 10,200 vehicles in China in the third week of May, almost consistent with the previous week – 2% up WoW.
Li Auto wants to share it's them and not Nio, who is the real competitor to BBA, so they share the weekly sales data for premium passenger vehicles, ICE, and EV combined in China.
Germans occupy the first three spots: BMW is the champion with 14,800 sold cars, Mercedes-Benz second with 13,700 sold units, and Audi third with 13,000.
The fourth spot goes to Tesla, which sold 10,200 pure EVs, followed by Li Auto with 7,200 EREVs. Porsche also made it to the TOP 10 with 2,100 sold cars.