The cooperation is focused on intelligent technology, and electronic and electric architecture (E/E architecture) in XPeng's SUV, G9. XPeng will not be Tier 1 supplier of smart software, but will sell the E/E architecture, smart software and hardware solution packages to Volkswagen. In the following years, XPeng should receive technical service fees and once the production of the two models starts in 2026, the Chinese EV maker will receive part of the profit for each unit sold, records of meetings obtained by the Chinese media show.
Earlier, it was revealed that the deal with the Chinese electric car maker and Volkswagen was signed by 100% TechCo headquartered in Hefei, which is considered to be the largest R&D center outside Germany. The Hefei center will be responsible for development, engineering design and production chain for the two models, the records of the talks that lasted eight months show.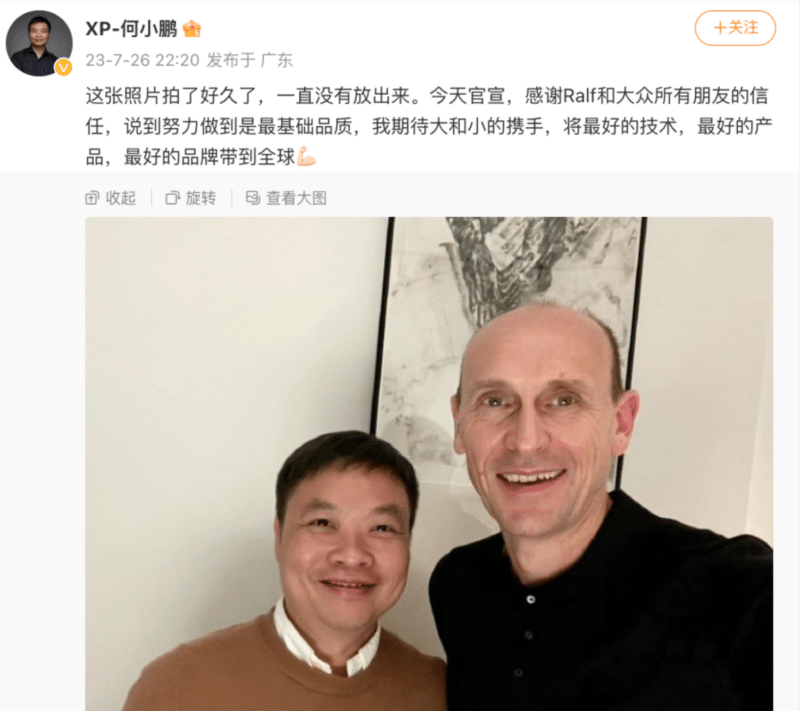 The reason why XPeng sold E/E architecture and software was because without E/E it would take a lot of engineers to help adjust the software. We could not follow Huawei's mode as in our case the efficiency would not be high, XPeng's person responsible for finance and investment said to the local media. The words are in line with the rumor that XPeng has abandoned the development of the new SUV model due to lack of resources.
The part of the deal, SUV G9, was a flop for XPeng. Since the market entry in September the model sold around 12,000 units and has caused trust issues with suppliers as XPeng promised a bestseller. The car's powertrain uses China's first 800 V mass-production Silicon Carbide (SiC) platform and incorporates the industry's first full-scenario ADAS. Featuring 31 lidar sensors, dual NVIDIA DRIVE Orin-X intelligent assisted driving chips, and Gigabit Ethernet communication architecture, the G9 has up to 508 TOPS of computing power.
Source: 36KR