This is Chery's iCar 03 all-electric hardcore style SUV at the 2023 Chengdu Auto Show. Its interior is debuted for the first time. Delivery is expected to start in the fourth quarter of this year and its price tag is around 150,000 yuan (20,500 USD). iCar is Chery's new energy vehicle brand launched earlier this year, aimed at the younger generation. The 03 is the brand's first model.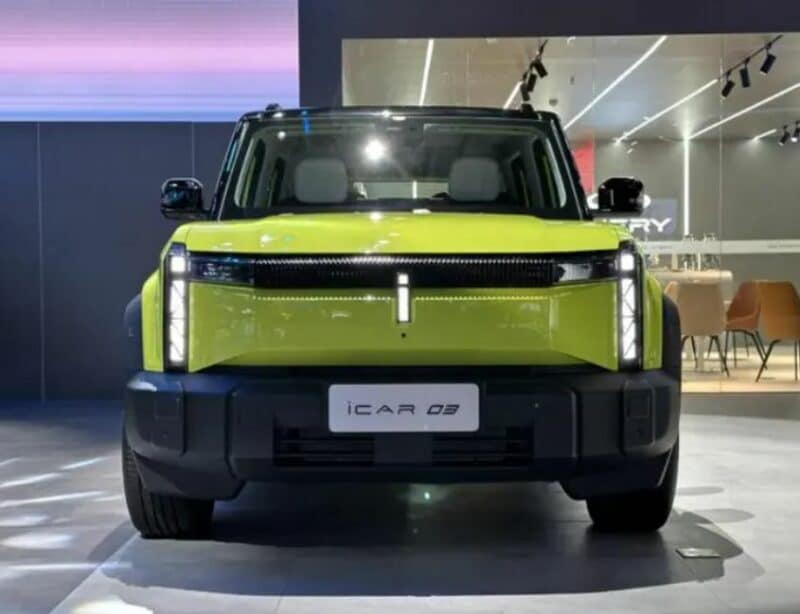 Overall, the car adopts a square shape with a size of 4406/1910/1715mm, and the wheelbase is 2715mm. Its approach angle is 26 degrees and its departure angle is 29 degrees. In the front face, the vertical headlight group is eye-catching. The 'i' logo is placed at the center of the closed grille. From the side, the roof has been blackened and the popular pop-out door handles are not absent.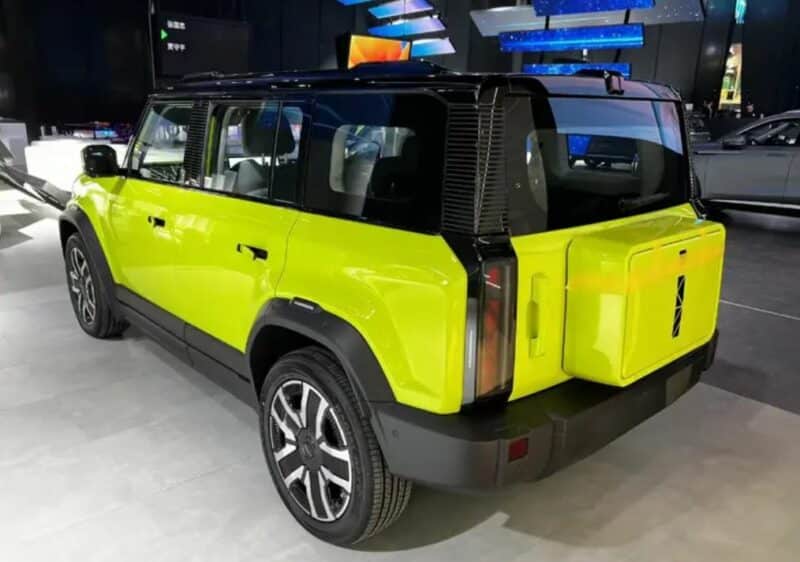 At the rear, there is an external square storage compartment, but it is meant to store a spare wheel. The taillight group also adopts a vertical layout and the tailgate can be opened from the left side.
According to previously declared information on the Chinese MIIT, Chery iCar 03's powertrain consists of an electronically controlled four-wheel drive system, a 135 kW motor, and an LFP battery from CATL. The car might have up to 500 km of pure electric cruising range, according to Chery. In addition, it is worth mentioning that the car is equipped with integrated solar panels in the front and on the roof to obtain additional electrical energy to increase its cruising range.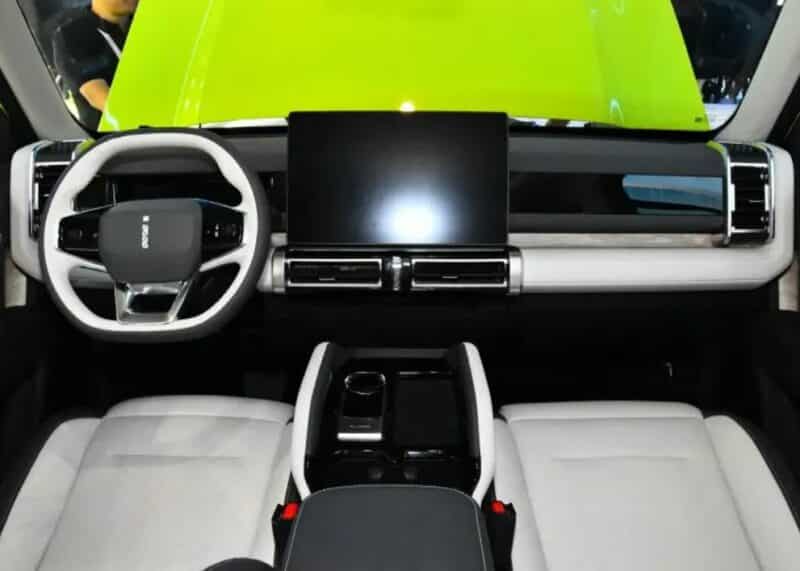 Inside, the symmetrical interior has a large floating central control screen, a three-spoke flat-bottom multi-functional steering wheel that is wrapped in leather material, and a rectangular LCD instrument panel. The air-conditioning outlet is below the central control screen. The device dimensions have not been revealed at this time.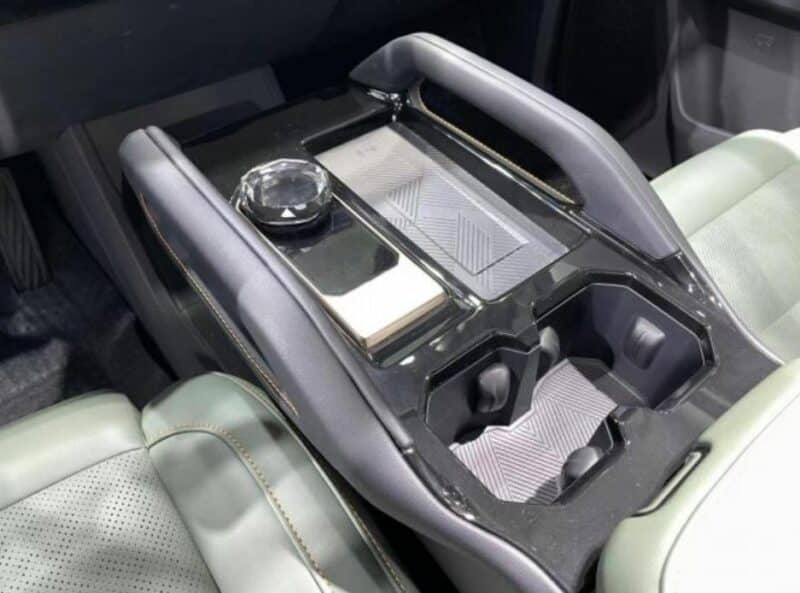 Furthermore, the car offers level 2+ advanced driving assistance functions.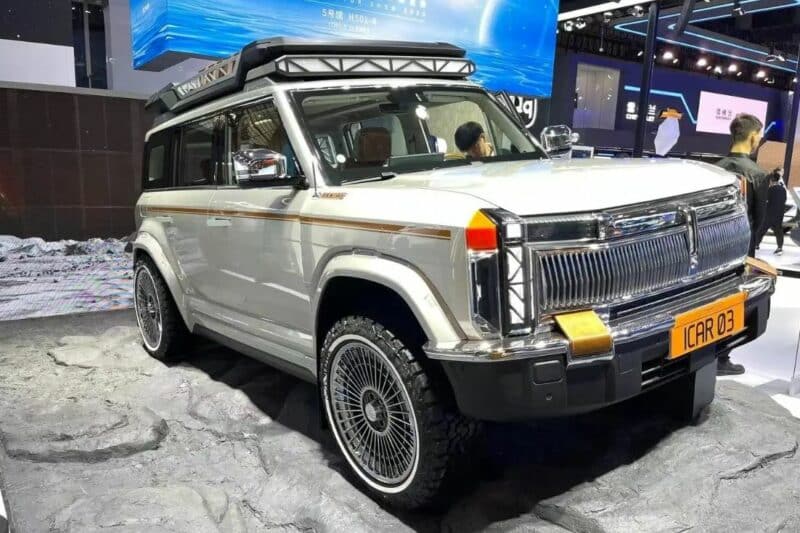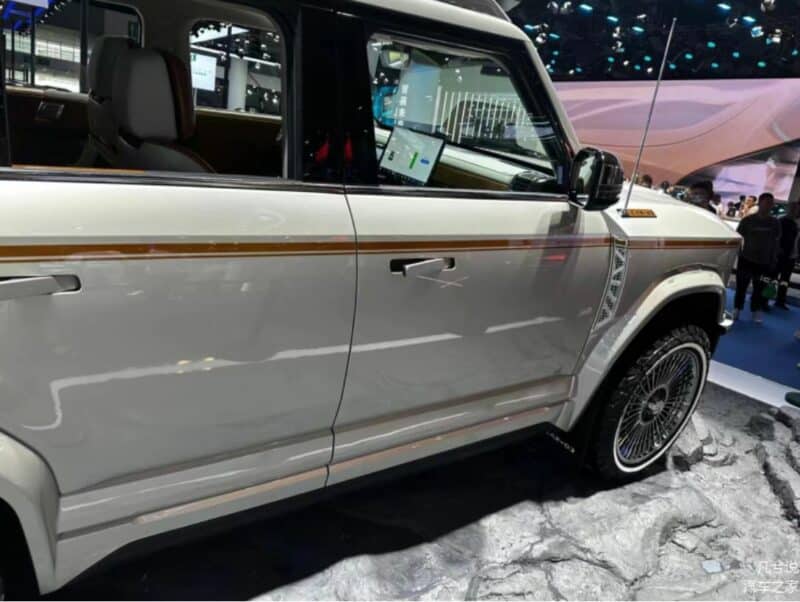 Moreover, Chery also displayed a refitted version of its iCar 03, which has a retro vibe. The closed front change is replaced with a densely populated vertical chrome strip grille. The 'i' brand remains at the center. On the side, a decorative strip is added and the car runs on dense-spoke rims. A luggage rack has also been added to the roof and the rear external storage compartment is more outwardly protruding.