The BAIC's ArcFox Kaola was revealed in January 2023 as a parent-child car for middle class adults with infants. Because of its quirky market position, this car became popular in Chinese media. After the pre-sales starts, Kaola attracted over 5,000 orders. And now, it is ready for the deliveries in four trims with 164 hp, 500 km of CLTC range and a starting price of 131,800 yuan (18,100 USD). Let's get to know Kaola better.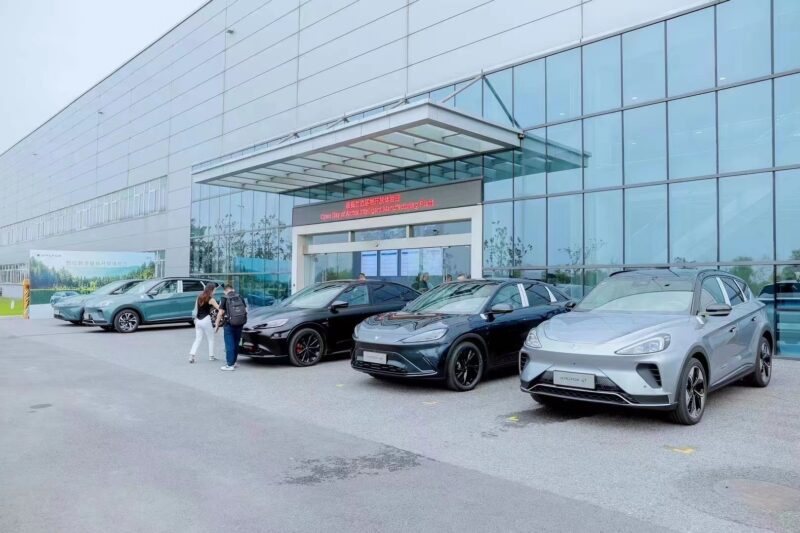 Before we crack on with the Kaola, we will remind you that ArcFox is an electric car brand under BAIC. It was founded back in 2018 as '极狐' (Jihu). However, the international name of this brand is ArcFox. Currently, the ArcFox model line comprises three vehicles: ArcFox αS (Alpha S) sedan, ArcFox αT (Alpha T) SUV and recently launched Kaola. We will underline here that ArcFox works closely with Huawei. As a result, its cars have a Huawei autonomous driving system and Harmony OS inside. And still, the ArcFox's sales volume isn't high, with cumulative sales of 8,269 units in 2023. It seems that Kaola is a car that can finally boost the popularity of this brand.
Briefly on ArcFox Kaola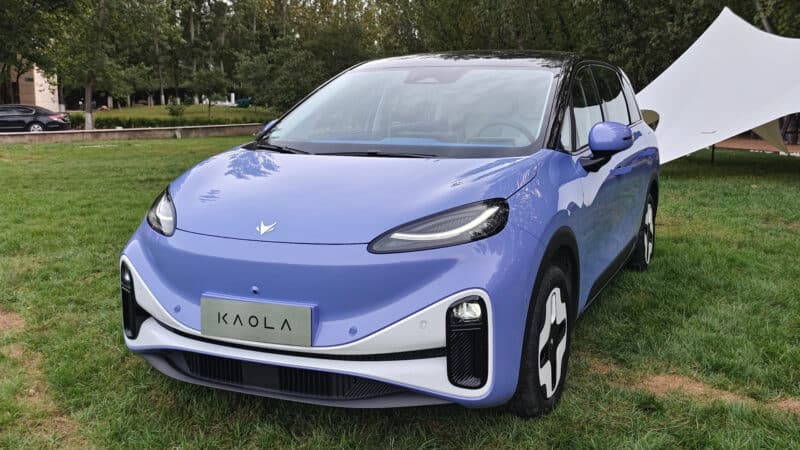 First, let's speak about the body type of the ArcFox Kaola. According to the manufacturers' information, it is a small MPV. It looks more like a fuzzy mix of hatchback, station wagon and van. However, we will keep calling it an MPV since it actually has rear sliding doors. Its exterior styling follows the brand's design language with oval-shaped headlights and smooth lines. The front bumper of the Kaola looks like a smile. It also has a slick roofline and slightly slanted D-pillars. From the back, the new MPV has a single taillight unit with an illuminated ArcFox logo. Speaking about dimensions of the Kaola, they are 4500/1870/1655 mm with a wheelbase of 2820 mm.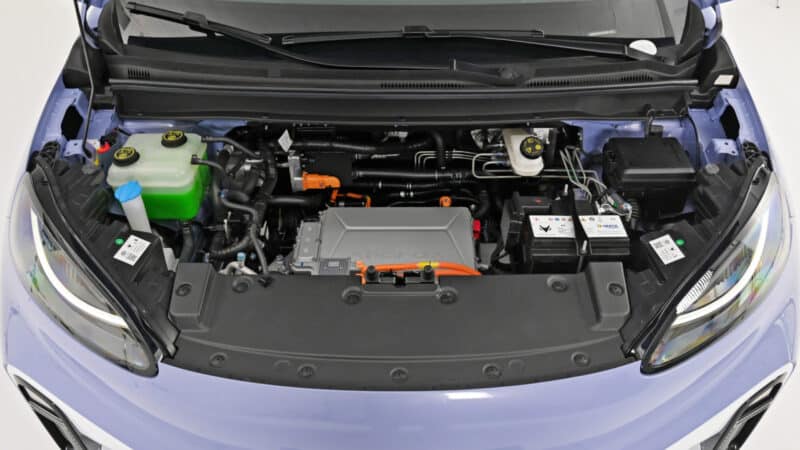 Before we will get inside the Kaola, let's add a few words about its powertrain. Every trim of this MPV comes standard with a single electric motor on the front axle for 163 hp (120 kW). Its top speed is limited to 160 km/h. So, the power output of the Kaola is quite underwhelming. But keep in mind that this vehicle is made for mother and child, not for rally driver and navigator. As for the battery, it is LFP made by CATL with a capacity of 58.86 kWh. As for the range of Kaola, it is 500 km (CLTC).
ArFox Kaola interior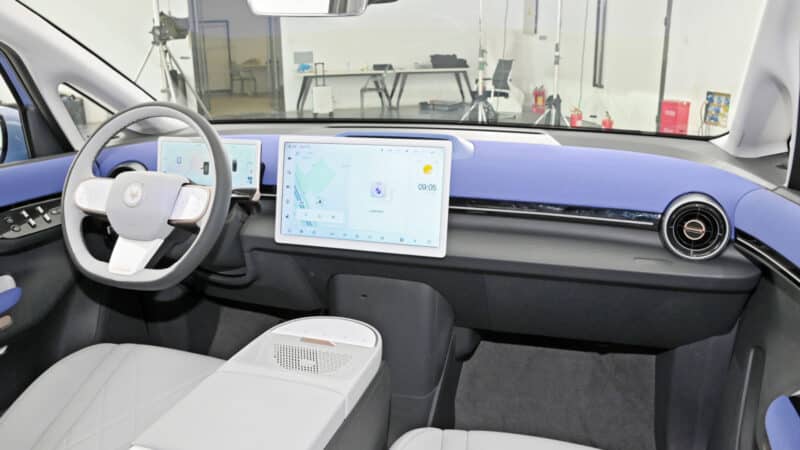 Now, let's finally sit inside the Kaola. It adopts clean styling with a floating screen, a small LCD screen and a three-spoke steering wheel with a flat bottom. It also has circular air vents. Inside, the ArcFox Kaola has a camera on the B-pillar that monitors the left rear seat that is dedicated to a child. As a result, mothers can watch their children on a center screen while driving, avoiding looking back.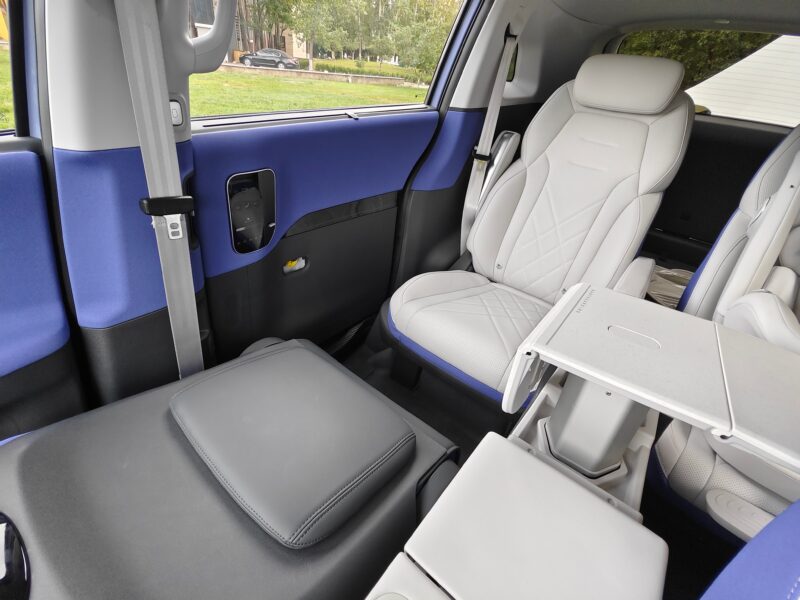 Other fine baby-friendly features of the Kaola are anti-bacterial air conditioner, PM 2.5, PM10, pollen, dust filters, and ultraviolet lamp. When the car is locked and interior sensors detect there is no people inside, the UV lamp turns on and disinfects the cabin. It also can be activated remotely with an App. According to ArcFox, the medical-grade disinfection will be achieved in 15 minutes of working.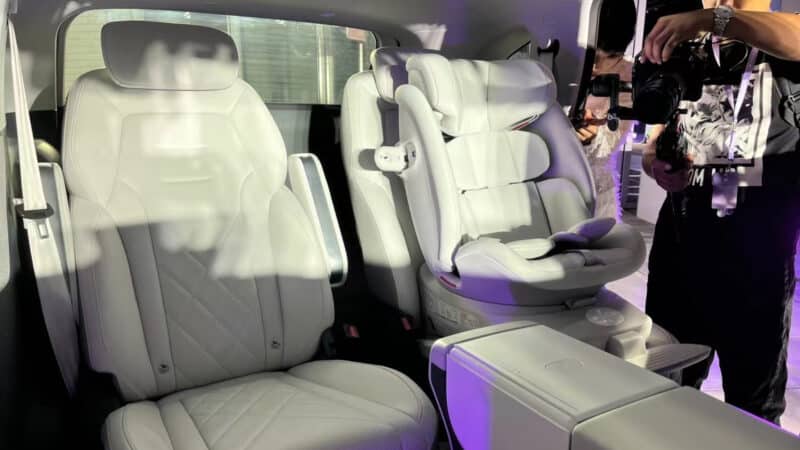 The ArcFox Kaola has also teamed up with Goodbaby International, that develops and sells some baby gear. They jointly developed electronically adjusted baby seat. The seat can switch to a lying position for the baby to fall asleep. Its structural strength is increased by 156%, compared to a standard baby seat. The ArcFox Kaola has also got a rail inside the car that helps children and pregnant mothers to get inside the car. And finally, the rear right seat can incline by 140 degrees while the front right seat can be folded.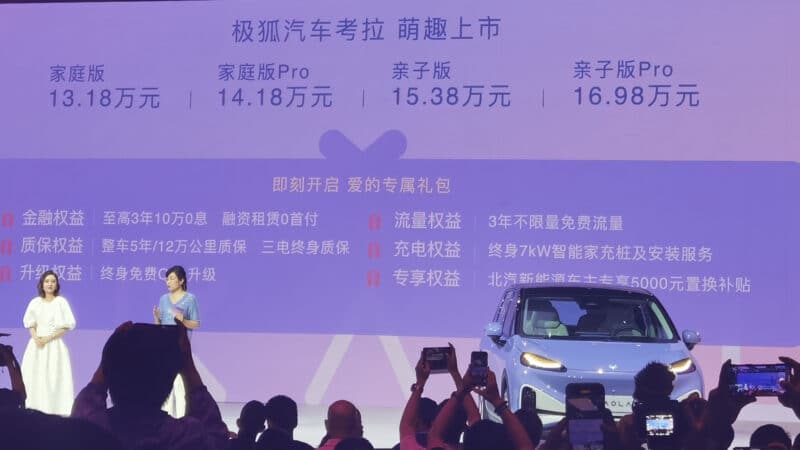 Now, let's speak about the ArcFox Kaola's pricing. It is available in four trim levels with a price range of 131,800 – 169,800 yuan (18,100 – 23,300 USD). The top-trim level car is equipped with an L2 autonomous driving system and various baby-friendly modes. As mentioned, over 5,000 people have already booked the Kaola MPV. However, we aren't sure that actual deliveries will match this volume. Anyway, we will keep an eye on the ArcFox Kaola, so stay tuned!
Source: ArcFox, ArcFox Weibo, Myhomeok, Weibo初晓敏