Intro
The long-awaited MG Cyberster is on the verge of its much-anticipated market entrance, at least in China. After years of teasers and anticipation, the moment has arrived for us to take the wheel and thoroughly evaluate this EV roadster. These are exciting times for the world of electric vehicles as manufacturers push the boundaries to create more thrilling and innovative cars.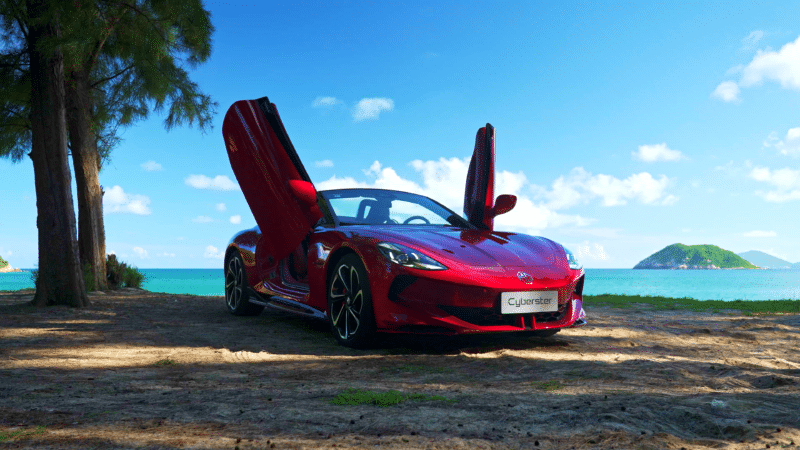 In this review, we'll delve into the MG Cyberster's unique characteristics and performance without dwelling excessively on MG's storied heritage. This thoroughly modern electric roadster shares little with its iconic MG predecessors, aside from the familiar two-seat configuration and soft-top. It heralds a new era for MG sports cars, setting a distinct path in the realm of electric mobility.
Price
No official pricing details for the MG Cyberster until the Guangzhou Auto Show in November, which will likely be the Chinese market pricing. However, we have been led to believe in China, the top-of-the-line MG Cyberster range is expected to top out at 350,000 RMB (48,600 USD). However, for UK buyers, the price takes a steeper climb, hovering around 550,000 RMB (76,400 USD) for the MG Cyberster AWD variant.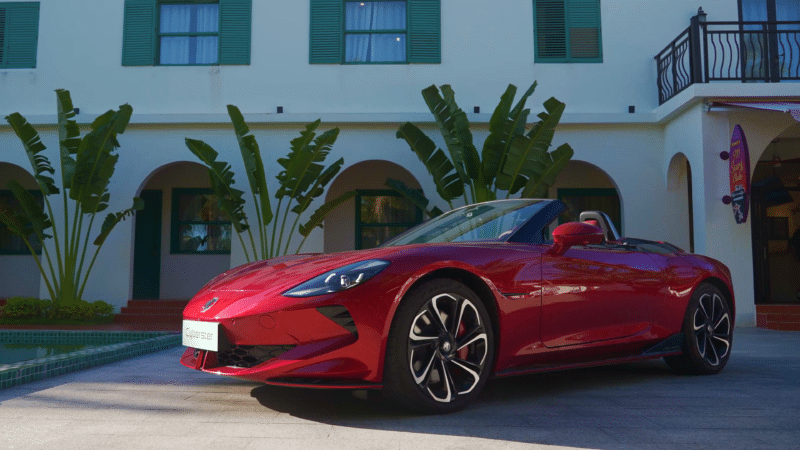 Battery, Range & Charging
The MG Cyberster will have two battery options. The 231kW RWD version comes equipped with a smaller 64kWh battery, boasting a claimed range of 501 kilometers. In contrast, the more potent RWD model, packing 250kW of power, opts for the larger 77kWh battery, providing the most range within the model lineup at 580 kilometers. Meanwhile, the AWD variant shares the same robust 77kWh battery but, with its extra motor range, is estimated lower at between 520/530km.
While specific charging details are yet to be disclosed, it's reasonable to expect industry-standard 20-80% DC fast charging, a process that typically takes around half an hour.
Exterior
MG's marketing touts its heritage and the MGB inspiration, but beyond being a two-seat soft-top convertible, the MG Cyberster charts a different path. While it stands as a modern-looking roadster, it doesn't shout "EV" in its styling; instead, it embraces a more classic roadster aesthetic that's utterly captivating. In fact, it might just be one of the most visually appealing EVs on the market today.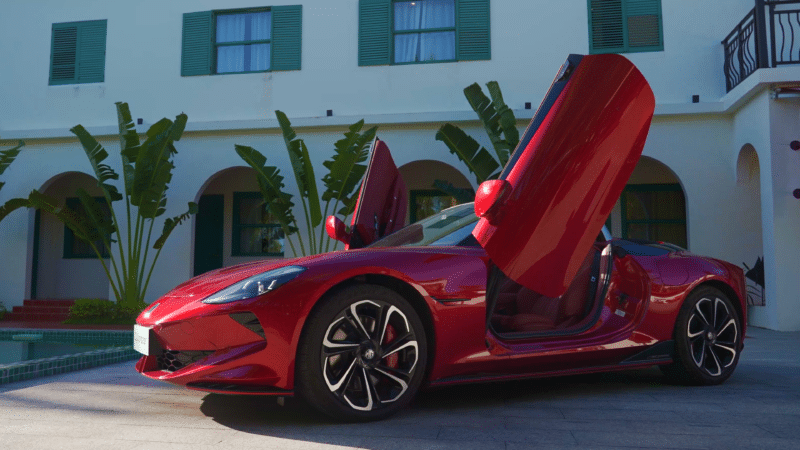 The front end commands attention with its distinctive diving nose, reminiscent of the front mid-engined Maserati GT. The well-defined hood lines and the creases that converge at the center of the nose creating a captivating sense of motion, even when the car is stationary. Functionality meets style with various aero elements, including a rear diffuser, brake cooling ducts, and an active intake grille up front.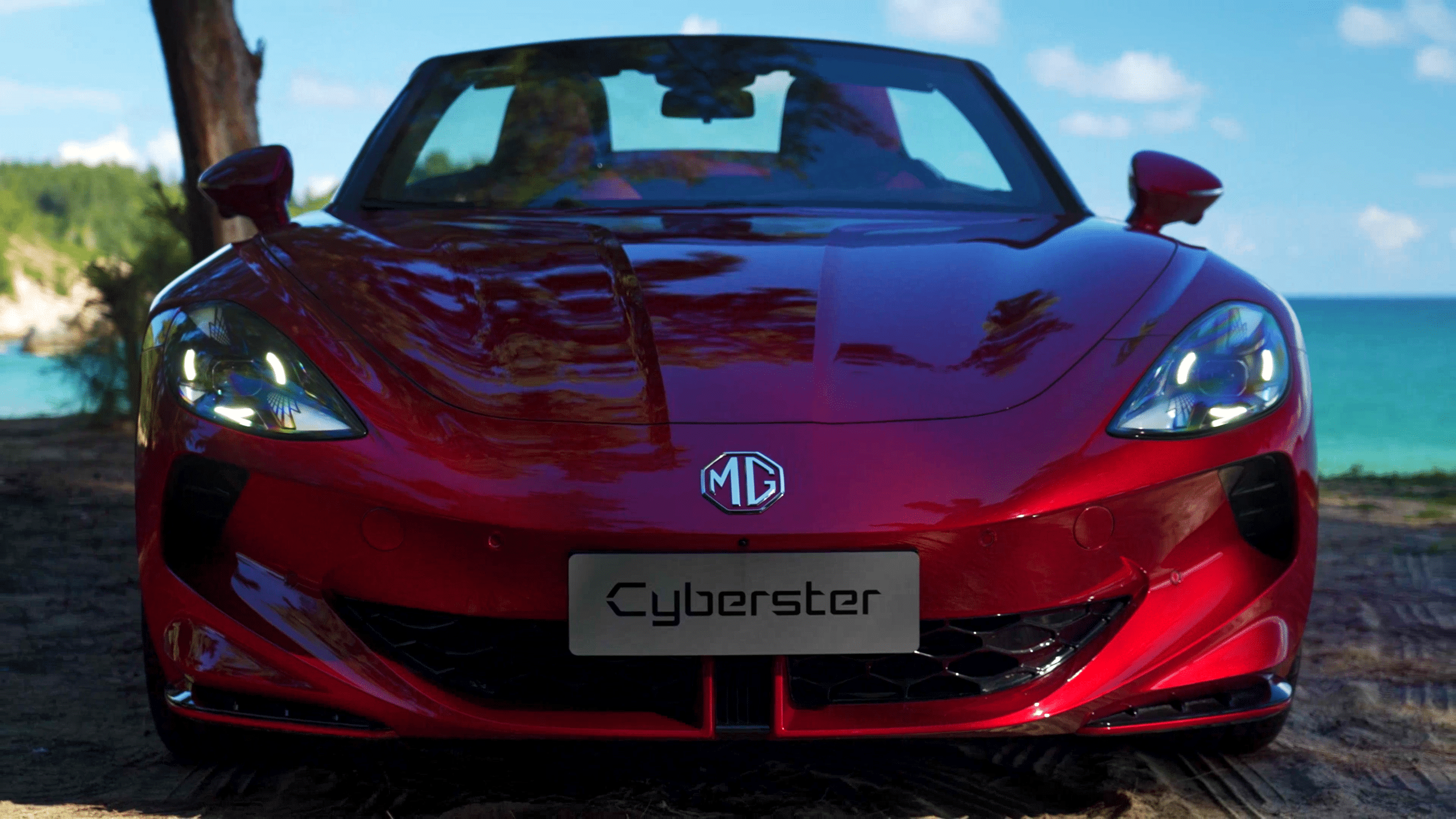 Moving along its profile, the Cyberster exudes classic roadster vibes, featuring an aggressive windscreen rake, a low and elongated nose, and swollen rear haunches that seamlessly flow into the rear end. A sleek strip of gloss black encircles the Cyberster just below the window line, cleverly enhancing the perception of this roadster's low stature. Adding an extra layer of flair, the automatic electric scissor doors make an already exciting EV even more enticing. Surprisingly for an EV, the 20-inch alloys are perfectly proportioned, fitting well within the wheel arches. They come wrapped in staggered Pirelli PZero tires, with 245/40 upfront and wider 275/35 in the rear.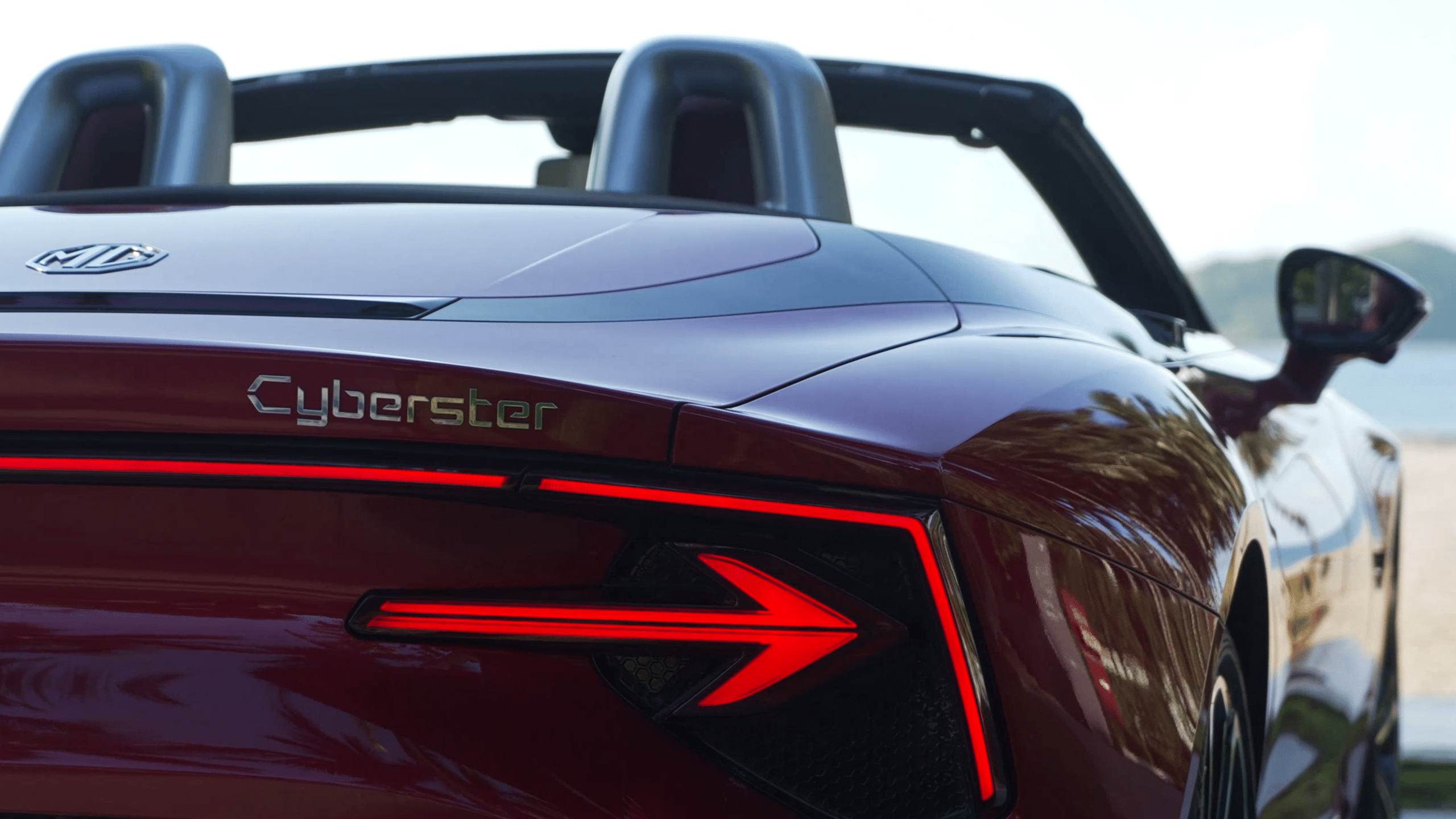 At the rear, the MG Cyberster boasts a broad and low stance that demands attention. Several striking design features define this area, such as the wrap-around LED light bar and the sizable diffuser. However, one feature that sparks conversation is the large arrows serving as indicators and lights. MG claims they represent "half of the British flag," but in comparison to Mini's skillful execution in their rear light cluster, the Cyberster falls somewhat short. Nevertheless, the rear maintains its overall appeal, although it leans slightly more towards an EV aesthetic, perhaps attributed to the light bar and the absence of quad exhausts, in contrast to the front's more traditional roadster design.
Interior
The MG Cyberster boasts a driver-centric cockpit that keeps everything readily accessible to the person behind the wheel. The driver and passenger are divided by a central handle. Nestled into the plush Alcantara and leather 6-way heated seats with aggressive side bolstering, you'll find yourself surrounded by four screens, all powered by a Snapdragon 8155 for swift responsiveness.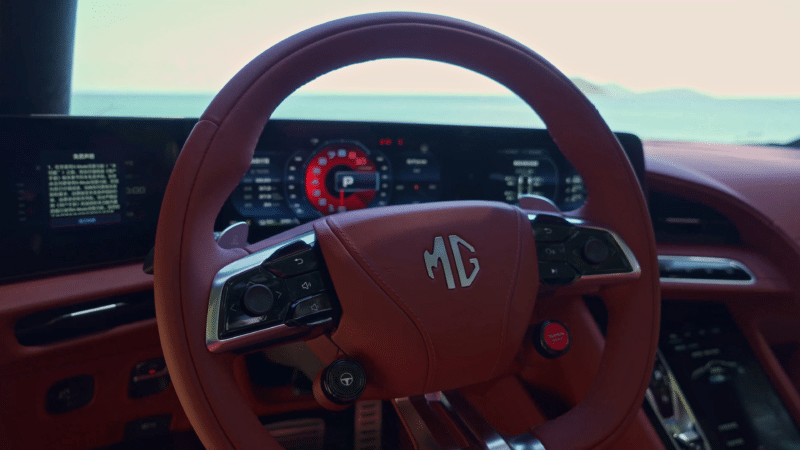 Behind the heated steering wheel, three screens serve distinct functions: the central one functions as your digital instrument panel, flanked by two smaller touchscreens. The left-hand screen manages driving-related settings, while the right-hand screen handles infotainment, including navigation, music, and apps. In the center console, another screen serves as a control panel, granting access to A/C controls, battery information, charging details, and ADAS features.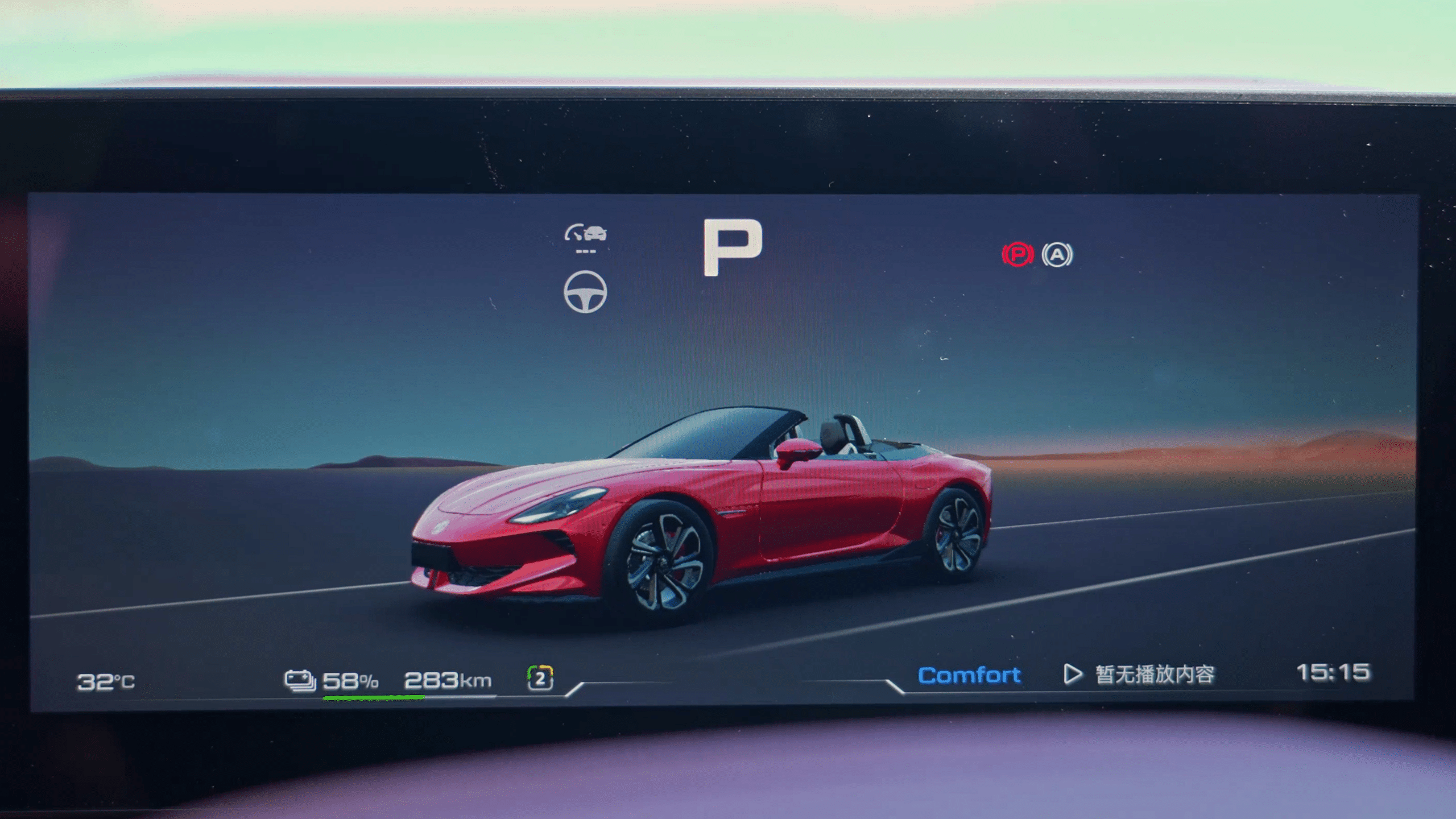 Inside the MG Cyberster's cabin, you'll discover some intriguing features that enhance both practicality and style. One noteworthy feature is a latch on the rear bulkhead designed for attaching a dog leash, ensuring your furry companion stays secure during the ride. However, my personal favorite is the clever storage solution for the scissor doors. While typical scissor doors often lack storage due to the risk of items falling out, MG has ingeniously added small sunglasses pockets with secure doors, providing a spot to stow your small belongings.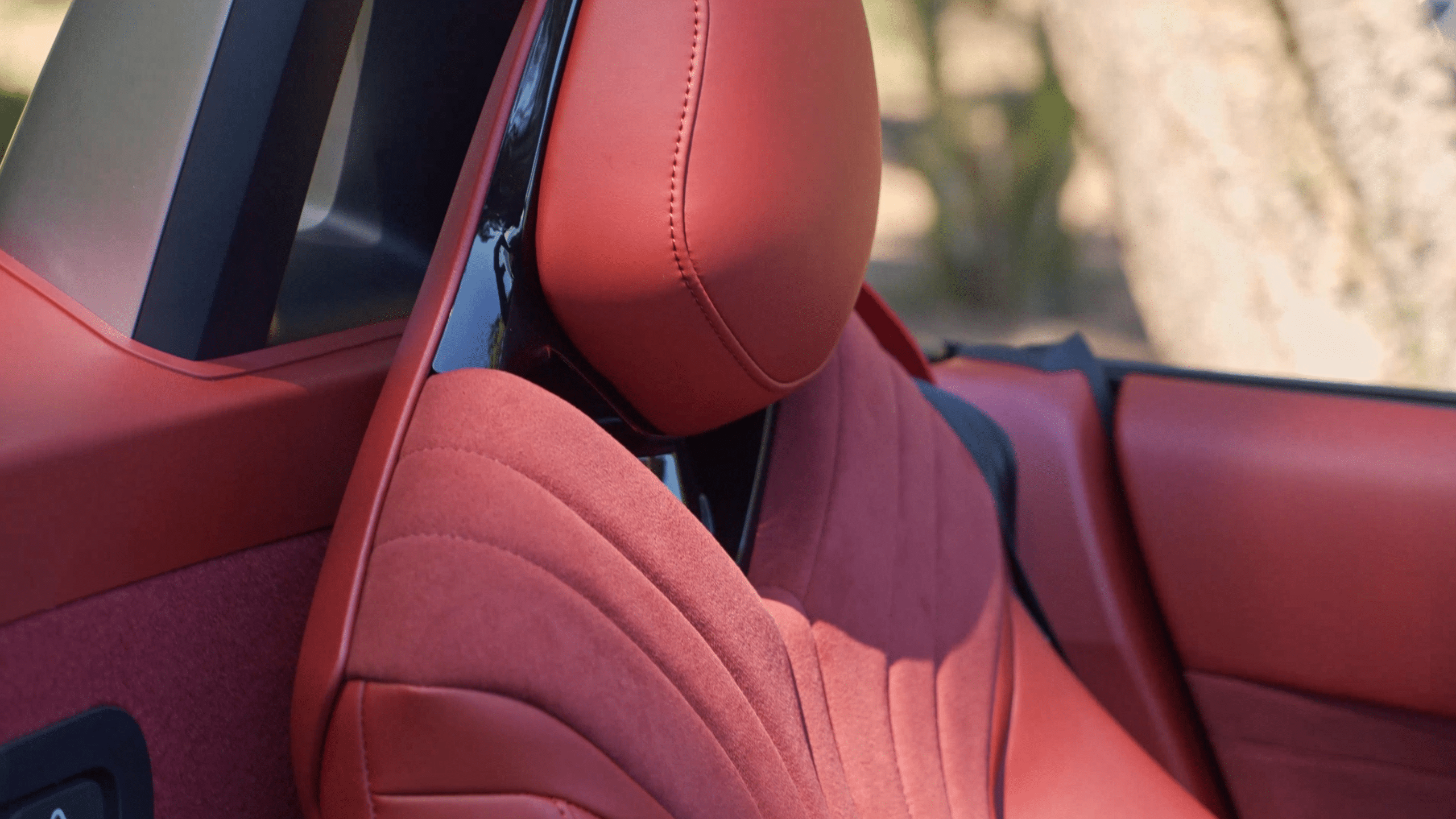 Despite MG's claim of affordability, the interior showcases a commendable level of material quality and craftsmanship. Leather and Alcantara surfaces abound, with touches of metal evident on the Bose surround sound speaker grilles and the tactile paddles located behind the steering wheel. These paddles, traditionally positioned as gearshift controls, serve the dual purpose of cycling through driving modes and adjusting brake regeneration levels. They feel satisfying to the touch.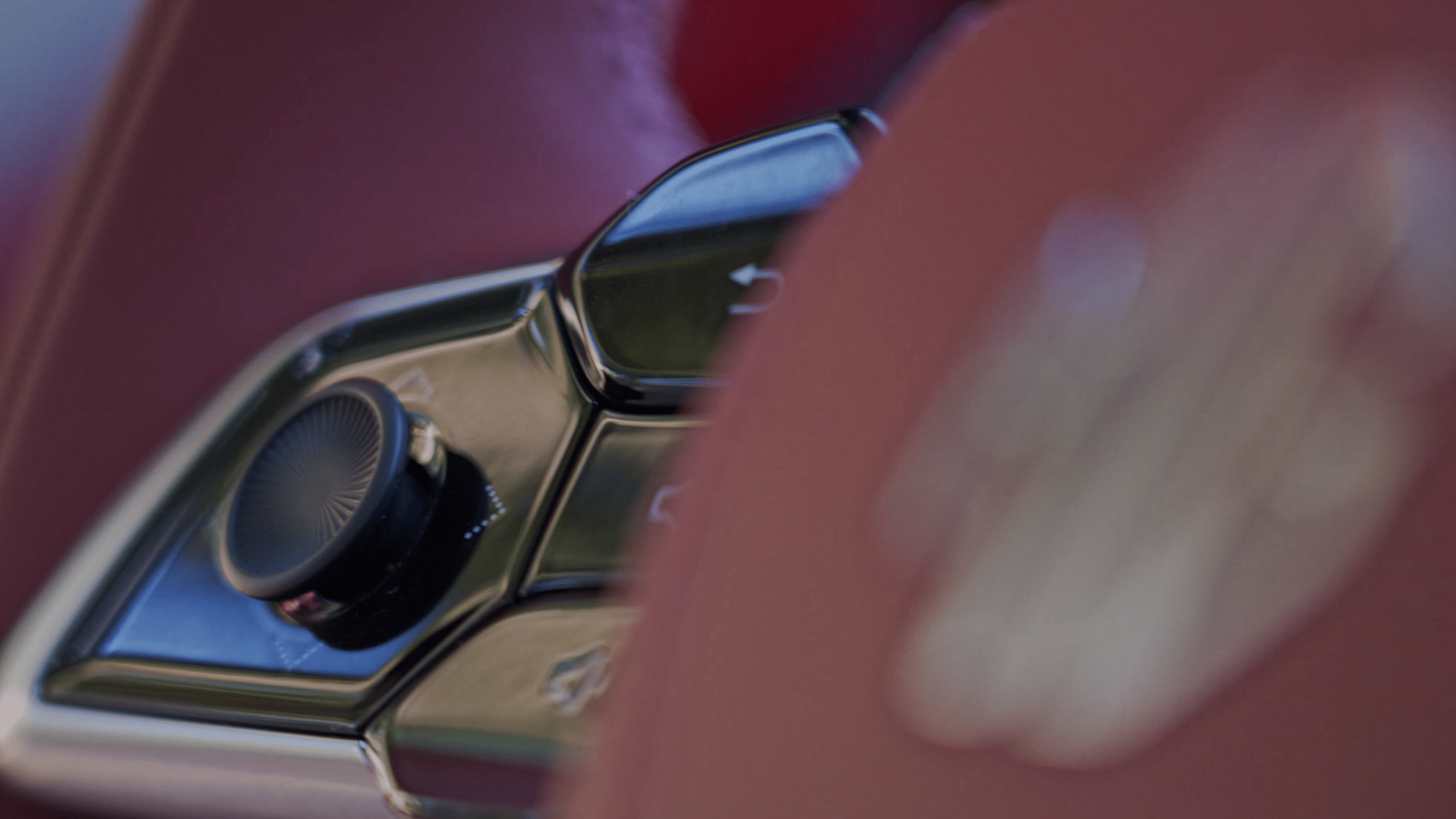 On the downside, the plastic joysticks employed as secondary controls for navigating the touchscreens don't exude the same level of robustness. They feel somewhat fragile, raising concerns that they could break if handled too vigorously. Positioned at the center of the wheel, you'll spot two buttons: one on the left for ADAS (Advanced Driver Assistance Systems) and a prominent bright red one on the right. The red button engages the Super Sport mode, accompanied by an audible sound. This mode transforms the three wrap-around screens into a sporty configuration complete with a g-force meter and essential car data, including battery and motor temperatures.
Tech
Monitoring battery and motor temperature isn't merely a nerdy feature; it serves a vital purpose. If these components overheat, it can adversely affect performance. However, the MG Cyberster equips you with a solution. With a simple press of a button, you can manually initiate cooling for these critical components, swiftly bringing temperatures down and restoring full power, ensuring optimal performance.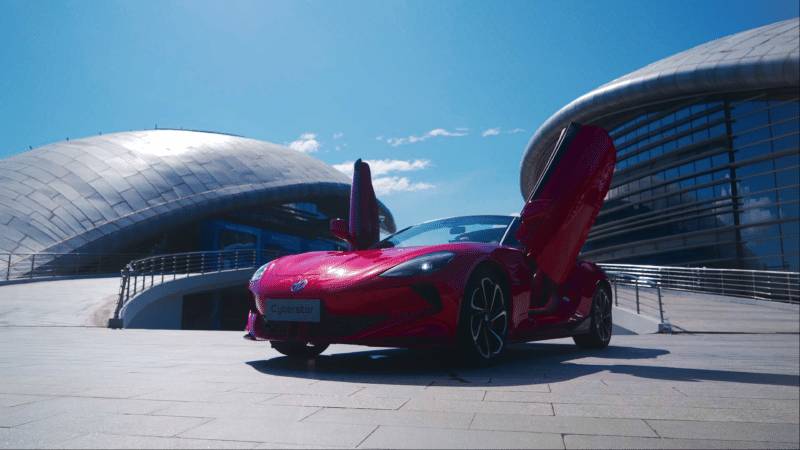 Speaking of doors, the Cyberster's scissor doors are remarkably well-behaved. They rarely encounter interruptions during the opening process, a common frustration with automatic doors. These scissor doors offer adjustable opening angles, although the full 100% opening angle may appear a tad comical as they swing nearly perpendicular to the car. However, this design facilitates easy ingress and egress, albeit with a caveat – watch out for low ceilings.
On the tech front, the MG Cyberster comes equipped with a Level 2 Advanced Driver Assistance System (ADAS) suite. While we didn't have the opportunity to test it during our drive, reports from other media outlets suggest it offers basic lane-keeping assistance and adaptive cruise control. The system appears to perform comparably to competitors with similar features. For those considering the Cyberster as a driver-focused car, advanced ADAS might not be a top priority. However, for long highway journeys or GT-style cruising, having a reliable ADAS system for highway assistance could be a welcomed addition.
Driving
Though not a dedicated sports car, the Cyberster handles beautifully on the road. The suspension tuning was overseen by Marco Fainello, a renowned engineer known for his work with Scuderia Ferrari, including setting up Michael Schumacher's F1 car and leading the development of the Ferrari FXX-K. His expertise shines through in the Cyberster, delivering a roadster that's not only enjoyable to drive but also allows for confident cornering on challenging curves.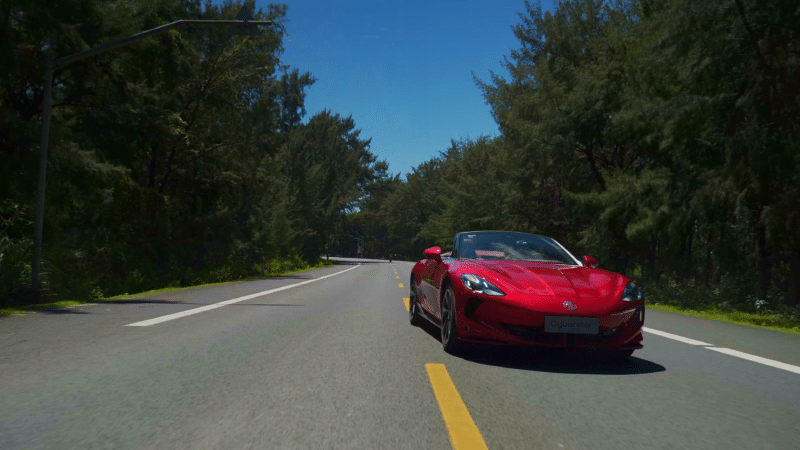 In terms of performance, the MG Cyberster offers both rear-wheel drive (RWD) and all-wheel drive (AWD) variants. The RWD comes in two flavors, 230kW and 250kW, resulting in sprint times of 4.6 and 4.8 seconds, respectively. However, for those craving sheer power, the AWD model boasts a substantial 400kW and 725Nm, propelling the MG Cyberster from 0 to 100 kilometers per hour in a mere 3.2 seconds. It's worth noting that there's a noticeable delay from a standstill before the car unleashes its lightning-fast acceleration. With the vicious acceleration once in motion, it's possible that, measured like a Tesla with a 1-foot roll-out, the MG Cyberster could potentially achieve a sub-3-second 0-100kph time.
We're eager to get our hands on a RWD model to see if its slight disadvantage in outright performance and acceleration is offset by its agility and dynamic prowess, particularly with a lighter front axle that lacks the additional motor.
Conclusion
In summary, the MG Cyberster is a captivating addition to the electric vehicle landscape. Its eye-catching design, highlighted by innovative scissor doors, sets it apart as a true head-turner. Inside, the driver-focused cockpit seamlessly blends luxury materials and advanced technology.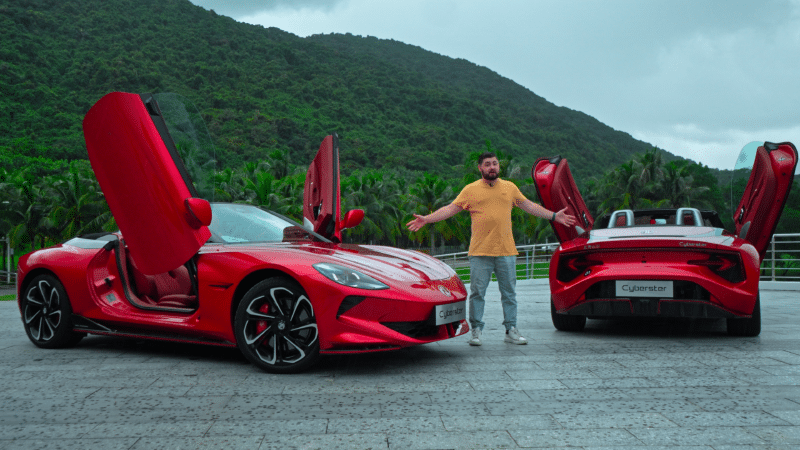 On the road, it excels as a grand tourer, striking a balance between comfort and agility. With various performance options, from spirited RWD variants to the lightning-quick AWD model, it caters to diverse driving preferences.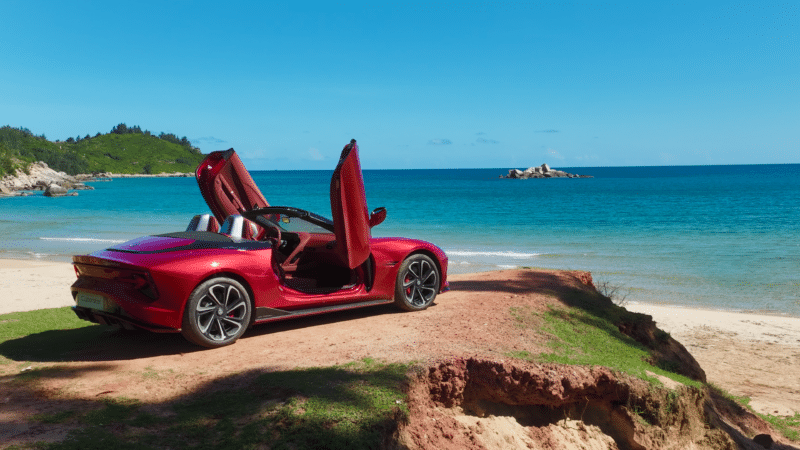 The ability to monitor and cool critical components underscores its commitment to optimal performance. While precise pricing awaits confirmation, the promise of affordability, coupled with impeccable interior craftsmanship, positions the MG Cyberster as a compelling choice for those seeking an electrifying roadster experience in the EV world.
Will Sundin is an EV lover who regularly brings reviews about Chinese EVs. You can follow him on Twitter or Youtube.