The Lynk & Co 03 ++ sporty sedan from Geely and Volvo launched in China with a starting price of 285,800 yuan (39,100 USD). It is equipped with a 2-liter engine for 350 hp tuned by Aurobay. Lynk & Co said that deliveries of the 03 ++ will be limited to 40 units per month. The first cars will reach their owners in December 2023.
Briefly on Lynk & Co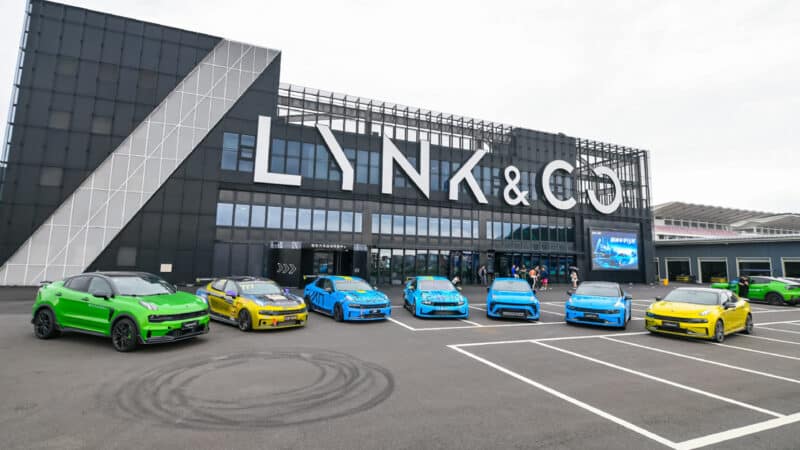 Lynk & Co is a high-end brand jointly created by Geely and Volvo (acquired by Geely in 2010). It aims at young buyers who enjoy sporty cars. In China, Lynk & Co's model line comprises seven models: 01, 02, 03, 05, 06, 08 and 09. They adopt BMA, CMA, and SPA platforms. Lynk & Co sells a single model overseas, which is the Lynk & Co 01 SUV.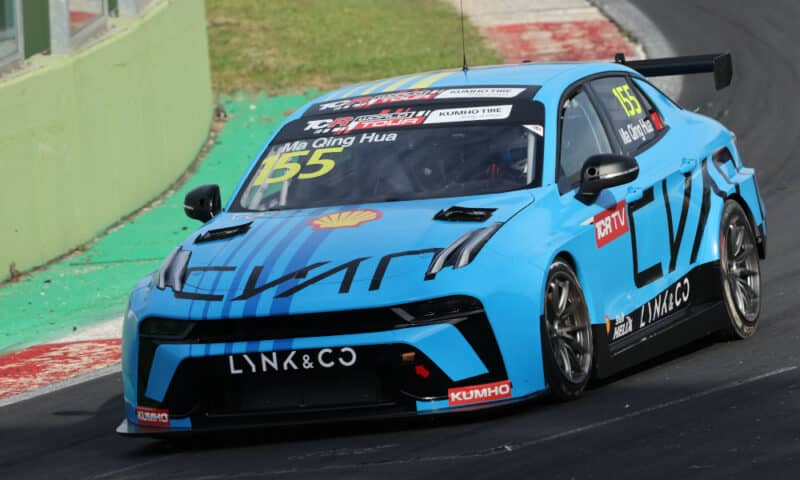 This brand is also famous for its success in the WTCR touring car championship, where it has taken first place two times with the Lynk & Co 03 sedan tuned by CYAN Racing. On October 19, Lynk & Co launched the performance version of the 03 sedan called "03 ++". It adopts some of the CYAN Racing team tech.
Lynk & Co 03 ++ market launch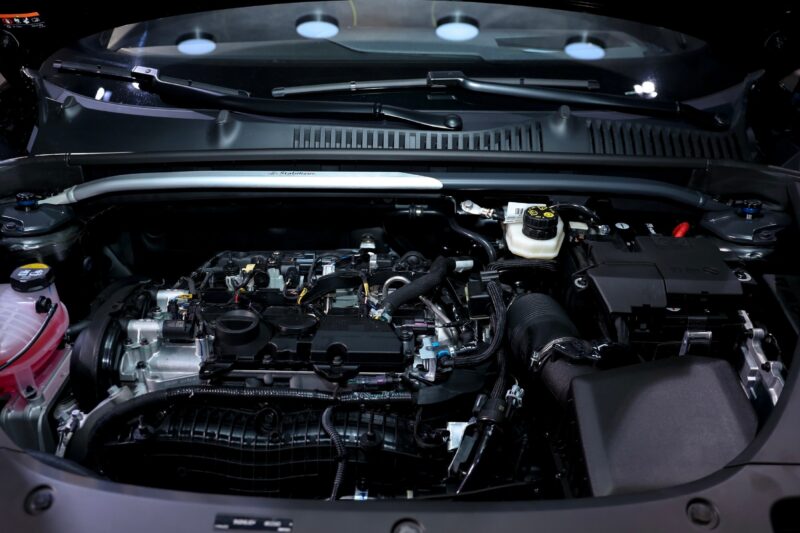 The Lynk & Co 03 ++ stands on the CMA platform that also underpins the Volvo XC40 and the regular second-generation 03 sedan. But its engine was tuned by Powertrain Engineering Sweden AB (Aurobay). Its power output is 350 hp with 450 Nm of torque. This ICE is paired with the 8AT transmission. The Lynk & Co 03 ++ has adjusted the suspension system. It is available with a 40,000-yuan (5,450 USD) exterior package that adds wider wheel arches, sportier bumpers, and carbon elements.
Lynk & Co 03+ Racing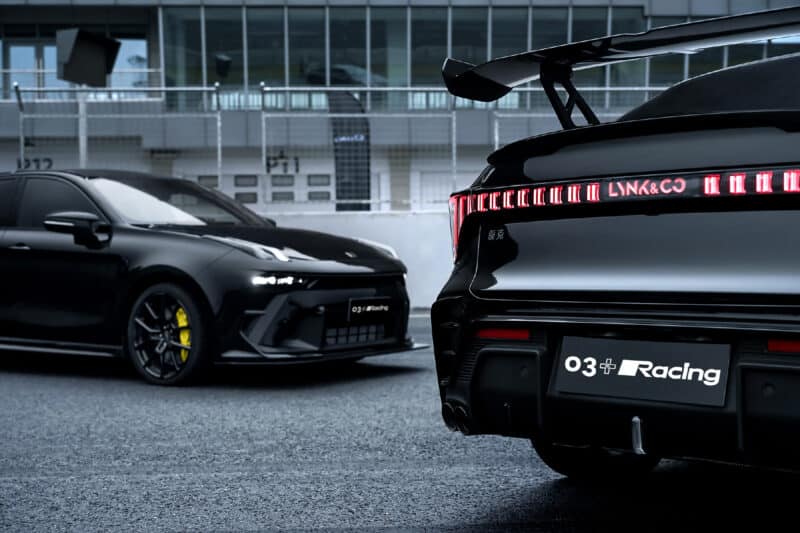 The 03 ++ is available in two versions. The first one is called "03 + Racing". Its dimensions are 4697/1843/1448 mm with a wheelbase of 2730 mm. This version is more suitable for daily driving since it has AWD and richer equipment.
It has front-row side airbags and curtain airbags, AR navigation, NFC-key access, 5 USB ports, 10 speakers, and comfy heated and ventilated front seats. Its price tag is 285,800 yuan (39,100 USD). And you can also add its performance brakes for 5,500 yuan (750 USD).
Lynk & Co 03 + TCR CYAN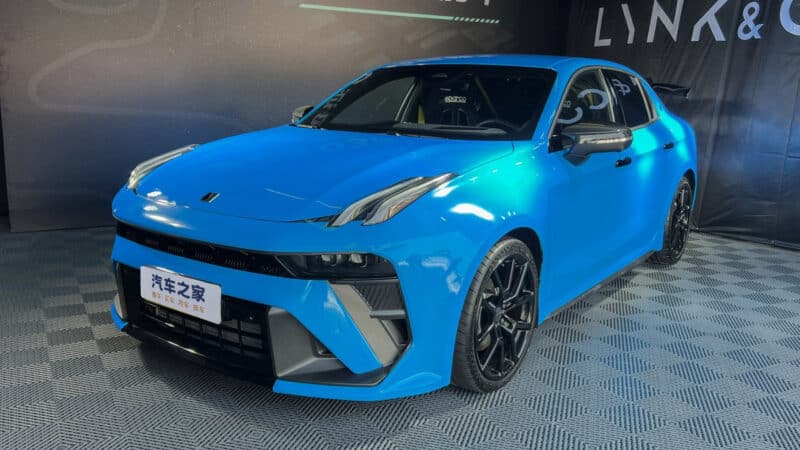 The second version of the 03 ++ is the performance one. It is called "03 + TCR CYAN" after the team that has won the WTCR championship twice. It has got only front-wheel drive like the WTCR racing car. Inside, it has racing seats and adjusted interior materials. Lynk & Co has also removed rear seats, side and curtain airbags, a HUD system, 6 speakers, and other stuff to save weight. As a result, the 03 + TCR CYAN's curb weight was reduced to 1495 kg. It also has a carbon fiber rear spoiler and Michelin UP2 tires.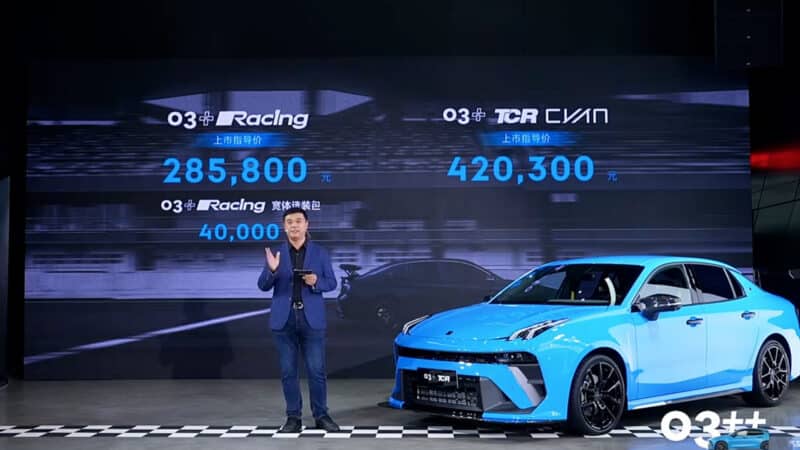 The price of this version reaches 420,300 yuan (57,465). And there are some additional packages like performance brakes (5,500 yuan / 750 USD), 6-point seatbelt (4,500 yuan / 615 USD), and roll cage (10,000 yuan / 1,370 USD). But the quirkiest thing you can buy is a personal racing suit for 18,000 yuan (2,460 USD). It is a ridiculous price for the racing suit that typically costs around 500 USD.
Lynk & Co 03 ++ deliveries
Lynk & Co mentioned the 03 ++'s deliveries will be limited to 40 units monthly. The deliveries of the cars without optional packages will start in December 2023. And models with additional packages will reach clients in January next year. So, the Lynk & Co 03 ++ is a unique car made mainly for hype and strengthening brand position, not for huge sales volume.
Source: Lynk & Co Weibo, Autohome