Just last month a friend of mine found two rare Hongqi's in a parking lot in Beijing. Today my very own cousin found another Hongqi parked on the side of a street in a suburb of the same city. My cousin, some might remember, earlier found this interesting machine.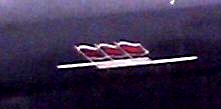 It is very likely a former government car, the flagpoles are still there and so are the three flags on the side, just before the A-pillar. The flag on the bonnet is missing. Copy-paste from an earlier article:
"It is a CA770, made from 1966 to 1981, only 847 cars were produced. The factory was in Changchun in Jilin Province in north eastern China. First Auto Works, FAW, is the owner of the Hongqi-brand.
Size: 5980x1990x1620, wheelbase is 3720. Engine: 5.6 V8 with 161kw. Top speed: 160km/h. Curb weight: 2730kg. A massive car made for massive important people, the only buyer was the Chinese government.
Only since ten years or so private collectors are snapping up the old Hongqi's that were sold by the government to be replaced by new cars. Prices of old Hongqi's have been rising fast, a good example can easily cost 100.000 dollar." End copy-paste.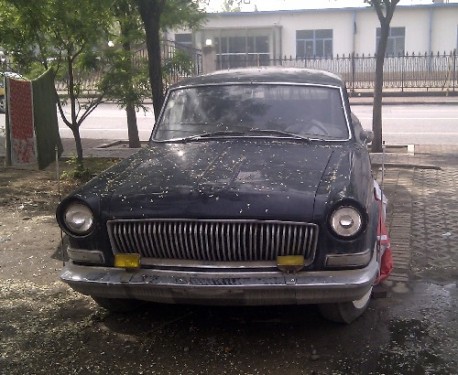 Although the car loox like it has been standing outside for a while it seems in fine condition, helped by Beijing's desert-dry climate. Note yellow fog lights which indicate a later car, earlier cars had white fog lights.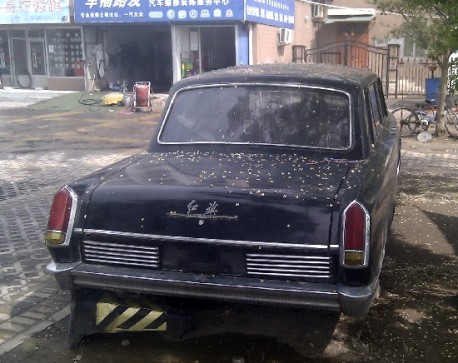 All chrome parts are still in the right places, car is a bit dusty for sure and the respectless owner filled up the interior with rubbish. But no doubt this Hongqi can be saved. I hope to have a look by myself soon, I'll be Hongqi-busy because I still didn't check out the other two.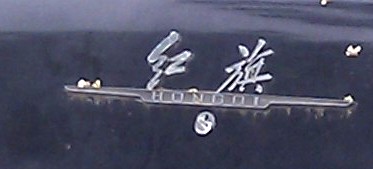 Hongqi, meaning Red Flag, with the characters in Mao Zedong's handwriting.