The FAW Schoolbus debuted as a concept at the 2010 Beijing Auto Show. It was then good for a laugh but FAW actually decided to bring it to the market. And here it is, almost two years later at its very first day of service at elementary schools around the country.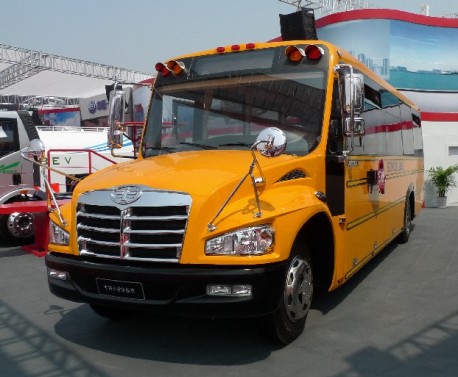 This is the 2010 concept. Front has changed a lot. Concept had even more chrome, note the mirrors. Still, the production bus fortunately loox exciting enough.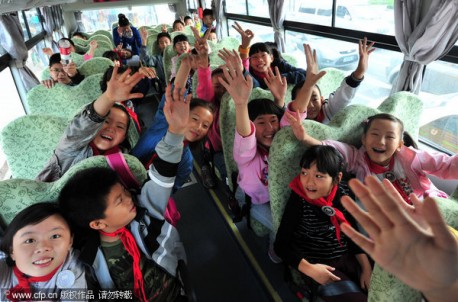 Happy Young Pioneers. Pics are taken in Qingdao in Shandong Province and Shijiazhuang  in Hebei Province but the new buses will be rolled out all over da country. Chinese media calls it 'our domestic American schoolbus'. One of the things the new bus has to do is prevent horrible accidents like this one on November 16.
Tech-spec: Size: 9030x2430x3100, wheelbase is 5500, weight is 6408kg. It can carry 37+1 driver + 1 teacher. Engine is a 4-cilinder 4-litre diesel with 118kw@2500rpm and 580nm@1500rpm. Transmission: 6 speed auto. Top speed: 104km/h. Fuel tank: 150 litre, range: 900km.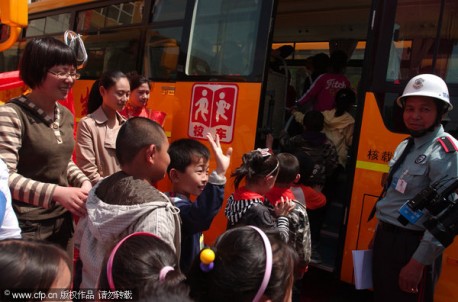 Policeman wears helmet against wild comrades throwing red books at him. FAW (First Auto Works) is not only one of the biggest passenger car makers in China but also one of the biggest in trucks and buses. Actually it all started with a truck at FAW, a beautiful machine called the Jiefang, which means Liberation, in 1956.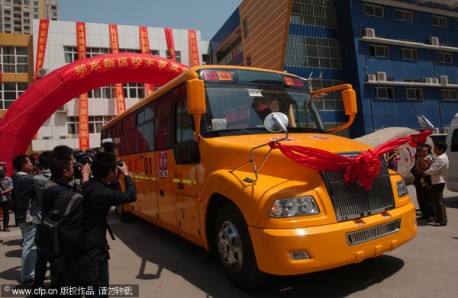 Via: Huanqiu.com.