The Fiat C-Medium is the first Fiat-branded car that will be made by the new Guangzhou-Fiat joint venture. The C-Medium is basically a rebadged Dodge Dart based on Fiat's C-EVO platform that also underpins the Alfa Romeo Giulietta. 'C-Medium' however is just a code name, Fiat still had to come up with the real thing. They have.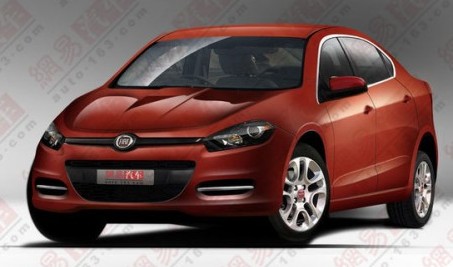 According to Chinese media the C-Medium will be called 'Viaggle'. This is the 'English' name, the Chinese name is yet unknown. Nobody seems to know what Viaggle is supposed to mean, Chinese media suggest 'viable' 'village' or 'wiggle'. I suggest Viagra, obvious I know… Well, can't wait for the Chinese name, we'll keep you posted.
Power will come from Fiat's 1.4 Fire T-jet turbocharged engine with two different tunes: 88kw and 210nm and 110kw and 230nm, mated to a 6-speed 'DDCT-C635′ dual clutch transmission.
Chinese media also reports that the Viaggle's price will start around 110.000 yuan. That would be extremely cheap for such a car, a rival like the Volkswagen Sagitar starts at 140.000 yuan.
Via: 163.com.