Here we have a very wild Suzuki Alto in China. Wrapped in pink, light-blue, blue and some green. We like. Wheels though are too standard and need to be sexed up urgently. Pink cars are good, here is my collection:
A pink Porsche Cayenne, a pink Volkswagen Passat, a pink Porsche Cayman, a pink Ferrari California, a pink Lamborghini Gallardo, a pink Bentley Continental GT, a pink Mercedes-Benz SLK, a pink MG-TF, and a pink Audi TT.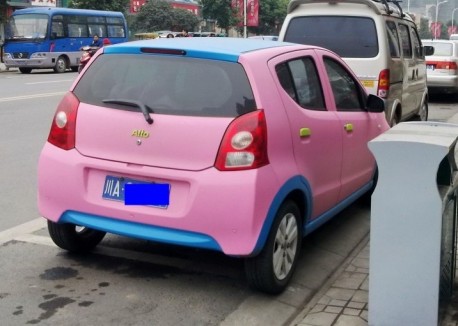 The Suzuki Alto is made in China by the Chang'an-Suzuki joint venture. It is a very poplar minicar and priced between 44.900 yuan and 62.900 yuan. Power comes from a 1.0 4-cylinder that poops out 71hp and 92nm. Top speed is 160km/h.
Pics via: 163.com.