China raised fuel prices for the second time this year, hiking gasoline and diesel by 6.5 percent to 7 percent effective on Tuesday, amid rising world crude oil prices and falling domestic inflation.
Prices went up by 600 yuan ($94.90) a metric ton, the biggest hike since June 2009. The average gasoline price went up 6.5 percent to 9,980 yuan a metric ton, while diesel prices rose 7 percent to 9,130 yuan a metric ton. Both prices are record highs.
China, the world's second-biggest oil user, raised fuel prices for the first time this year by 300 yuan a ton on Feb 8.
The prices are set in reference to a basket of crudes (Brent, Dubai and Cinta), which jumped more than 10 percent in the past 22 working days.
That surge laid the foundation for the hike, the National Development and Reform Commission (NDRC) said on Monday.
The NDRC said the raises will take effect before the spring peak use period to discourage speculation and hoarding and thus guarantee supply.
China introduced the current system in 2009, under which it adjusts refined oil product prices when the basket moves more than 4 percent within 22 working days.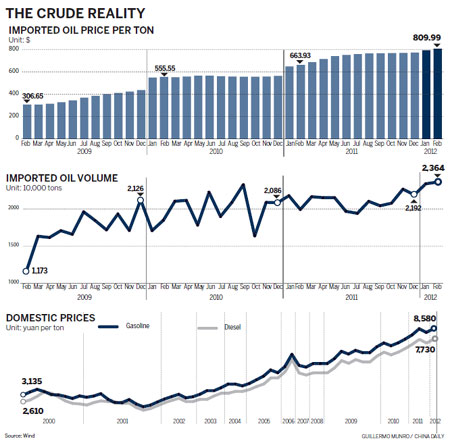 Via: ChinaDaily.