This is the brilliant Hongqi CA 7220 EL1, a stretched version of the Hongqi CA 7220, which was based on the Audi 100 which was made in China by the FAW-Volkswagen joint venture. FAW is also the owner of the Hongqi-brand (Red Flag). This particular car is very interesting because the CA 7220 EL1 was officially only made in 1997.
But the logo on the grille, a '1' in a circle, arrived in 1998, replacing the old 'winged 1'. The logo on the wheels however is still the winged 1, meaning this must be a rather unique 1998 CA 7220 EL1. Hongqi in those days, wasn't very precise with this sorta thing, and that makes the brand's history even more interesting…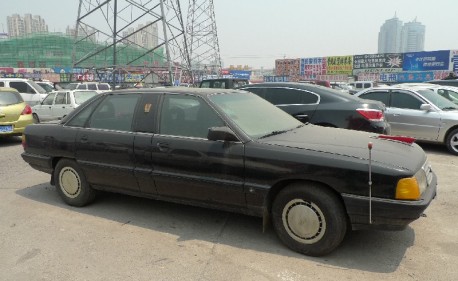 Wheelbase was extended at the B-pillar by 250 millimeter from standard 2669 to 2919, all extra space went to the passengers in the back.This dusty but still working example has the flagpole attached to the bumper, which indicates it is an ex-government car. Most Hongqi limousines went straight to the government, very few were bought by private buyers. In the early 2000 the government sold most of the Audi-based limo's, many ended up in marriage companies or taxi fleets. The government changed its wheels to the Audi A6 and later A6L, made again by the FAW-Volkswagen joint venture.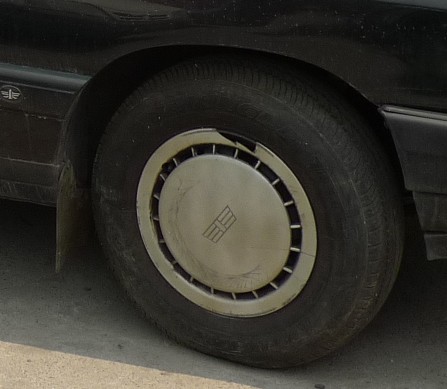 Wheel cover with old winged-1 logo. There were two engines available: an Audi 1.8 or a Chrysler 2.2. The 2.2 was most common since FAW bought the production line for that engine from Chrysler in 1987 and the engine was therefore their own. FAW had to buy the Audi engine from Audi, so the Audi-powered Hongqi's were more expensive, but sure it was a much more modern engine.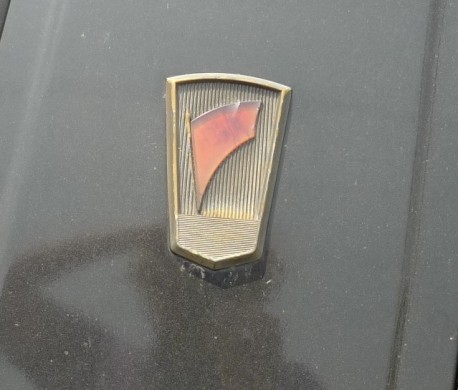 Another Red Flag-logo on the stretched B-pillar. This logo was only used on three Hongqi's: the CA 7221 L, the CA 7226L and the CA 7220 EL1.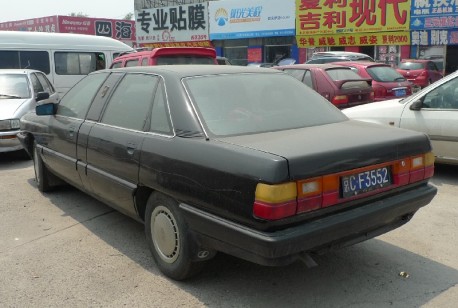 An impressive machine!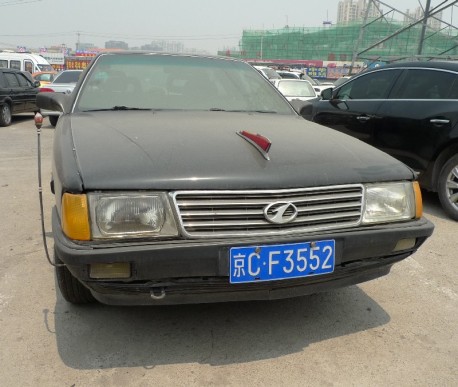 Note logo.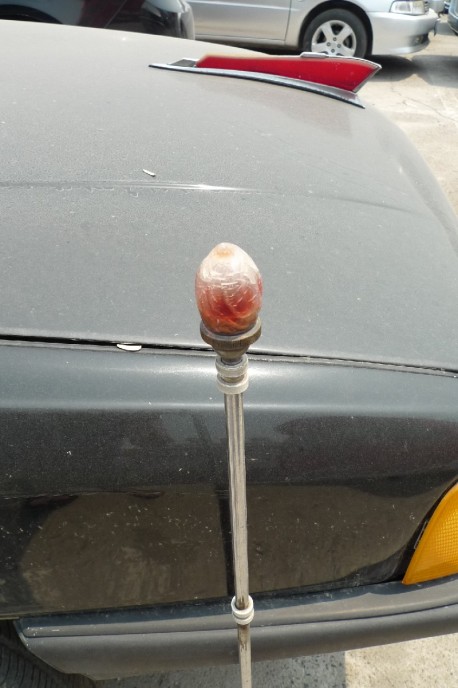 The flag pole. When the government officer was in the car the flag was up. The moment the officer got out the driver took the flag down. Ornament on top typical Hongqi-kitch.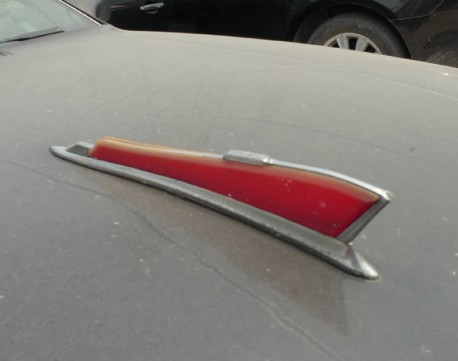 The Red Flag ornament on the bonnet. The red part was made of glass in the early Hongqi-years, when the Audi-based cars arrived the glass was replaced by plastic, like on this very fine example.