Here we have a very interesting new car from China. This is the Anfuer Mini Electric Fire Patrol Car. It is a small electric fire patrol car based on the existing Anfuer GLXF-500 electric minivan and designed to fight fire in narrow streets where standard-sized fire trucks can't come. Nice idea, but it even gets better; the Fire Patrol Car is politically correct.
I saw this machine on a police equipment exhibition in Beijing and booth-people gave me a brochure, in it: "Public fire-fighting! Socialized fire-prevention! Loyal to the country and the party, ready to shoulder social responsibility!"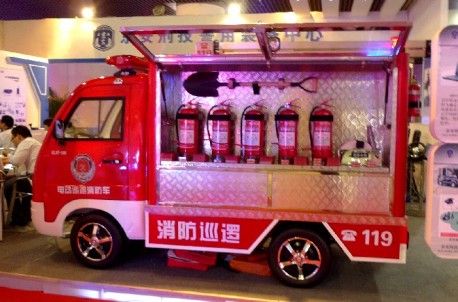 Shiny alloys are a must for fire patrol cars. It is equipped with five 5kg dry-powder extinguishers,  a water pump and a fire hose (but is doesn't have its own water tank, so it still needs to find the wet stuff elsewhere, a search light, a fire ladder, a LED screen, a fire wrench, several fire axes, a fire bucket, a red flashing lamp, an alarm lamp and a dewatering outlet.
It makes a lotta sense, most Chinese cities, including Beijing, still have many small lanes where even a normal car barely can get in. I have seen fires in those areas, firemen had to get water where ever they could, without support from a big red truck that had to wait helpless on a bigger street nearby.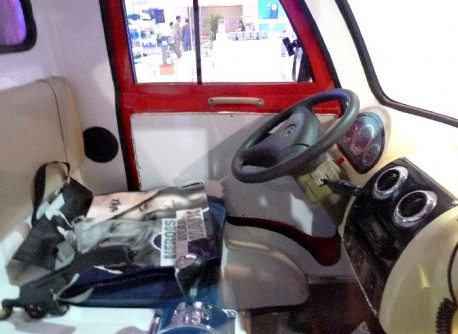 The Anfuer Mini Electric Fire Patrol Car is made by a company called Qingdao Anfuer Electric Vehicle Corporation (web), from the great city of Qingdao in Shandong Province. Power comes from a 48V-4kw engine, good for a 30km/h max speed. Range is 80km whem empty, but only 50 on full load. Size: 3520/1370/2025, wheelbase is 1750.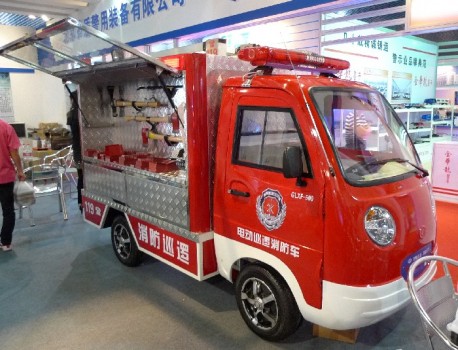 Well, fine and all, but the fire station better keep it charged!