Here we have an interesting amphibious car. It is a home-made invention by 63-year old Li Xinhua, retired, who used to be a brick layer and teached himself some technical skills along the way. Li: "I have only primary school education, so to read all those books was a bit hard, but I didn't give up." Our kinda man indeed!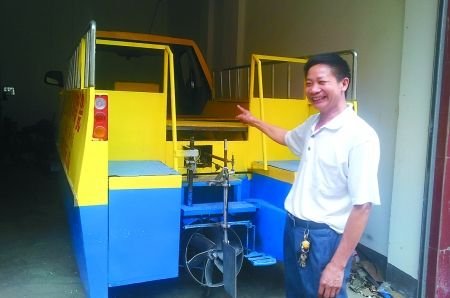 Li lives in a small town in Shandong Province and worked 14 years on his machine, that oddly doesn't have a name, Li just calls it 'amphibious car'. Work was hard and for long long hours, building the hull alone took two years. But all is forgotten because it is ready now, and Li even applied for patent on his car, which sadly for him has not been granted yet. Li spend about 10.000 USD on realizing his dream, he is now looking for 100.000 USD from investors to start production.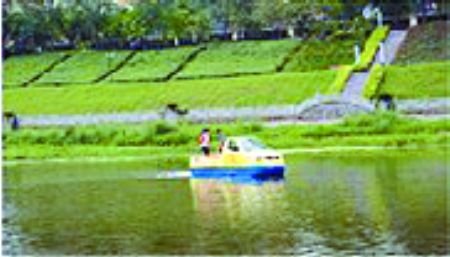 The yellow boatcar has a speed on water of 30km/h, on road it can do 60. Size: 5000/1800/??. Weight is one ton and it can carry 3 ton. It is a three-wheeler on the road, one up front and two at the back, which saves fuel over a four-wheel set up, according to Li. He will take his amphibious car to several trade shows in Shandong over the summer to woo investors. We like this kinda projects, so we wish Li Xinhua all the luck in da world…
Via: Yahoo.