Here we have a very fine and very pimped Beijing Auto BJ2022 Brave Warrior, seen by reader Ali Khalili in northen Beijing. This BJ2022 comes with a raised suspension, racy black stripes on the bonnet and doors, a large bull bar, blacked-out alloys and a bag on the back.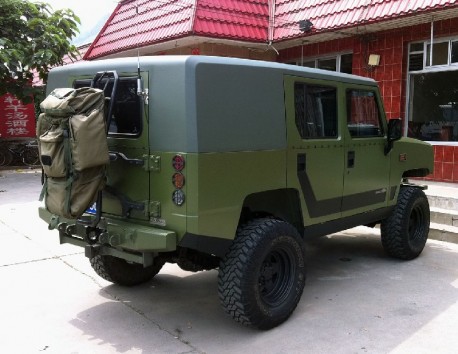 Check bag! Useful no, dangerous yez, but really cool…
The BJ2022 is made by Beijing Auto Works (BAW), part of Beijing Auto Industry Corporation (BAIC). It was designed, with a lot of American help, for the Chinese army. It is sort of available on the civilian market, if you know the right people, and if you bring a lotta money.
The official list price starts at 196.000 yuan and ends at 218.000 yuan, but you need to hand over more cash to get one. The need of the army comes first, they already have some 25.000 BJ2022 in service but they still want many more. When the army finally has enough the BJ2022 will become more easy  available for private buyers, and likely for a better price. Just wait a bit…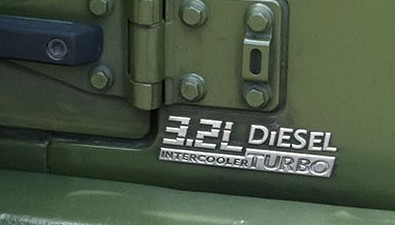 Power comes from a 2.7 liter patrol engine or from a 3.2 six-cylinder diesel sourced from Nissan. Since diesel-engines are forbidden in most big  Chinese cities private buyers usually go for the patrol powered BJ2022. This particular example however has the 3.2 diesel. License plates indicate this vehicle is home in Liaoning Province, far up the wild north-east, where anti-diesel rules (or any rules) are less strict than in the Capital.