This is a very white second generation Mitsubishi Eclipse GS Spyder, seen on a second hand car market in Beijing. The sec-gen Eclipse was made from 1995 until 1999, the kinky Spyder arrived in 1996. The sec-gen Eclipse was never officially exported to China and is therefore a very rare thing to see. I once met a third-gen Coupe but this was the very first Spyder I saw. The fourth and last generation that was made from 2006 until 2011 was officially available in China but sales were sadly very low.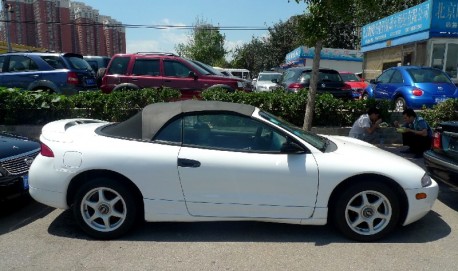 The second generation Eclipse was based on the Chrysler PJ platform. The Eclipse was also sold as the Chrysler Eagle Talon, basically the same car with different badges. The Eclipse GS Spyder was front-wheel drive abd powered by a naturally aspirated 2.0 that pooped out 140hp. The GS-T Spyder had the same engine with a turbo and was good for 210hp. The Eclipse GS-T Coupe was also available with four-wheel drive, but the Spyder never was.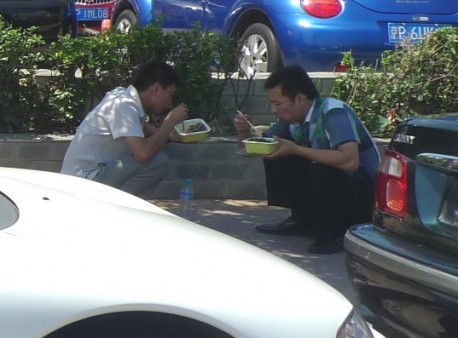 These two men are having their lunch. The food is sold in small plastic boxes for 5 to 10 yuan. Sellers sell from their motorbikes or tricycles. The food consists of some rice, some vegetables and a tiny little bit of meat, mostly pork or chicken. It is usually just edible but it ain't the famous 'Chinese kitchen'. Quality of ingredients is horrible, so don't try these lunches on an untrained stomach…
This particular Spyder seemed in a reasonable condition. It had a 2012 insurance sticker and license plates so it was still used. The hood seemed a bit crappy around the C-pillar and clearly needed some service, but I don't think Chinese Mitsubishi dealers know how to deal with this thing. The interior looked a bit old. Note automatic gearbox and handbrake on the 'wrong' side of the tunnel, Mitsubishi didn't bother to re-engineer it to the left. The flat-screen in front of the gear lever is modern aftermarket.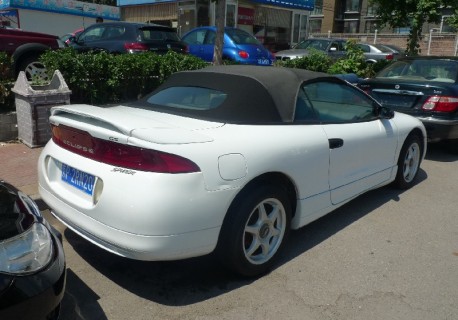 Big wing on the back is good, down force urgently needed to keep those 140 horses under control! Alloys and racy tires are aftermarket as well but look great under great car. More on that third-gen Coupe soon!