This is a BYD Flyer with fake BMW and Type R badges, seen by reader 'Buzzt' on a local highway in Zhejiang Province, thank you for the picture! The BYD Flyer was the very first BYD-branded car, production started in 2004 and continued until 2008. It wasn't that much of an automobile. Small, cheap, crappy and very slow. The owner's idea to make it look more up-market is therefore perfectly understandable. But a 'BMW Type R'? That indeed is a bit too much.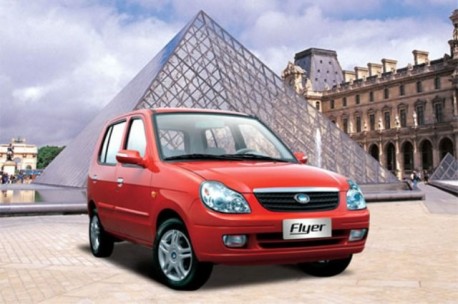 A factory pic of the BYD Flyer, photographed here at the Louvre Palace in Paris, France.
The Flyer was actually developed by another company, Xi'an Qinhuan Automobile. The 'Qinchuan QCJ7081 Flyer' hit the market in 2001 but Qinhuan was losing money and was bought out by BYD in 2003. Power came from 0.8 liter three-cylinder, a 0.9 four-cylinder or a 1.0 four-cylinder. All engines were based on an ancient Suzuki design that somehow ended up in Qinhuan's hands.