Here we have a very fine and very vague blue fifth generation T180 Series Toyota Celica Coupe, seen in my own street in the capital Beijing. The 5th-gen Toyota Celica was made from 1989 until 1993 in Japan, it was never exported to China but some arrived gray. The T180 Series was available as Coupe, Convertible and as a Liftback, the latter was chosen by Toyota to compete in the World Rally Championship.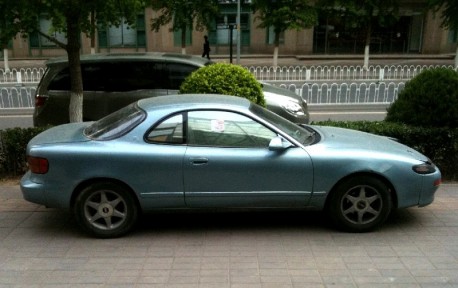 The blue Coupe in Beijing didn't look too well. First of all, it had a parking fine on the passenger door's window, which is ugly. Furthermore it looked very dirty and the pop-up headlights seemed broken. Parts for a 5th generation Celica are almost impossibly to find in China so repairs are difficult and very expensive.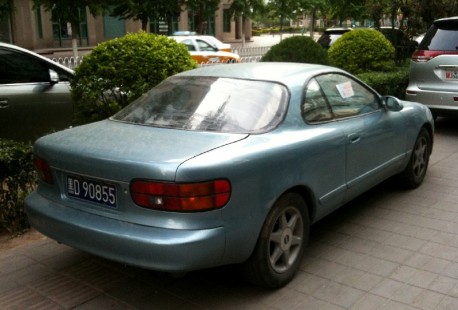 License plates from Liaoning Province, up in the north east. The T180 Celica was available with 1.6, 2.0, 2.0 turbo and a 2.2. The most powerful engine was the 3S-GTE 2.0 liter turbo which pooped out 232hp and 270nm. I don't know what hides under the bonnet here but this great blue Celica doesn't look like a high-powered model, which had bigger wheels and and more spoilers and such. This 5th-gen example is the second Toyota Celica we see in China, earlier on we met a sixth-generation Liftback.