Bling on Monday morning!  This is, by far, the most extreme Nissan GT-R we have seen in China so far. Wrapped in shiny gold, neatly over the bumpers and mirrors, and with brilliant Lambo-doors for some extra sportiness in the parking lot.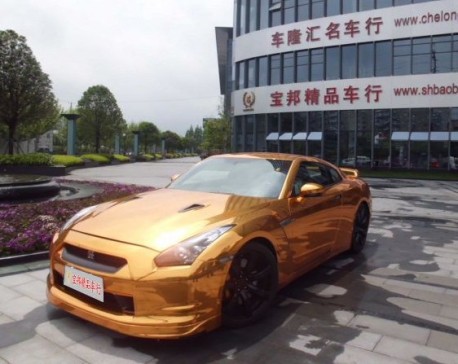 Blacked-out alloys go great with gold, good work there. This incredible mad Nissan GT-R is for sale in Shanghai, second hand for only 1.43 million yuan, or 229.000 USD. It is 2011 model with 140.000 kilometers on the clock. Wrap and Lambo-doors are of course included.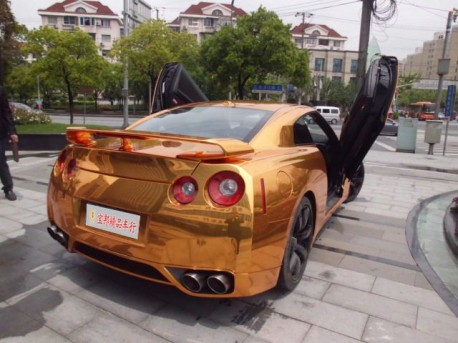 Doors give Nissan a very strong presence at out door parties and such. Getting in and out in a non-embarrassing way does require some training, especially for the girls.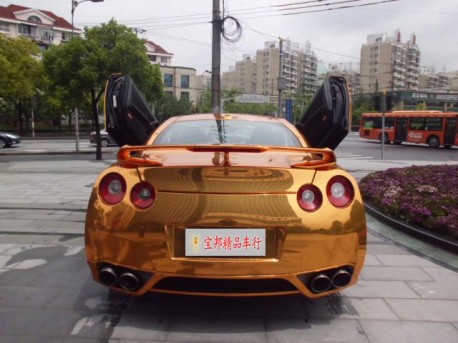 Time for our full Chinese Nissan GT-R collection: matte-mint green, shiny purple, pink, on bicycle lane, red & black,  silver pirate, pink&black, orange, Lioncel,  green-blue-pink, gold, lime-green, and police.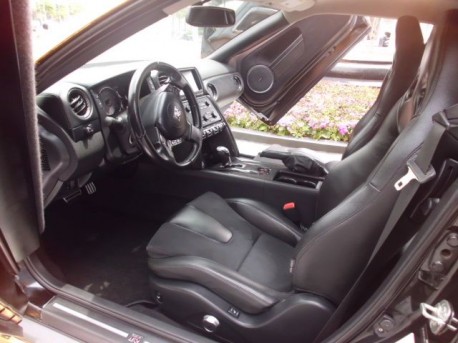 Slightly disappointing inside, the interior is kept standard. We expected at least some Bling in here too. The new owner should correct this immediately.
Via: iAutos.