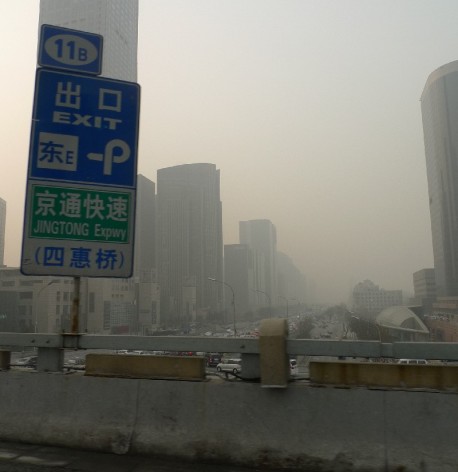 Sunday morning around 11:00, 3th Ring Road in Beijing.
The air pollution in Beijing reached a new record over the weekend. The density of PM2.5, particles that can kill you, went over 900 micrograms per cubic meter. The maximum considered possible was 500, so the pollution went literally over the scale.
Normally, everything above 300 is seen as 'hazardous', meaning you better stay indoors. The air was thick and dirty and smelled like something was burning, everywhere. My throat and eyes felt all weird and breathing was more difficult. Today on early Monday morning the situation is fortunately much better, the density is back to 400 but slowly climbing again as I write this.
The record is caused by an unlucky combination between the normal pollution, fog, and the lack of wind. The winter is normally the most clean season in Beijing thanks to the cold winter winds from the north. This year however the winds stay home and a very dirty capital is the result.
406 now…