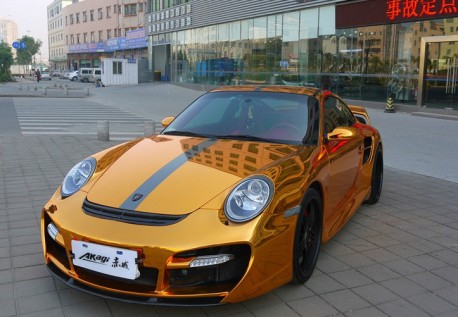 Thursday afternoon in Beijing, I got this big plant in my room, it is always green but it just turned very angry. Some Bling will calm her down! Here we have a fantastic Porsche 911 Turbo with a giant body kit and blinged to the max with a crap load of gold, seen in the great city of Shenzhen in Guangdong Province.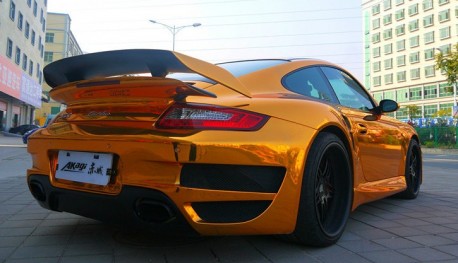 Gold is shiny but not too much, doing great things with the Porsche's fat ass. The wrap is of high quality and is skilfully applied over all the wings, bumpers and mirrors. The wheels can't be any bigger in their arches, low profile race tires and brilliant five-spoke black alloys.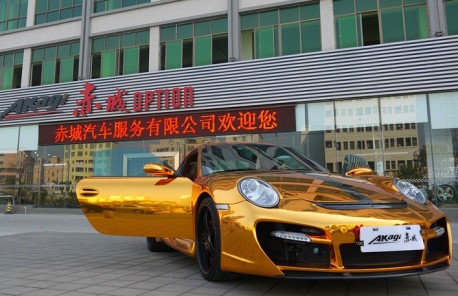 Body kit consists of a new front bumper with wings holes wings and holes, side skirts, a gigantic double wing at the back and a new rear bumper with wings holes wings and holes. Kit seems to be child from TechArt or a Chinese copy. Whatever exactly, it loox perfect in gold.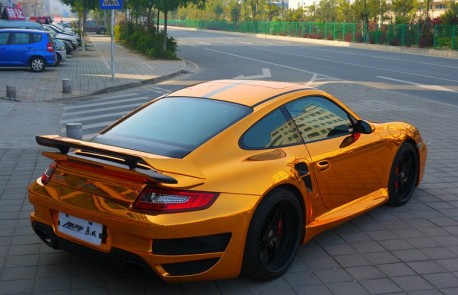 Black racing stripe starts at the bonnet and continues over the roof but then disappears into the rear window. Too bad, but this is in every other way a beautiful car. Our Porsche 911 in China collection: baby blue,  991 Turbo prototype, 911 Turbo S, 993 Carrera RS, pink cabrio, matte black, : matte black 911 GT3, 964 911 RS America, yellow 964 911, pink 996, shiny blue, orange, Edition 918 Spyder, matte-black, pink, ugly body kit, gold, and the China-only Anniversary Edition.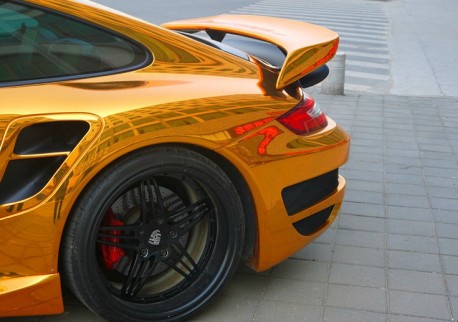 It's the details that make this machine so manic. Higher wing in gold, lower wing in carbon black. Just perfect…