Here we have an alternative-Lego aircraft carrier, seen today on a toy market in the great city of Guangzhou in Guangdong Province. The boat is a model of the Liaoning, China's first aircraft carrier that was commissioned late last year. The set is made by Sluban, one of China's most famous brick makers. The set consists of 1875 pieces and measures 890mm long, 210mm wide and 220mm high.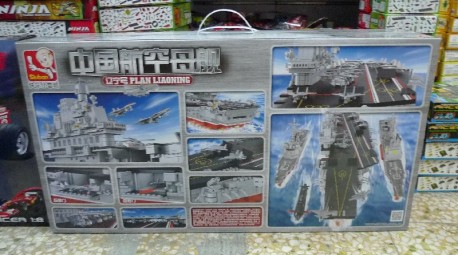 The set comes with eight fighter jets and six helicopters. The real thing can take about 30 fighters and 10 helicopters. Technically, Sluban 'lego' is not fake. Lego of Denmark has no copyrights on the bricks themselves, but they have copyrights on their sets. When Chinese companies design their own sets they are fine. When they copy Lego-sets, which happens a lot as well, they are not.
The giant PLAN Liaoning is surely an original. 'PLAN' stands for People's Liberation Army Navy, Liaoning is a province in China. Price for the set was 280 yuan before bargaining, and that's only 30 USD. A neat bargain would get it down to about 200 yuan.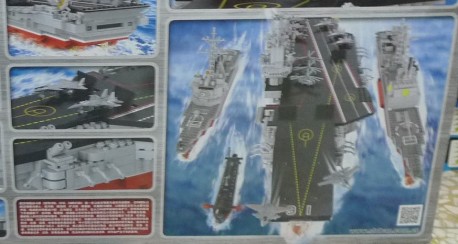 All weapon systems are included, and the Sluban Liaoning even has a working lift to get the planes from below-deck to the flight deck. Fanatic PLAN fans can by a whole fleet, with a frigate, a destroyer and a submarine. The other boats were sadly not in shop, but there was a submarine from Kazi, another Chinese lego-maker: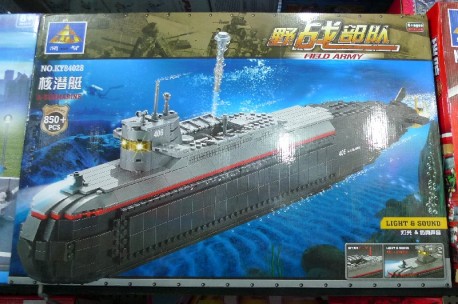 Not exactly 'field army', but an incredible boat. 850 bricks. It comes with 'light & sound' and the rockets can actually be fired!, working on battery power. 350 yuan before bargaining…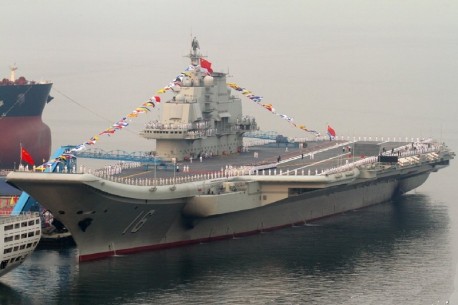 The real Liaoning in the port of Dalian, Liaoning Province.