The Volkswagen Scirocco is a perfectly fine car to own in China. It is imported, thus expensive (which is good), considered very cool by the young and cool, and equipped with powerful high-tech engines. Still, for some owners of a Scirooco that ain't good enough; they want an Audi!  This white Scirroco was seen on a highway near Shanghai. Check Audi logo on the back. But it gets much worse: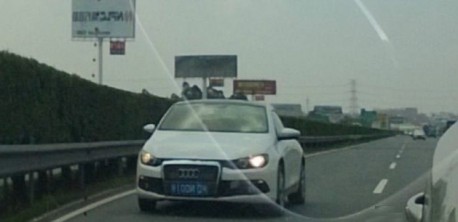 A fake Audi grille bolted on the poor Scirocco's nose! Oh no. But yes. A fake Audi grille like this costs only 100 yuan in China, or 16 USD. Changing a Volkswagen into an Audi is not expensive indeed, but is it a right thing to do? No it isn't!, it is a sad thing to do.
Fortunately many other Scirocco owners like their cars much more. Here is our Famous China-Volkswagen Scirocco Collection™: matte black lowrider, white black, body kit, purple, low-pink rider, only bodykit, pink, an AMG and orange.