Spy shots showing the Mazda BT-50 pickup truck testing in China. The Mazda BT-50 is based on the platform of the Ford Ranger T6, it was designed in Australia and it is produced in Thailand and South Africa. This particular test car has its steering wheel on the right, the 'wrong' side for China.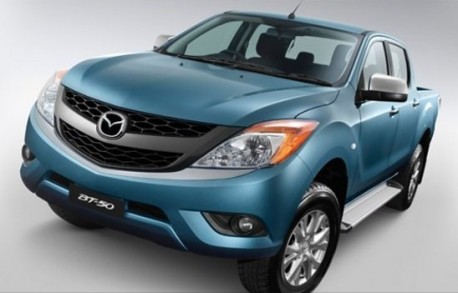 The Mazda BT-50 is sold in more than twenty countries but not in Japan or the US. Power comes from a 2.2 liter four-cylinder turbo diesel or a 3.2 liter five-cylinder turbo diesel. It is yet a mystery what the BT-50 is doing in China.The Chinese pickup truck market is extremely crowded, extremely competitive, and trucks seldom cost more than 150.000 yuan or 24.000 USD.
If Mazda wants to compete it needs to produce locally. Mazda's Chinese joint venture, Chang'an-Mazda, has zero experience with trucks. Another option is the FAW-Mazda venture, which is technically more a license agreement that allows FAW to make and sell Mazda's in China.
FAW had a long experience making pickup trucks and has a very small joint venture with GM that makes the Kuncheng pickup truck. FAW thus seems a more likely candidate but nothing is sure for the moment. We will, keep you posted…