A shiny orange Volkswagen Golf seen in central Beijing. The orange was painted, not wrapped, showing real dedication to the color. The happy vehicle is further prettied up by a black grille, black windows, black five-spoke alloys and racy tires.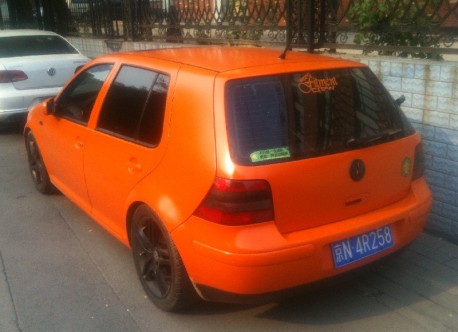 Volkswagen logo in black as well.
The Volkswagen Golf Mk4 was the first Golf that was produced in China, made by the FAW-Volkswagen joint venture for the Chinese car market. The Golf became almost instantly popular, a surprise in a country where most buyers prefer sedans. However, the Bora sedan still outsold the Golf every single year.
Time now for the rest of our Famous China-Volkswagen Golf Collection™: matte black & matte purple, not a cabriolet, lowrider, MK4 Cabrio, matte black, pink-alloy Cabrio, pimped-red Golf, matte orange Golf, lowrider Golf, pink Golf,  blue-pink Golf, Citi Golf, pantzer Golf, Bora-Golf.