Exclusive spy shots showing the new Hongqi L5 limousine in the factory in Changchun, surrounded by a bunch of dignitaries, who seem to like the giant sedan pretty much. The L5 measures a cool 5.555 meter long, says Hongqi. We hope to find out one day whether it is really exactly that big…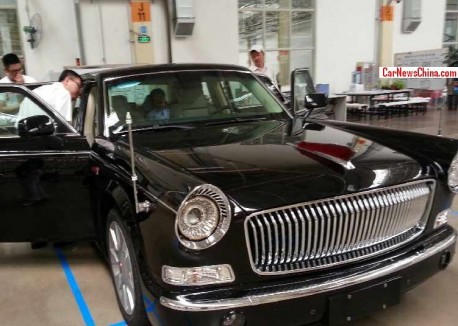 The Hongqi L5 was launched for official duties during the visit of French President Hollande in late April and it  debuted in early April on the Shanghai Auto Show. The L5 is the third car in the Hongqi  L-Series, after the giant Hongqi L9 (aka CA7600L) and the slightly shorter Hongqi L7.
This particular vehicle was produced for the Chinese government, note the flagpole, and is apparently bullet proof. The windows do indeed appear to be very thick: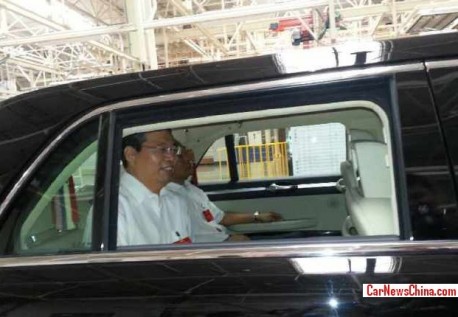 But who wants to shoot dignitaries wearing cheap white shirts and red badges?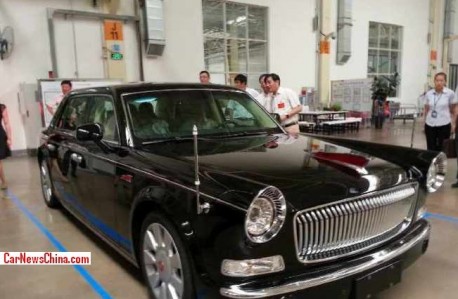 Cheap white shirts are the required uniform for Chinese dignitaries, they so want to show they are close to 'the people'. Hongqi (Red Flag) is China's most famous car brand. It is owned by First Auto Works (FAW) which is China's most famous car company. FAW is a state owned company and all its workers are public servants. Modesty, although unlikely from the heart, is thus a necessity!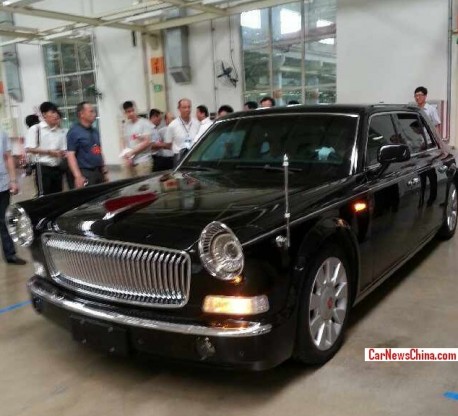 The Hongqi L5 will be powered by a 6.0 liter V12, designated CA12GV60-01.
New news on power. Until now we always heard the output was 400hp and 550nm, but recent reports and rumors indicate the real output will be 408hp and 550nm.
That's eight horses more for 5555/2018/1578, a wheelbase of 3435, and a curb weight is 3.15 ton. Transmission is a 6-speed automatic designated TB-68. Fuel consumption for the non-bulletproof version is 20 liters per 100 kilometer.