A very sporty Volkswagen Polo hatchback, seen in a faraway suburb in east Beijing, not far out of the Fifth Ring Road. The fine Volkswagen was wrapped in a matte orange wrap and sexed up further with a body kit, darkened windows, black racing stripes, and black 6-spoke alloys.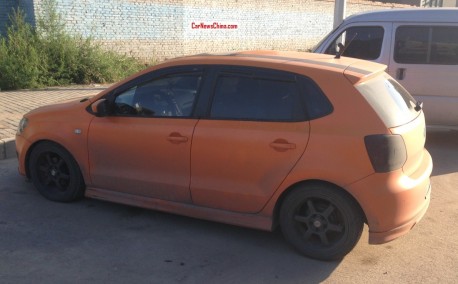 Wing on top of the window and black lights finish the job at the back. The Volkswagen Polo is made in China by the Shanghai-Volkswagen joint venture. Price starts at 85.800 and ends at a ridiculous 158.900 yuan for the, shame!, fake Polo GTI. Fortunately nobody wants it, Chinese car buyers ain't that stupid anymore…
This particular orange car was a 1.6 which delivers a neat 100hp. The Polo range, except for the fake GTI, is rather popular in China, but considered a but on the expensive side. We have a very small Polo collection: with girls & Aston inside.