An extremely race BMW 1M, seen in the Beijing Tuning Street in the east of the capital. The beasty Bimmer was wrapped in an incredible coolio matte blue wrap, extended nicely over the bumpers but strangely not over the mirrors. Still, that is an error I can forgive in this particular case because the rest of the vehicle is so very good, and the black mirrors where likely designed as such to connect with the black roof.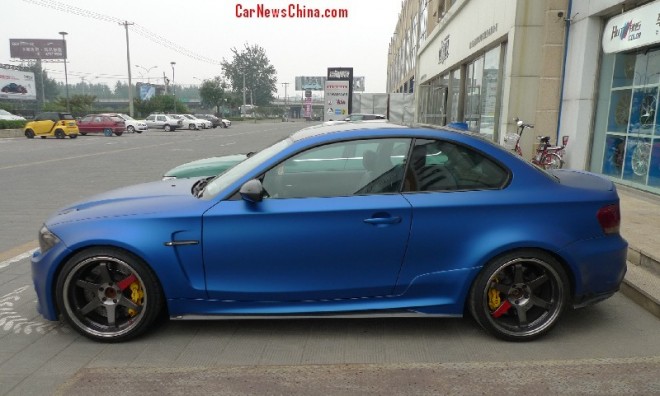 Door handle in matte blue too. That's great. The manic M is even further sexed up by a black grille, black tinted headlights, black tinted windows, racy lock holes on the bonnet, a body kit with extra pieces of carbon fiber here and there, slick-like tires, and very speedy 6-spoke alloys with five spokes in matte gray and one spoke yellow, and yellow brake pads. Brilliant take on a brilliant car.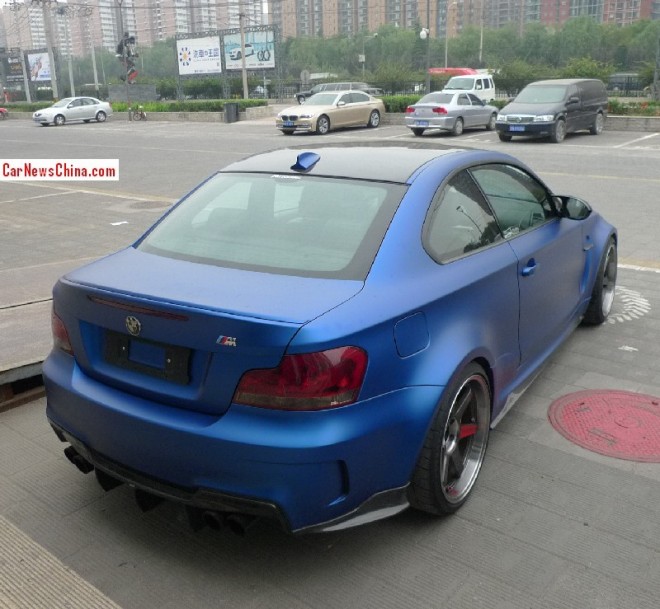 May the down force be with you; fatass diffuser at the back, and more carbon fiber winglets. The 340hp BMW 1M was launched on the China car market in November 2011 for 598.000 yuan or 94.000 USD. The cruel BMW gods gave China only 450 examples out of 6331 cars produced, so the 1M is a rare sight. We got only two: orange, black & white.