This is by far the most manic Nissan GT-R we have seen in China so far. The good vehicle was wrapped in a hallucinating wrap colored in gold and yellow illuminating lines. The lines are drawn perfectly over the body lines of the GT-R, making for a mad glow-in-the-dark visual effect.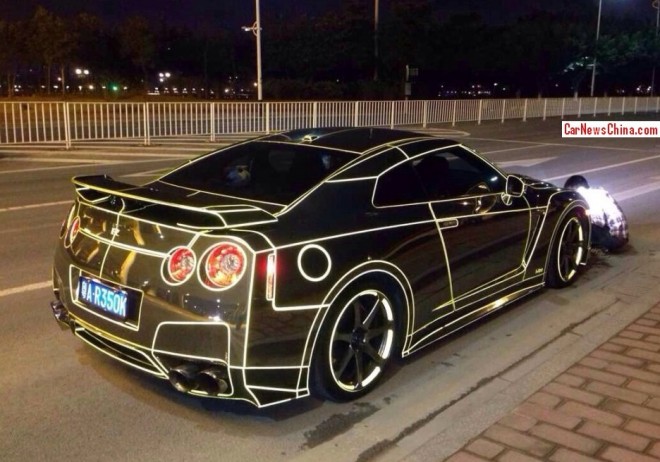 The vehicle was spotted on a road in the great city of Shenzhen in Guangdong Province, with the owner seemingly adjusting parts of the wrap to make it even more perfect. Check how the rear wing has been done! This car is pure porn, this car is pure art, and as we all now; the best art is car porn.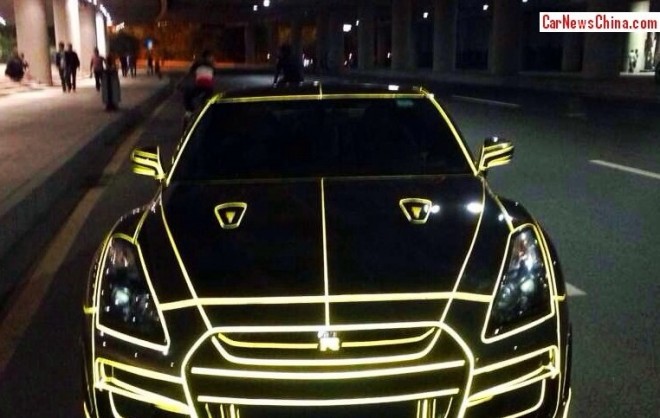 Even the vents on the bonnet and the GT-R logo are wrapped in the illuminating stuff. This var will draw babes like a hyper magnet in every bar street, and especially there down south where girls have a bit more respect for good looking vehicles than those cold bitches up here in the north who are more concerned with their new winter coat.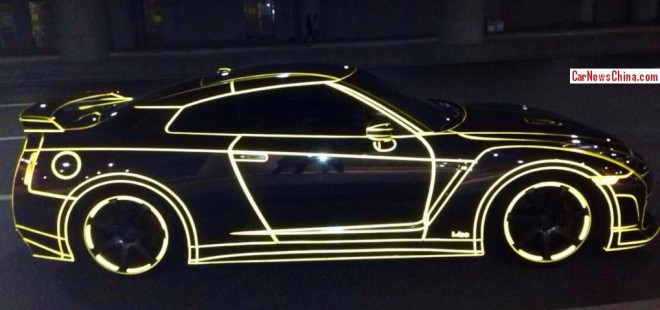 Wheels brillianly done as well, with only the outer rim illuminated for a floating effect. We sincerely hope this Nissan GT-R marks the beginning of a new wrap trend, may there be more soon!
The Nissan GT-R is one of the most popular performance cars in China. Price starts at a steep 1.53 million yuan or 251.000 USD. Lotto money, but 3.8 twin-turbo V6 with 545 horses. Time now for our Famous China-Nissan GT-R Collection™: with wild girl, with EVO X, licenses,  turquoise, gold, pink black, with babe, shiny pink, shiny purple, very red, banana, matte-black, purple-white, Brilliance, matte black, gold, Lambo-doors, matte-mint green, shiny purple, pink, on bicycle lane, red & black,  silver pirate, pink&black, orange, Lioncel,  green-blue-pink, gold, lime-green, and police.