A cold Inner-Mongolian wind is blowing over Beijing, we are cold! Time so for Bling, because Bling is the sun. This is a fantastic and very shiny Nissan GT-R wrapped in gold, seen by reader Ben Collins in the great city of Suzhou in Jiangsu Province, thank you for the pictures.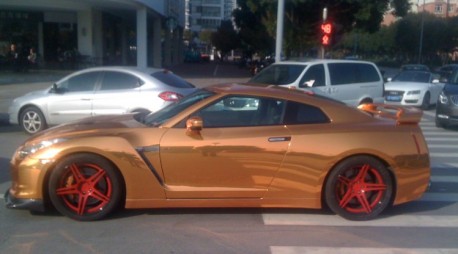 The wrap is perfectly stretched out over the mirrors, bumpers, roof and rear wing. Only the extra lip up front is left in black. We are OK with that, but only just… The GT-R is further sexed up by red alloys, painted red it seems, and tires that actually look like slicks. Fast!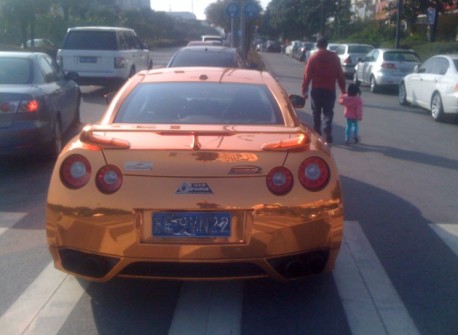 License plate a bit hard to read, yez, Chinese speed cameras screw ya' from behind. Our Nissan GT-R collection: Lambo-doors, matte-mint green, shiny purple, pink, on bicycle lane, red & black,  silver pirate, pink&black, orange, Lioncel,  green-blue-pink, gold, lime-green, and police.