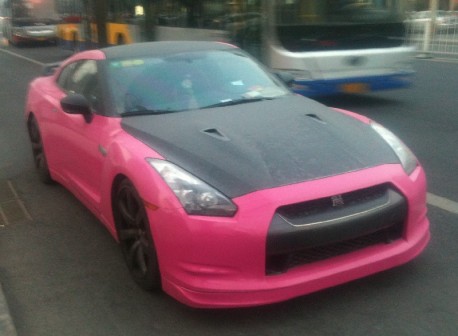 The second post of today's Nissan GT-R Double Dig®, earlier on we met the super sonic Japanese sportsmachine with a set of extra headlights. This is a Pink & black Nissan GT-R, seen parked illegally on a bicycle lane near the Sanlitun beer district. It was rush hour and the vehicle stood close to a bus stop, greatly annoying bus drivers who had to go around it. Strangely, the great Nissan was unattended, it just stood there, being Godzilla.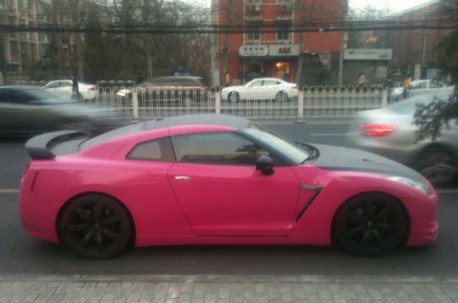 The car was double wrapped, Pink over most of the body and black over the bonnet, roof and back. Detailing was quite impressive with black mirrors, black alloys and a huge black wing. A great combination of things! The Nissan GT-R is still becoming more popular in China, Chinese supercar buyers have found out the GT-R is faster than anything European and often buy a GT-R after they bought a Ferrari or Lamborghini first. The Italians for showing off, the Nissan for going fast.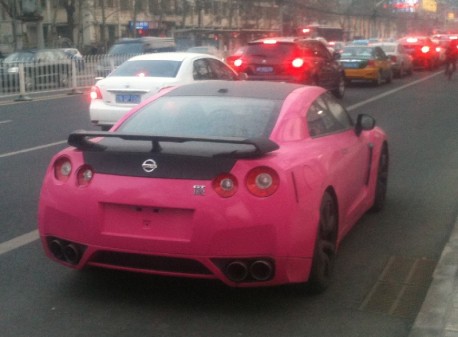 Cheap it ain't. The base Nissan GT-R costs 1.5 million yuan or 241.000 USD. Come pay! But it is, brilliant in Pink. Time to go, and quickly, to the rest of our Famous China-Nissan GT-R Collection™: with that babe, shiny pink, shiny purple, very red, banana, matte-black, purple-white, Brilliance, matte black, gold, Lambo-doors, matte-mint green, shiny purple, pink, on bicycle lane, red & black,  silver pirate, pink&black, orange, Lioncel,  green-blue-pink, gold, lime-green, and police.