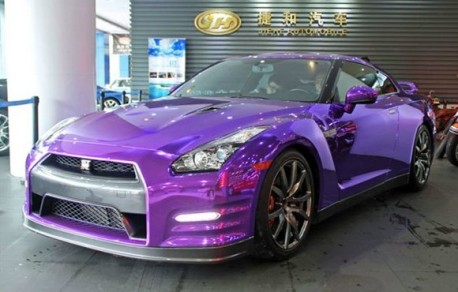 Starting the day with this fantastic shiny purple Nissan GT-R, seen in a second hand car dealer in the great city of Shenzhen in Guangdong Province. The wrap seems to be of very high quality and neatly covers most of the bumpers and the mirrors. The big gaping mouth is left black completely except for the lower strip, strong contrast and such but black & purple don't go together very well.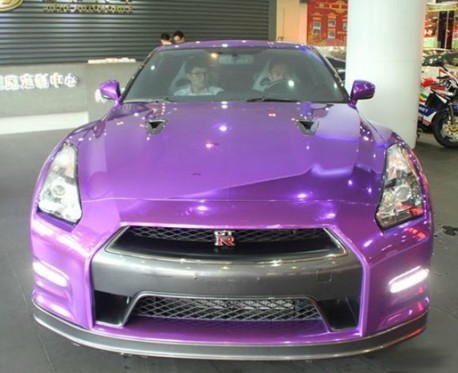 Monsters can see their face in the Nissan's shiny purple mirror, and will run away crying. Human beings love purple Nissan GT-R's. They also love other colors: very red, banana, matte-black, purple-white, Brilliance, matte black, gold, Lambo-doors, matte-mint green, shiny purple, pink, on bicycle lane, red & black,  silver pirate, pink&black, orange, Lioncel,  green-blue-pink, gold, lime-green, and police.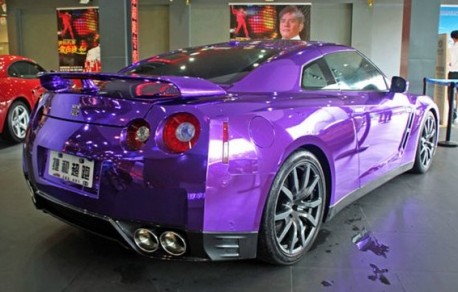 Extra shiny exhaust pipes. Chrome and silver go together fine. Alloys bit too dark here too. Otherwise a great purple speedmachine.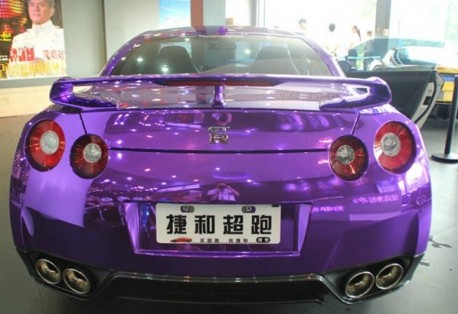 Eat my purple ass!