A wondrous white RUF GT2 super car, Spotted in China in a super car dealer at the Beijing Tuning Street. The completely mad RUF GT2 is based on the slightly less mad 997 Porsche GT2, which was a hard core variant of the crazy 997 Porsche 911 Turbo. This particular car was painted in virgin white and sexed up even further by an all-black finish; including the air intakes, the rims around the head lights, the windows, and the racy 5-spoke alloys.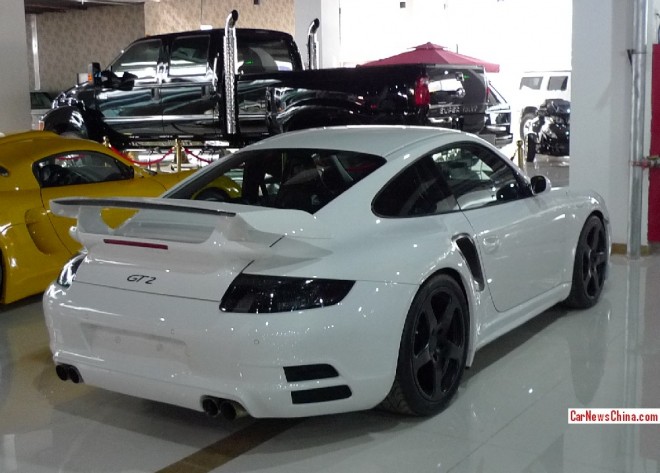 Warning! Looking at the right side of this photo can cause Yellow Ass Super Car Fever.
Fatass double wing on the back. Rear lights in black as well. The RUF GT arrived on the super car market in 2007.  RUD fiddled a bit with the engine and the computers and managed to tune up the power to an astonishing 620hp and 820nm, good for a 326km/h top speed, o-100 s gone in 2.9 seconds and 0-200 is done in 9.1 seconds. White Lightning RUF speed!
A brilliant little monster this is, a perfect sleeper in many ways, as most folk won't see much difference with a regular 911. But different it is… This particular beauty was on sale for a steep 3.3 million yuan or $543.000.
---