A beautiful blue Audi S5 Sportback, , Spotted in China early in the evening in central Beijing. The audacious Audi was wrapped in a eye-easing matte blue wrap, and further sexed up by an all-black grille, darkened windows, giant 21 inch 6-spoke Vossen alloys, and a license plate with 3 times number 8, eight being a lucky number in Chinese culture. Happy car…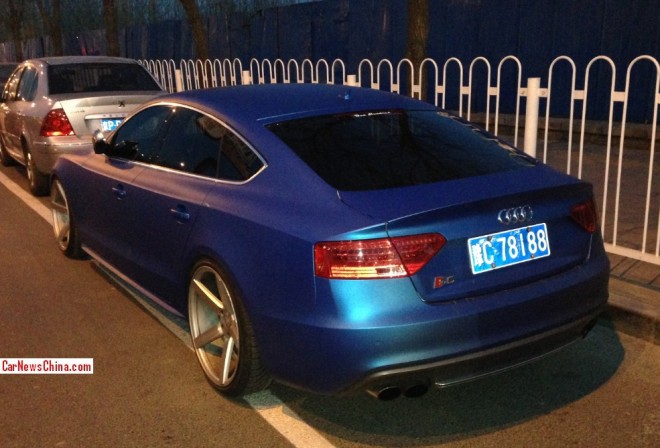 The wrap was of top quality and neatly extended over the bumpers, mirrors and door handles. Chrome strip around the side windows contrasts perfectly with matte blue and black. This speedy Audi, is a fine piece of work!
The Audi S5 Sportback is imported into China, priced at a steep 728.000 yuan. But power! The supercharged 3.0 V6 poops out a beastly 333hp and 440nm. The Sportback shape is sadly not very popular in China yet with most buyers going for the sedan or the coupe. We only met three prettified examples so far: matte black, yellow, and a low rider.