Spy Shot of the 2015 Hyundai Genesis, spied in Shanghai by reader Anonymous, thank you for the picture! The 2015 Hyundai Genesis debuted internationally on the Detroit Auto Show in January. It will have its China-debut on the Beijing Auto Show next month and will be launched on the China car market in the second half of this year. The Genesis is called 'Rohens' in China. This particular example in Shanghai seems fresh from the boat and is likely a test car or a dealer-demo car.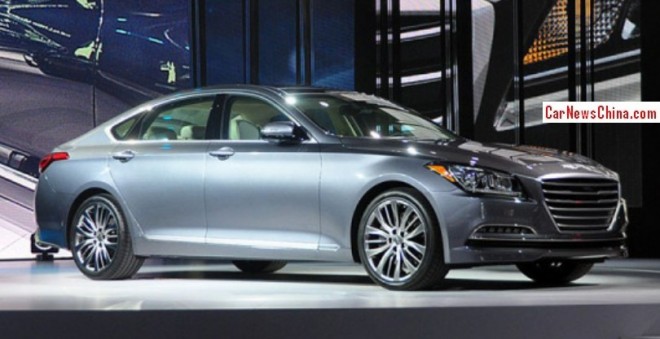 The 2015 Hyundai Genesis in Detroit.
The China-bound 2015 Genesis/Rohens will be available with a 257hp 3.0 liter V6 or a 282hp 3.3 liter V6. Price will start around 400.000 yuan and ends around 600.000 yuan. The bigger 3.8 liter V6 and badass 5.0 liter V8 will not be available in China.
The market for full-size South Korean sedans is still small in China but growing fast, as more and more Chinese car buyers consider Hyundai and Kia as a credible alternative for Lexus or Infiniti. The Germans don't need to worry, yet.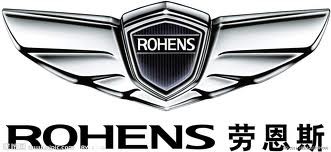 Rohens logo in China.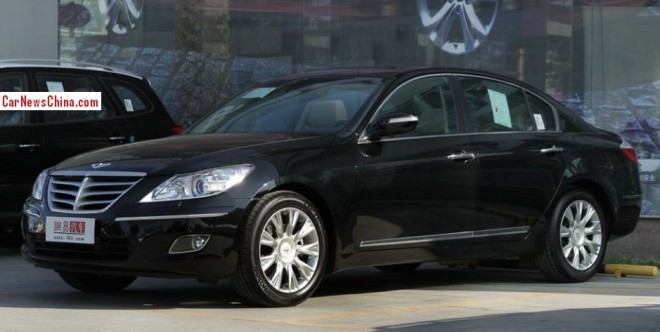 The current Hyundai Rohens.