A very badass E32 BMW 750 limousine, Spotted in China in the great city of Chengdu in Sichuan Province by reader & serial spotter Navigator 84, thank you for the pictures! The brilliant Bimmer is fitted with a period bodykit for some extra speed and sporty.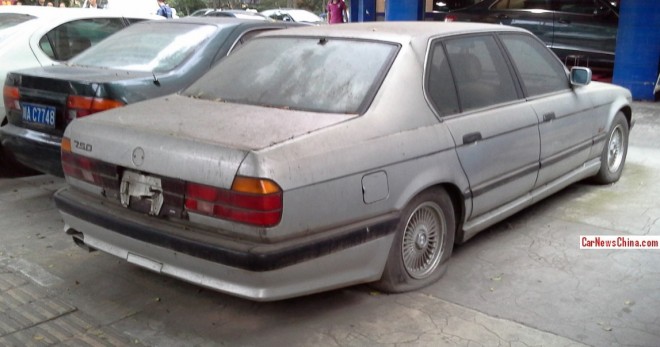 The vehicle seems abandoned and in a very sad shape. Dirty and dusty, flat tires, and most BMW badges are gone. Will the city of Chengdu ever hear that V12 roar again..?
The E32 was manufactured from 1986 until 1994. It was never officially exported to China but some arrived via diplomatic channels or the gray market. The 750 was powered by a 5.0 liter 'M70′ V12 that produced 300hp and 450nm. The M70 was BMW's first production V12.
Up until this good day we only met two other BMW E32 7-Series in China: 750iL and AC Schnitzer.