A very dusty Subaru Legacy sedan, Spotted in China in the great city of Guangzhou in Guangdong Province. The good vehicle seems in a just-reasonable condition. Nothing is missing or broken but the front bumper looks bumped and the passenger front door hangs out of line. Still, this old Suub is surely savable.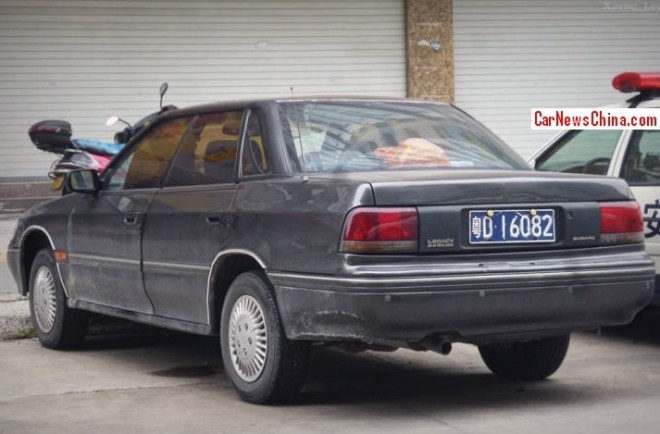 License plates are oldies, likely period. Exhaust pipe looks very tired.
The first generation Subaru Legacy was manufactured from 1989 until 1994 with a facelift in 1991, this is a facelifted car. The first Legacy was never officially exported to China so seeing one in country is a rare pleasure. When it was launched the Legacy was considered rater revolutionary, with a sleek streamlined body, a weird flat-four boxer engine, and high-tech options such as 4-channel ABS and air suspension.
The base engine was a 2.2 liter boxer that delivered 135hp. When turbocharged power went up all the way to 217hp. In the middle sat the Japan-only 2.0 liter boxer with 148hp. This particular car in Guangzhou has the 2.2 under the bonnet.
Beautiful old Subaru she is, let's hope someone loves Legacy bad enough to get her back in super shape.