A very flashy Cadillac CTS sedan, Spotted in China in the great city of Shanghai by Reader Anonymous, thank you for the pictures! The good Cadillac is wrapped in a soccer supporting matte orange wrap, and further dressed up with darkened windows and sporty five-spoke matte gray alloys.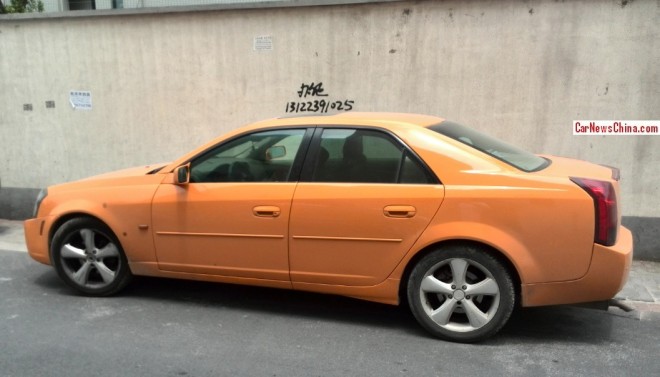 The wrap seems to be of high quality and neatly extends over the bumpers, mirrors, and doorhandles, just like we like to see it best! Window frames are in black for maximum contrast.
The first generation Cadillac CTS was produced from 2002 until 2007. It was also made in China at the Shanghai-GM joint venture, but only from 2004 until 2007. The current second generation CTS is not manufactured in China. At the time, the CTS was available with a 209hp 2.8 V6 or a 258hp 3.6 V6.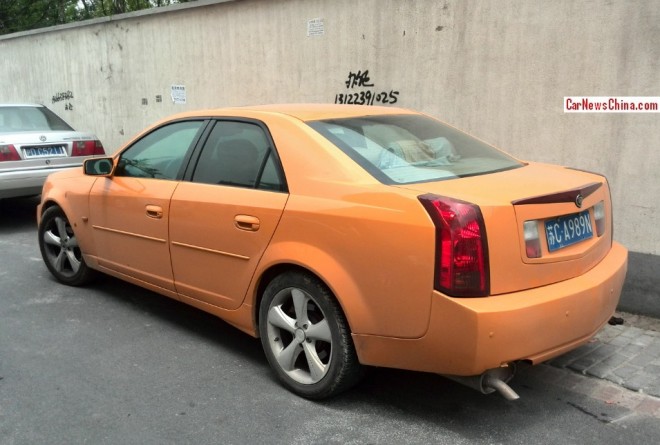 Some bodywork missing there on the left side of the rear bumper, and the exhaust pipe is hanging too low. She likely hit the pavement! Better be careful, with such a fine orange car…