A very spacey Porsche Cayenne SUV, Spotted in China in the Sanlitun shopping district in Beijing. The good Porsche is wrapped in an eye-smoothing matte black wrap, and further porned up with darkened windows, matte black multi-spoke alloys, and… a matte black roof rack that adds the final finishing touch.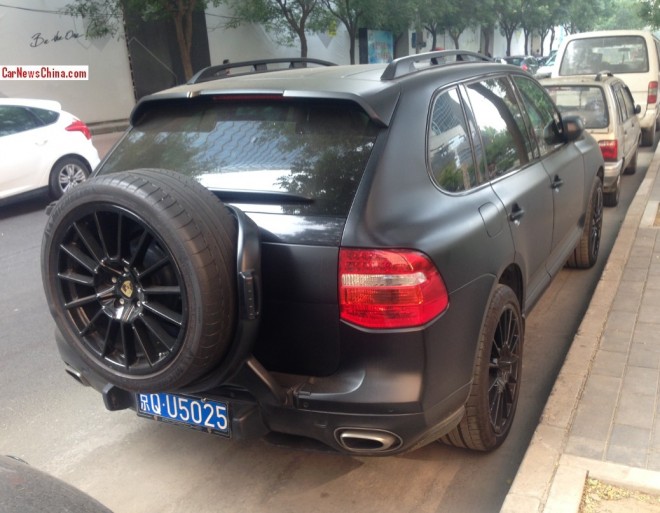 The wrap is of top quality and is perfectly applied over the bumpers, mirrors, and door handles, just like we like to see it best. The A, B and C pillars are all in matte black as well, and so are the rims around the windows. No chrome here, this is serious matte black wrapping! Spare wheel on the back is questionable as it blocks the the view of the great lines of the Cayenne a tad too much.
The Porsche Cayenne is the most popular luxury SUV in China and the most popular Porsche in China. Time thus, for our Famous China-Porsche Cayenne Collection™: TechArt Magnun, Mansory, shiny purple, Mansory Turbo, shiny green, gold, shiny blue, Mansory 958, canary yellow, Luma CLR 558 GT, TechArt Magnum, baby blue, Hamann Guardian, a fish, pink, body kit, police car, matte black, broken with semi-naked girls, very pretty, Hamann Guardian,  stretched, pink, in gold, another stretched, in orange, with dog-pee, and French.