A very flashy Porsche Cayenne, Spotted in China at the Solana shopping mall in Beijing. The porn Porsche was wrapped in an eye slaughtering shiny purple wrap, and further sexed up by a fatass body kit, a partially black grille, tinted windows, and beautiful matte black five-spoke alloys.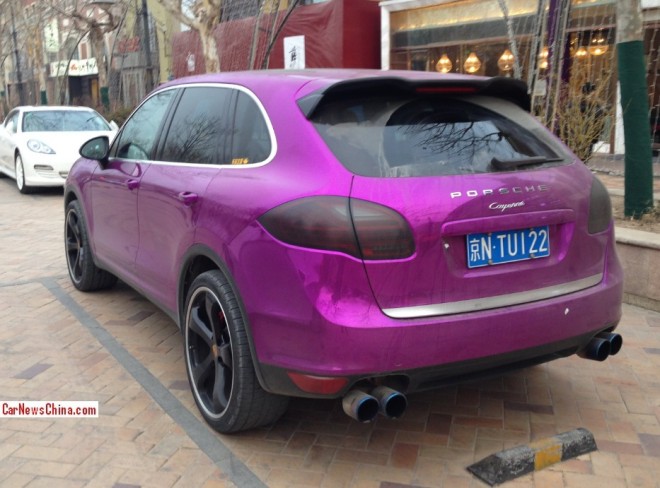 More sex at the back with an extra large carbon black rear wing, black rear lights, two-twin exhaust pipes with racy blue tips, and, oddly, a chrome strip on the low end of the boot lid. The chrome around the windows seems a better idea, contrasting nicely with shiny purple body and tinted windows.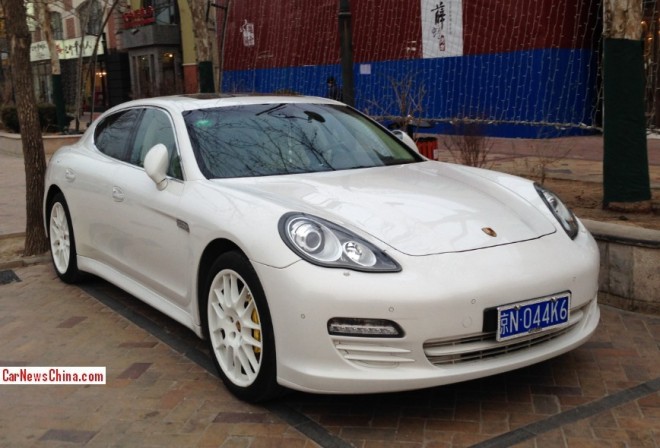 That day was a Porsche porn day with this very tasty Panamera parked in front of the Cayenne. Painted all-white with super sized tires, white alloys, and yellow brake pads. Very flashy too…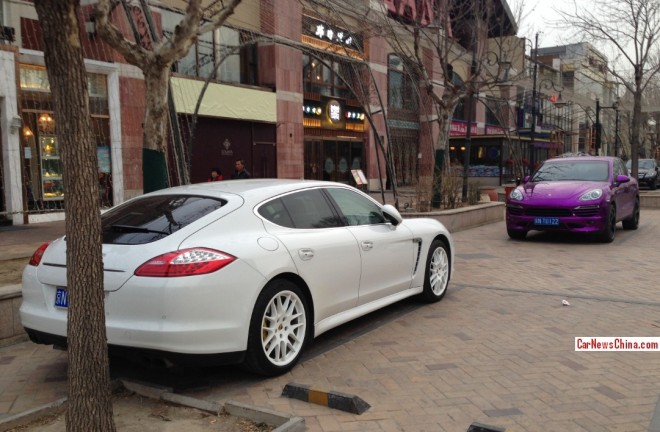 … but most will overlook it 'cause that Cayenne is simply a super shiny sonic speedy purple Porsche.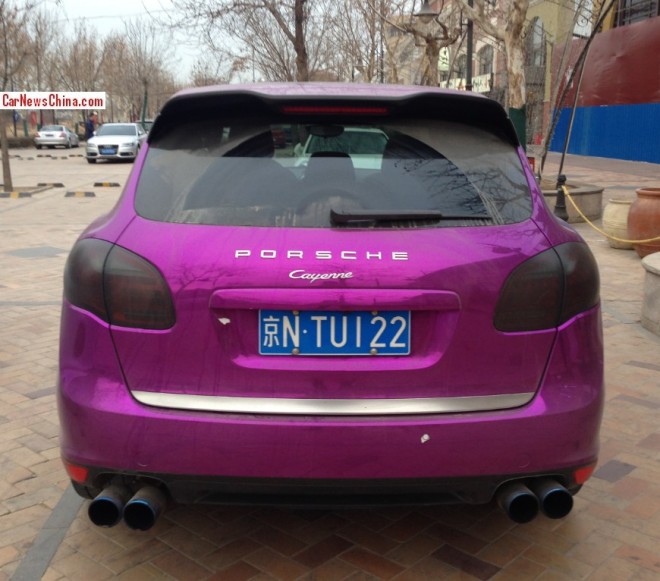 Check those pipes! But what happened to the last e of the Cayenne badge?
The Porsche Cayenne is the most popular Porsche in China, coming before the Panamera, the 911, the Cayman and the Boxster. Price in China starts at a steep 922.000 yuan for the V6 model. Time now, for our Famous China-Porsche Cayenne Collection™: Mansory Turbo, shiny green, gold, shiny blue, Mansory 958, canary yellow, Luma CLR 558 GT, TechArt Magnum, baby blue, Hamann Guardian, a fish, pink, body kit, police car, matte black, broken with semi-naked girls, very pretty, Hamann Guardian,  stretched, pink, in gold, another stretched, in orange, with dog-pee, and French.
---